Hyundai i-30: Tyres and wheels / Wheel replacement, Tyre traction & maintenance
Wheel replacement
When replacing the metal wheels for any reason, make sure the new wheels are equivalent to the original factory units in diameter, rim width and offset.
Tyre traction
Tyre traction can be reduced if you drive on worn tyres, tyres that are improperly inflated or on slippery road surfaces. Tyres should be replaced when tread wear indicators appear. To reduce the possibility of losing control, slow down whenever there is rain, snow or ice on the road.
Tyre maintenance
In addition to proper inflation, correct wheel alignment helps to decrease tyre wear. If you find a tyre is worn unevenly, have your dealer check the wheel alignment.
When you have new tyres installed, make sure they are balanced. This will increase vehicle ride comfort and tyre life. Additionally, a tyre should always be rebalanced if it is removed from the wheel.
Categories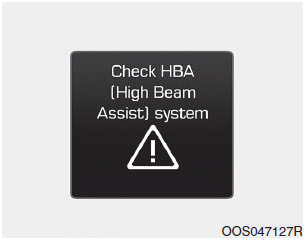 When the High Beam Assist (HBA) System is not working properly, the warning message will come on for a few second. After the message disappears, the master warning light (

) will illuminate.