Hyundai i-30: Driving your vehicle / Winter driving
The severe weather conditions of winter quickly wear out tyres and cause other problems. To minimise winter driving problems, you should take the following suggestions:
Information
Summer tyres are equipped to provide the best driving performance on dry roads, varying according to specification. Since vehicles equipped with summer tyres significantly reduce surface forces when driving on snow or ice roads, it is recommended to use snow tyres of the same size as the standard tyres of the vehicle or the replace them with all seasons tyres or to use chains.
WARNING
Using summer tyres at very cold temperature could cause cracks on them to be formed and damage them permanently.
Snow or icy conditions
You need to keep sufficient distance between your vehicle and the vehicle in front of you.
Apply the brakes gently. Speeding, rapid acceleration, sudden brake applications, and sharp turns are potentially very hazardous practices. During deceleration, use engine braking to the fullest extent. Sudden brake applications on snowy or icy roads may cause skids to occur.
To drive your vehicle in deep snow, it may be necessary to use snow tyres or to install tyre chains on your tyres.
Always carry emergency equipment. Some of the items you may want to carry include tyre chains, tow straps or chains, a flashlight, emergency flares, sand, a shovel, jumper cables, a window scraper, gloves, ground cloth, coveralls, a blanket, etc.
Categories
Seat belt warning
Driver's seat belt warning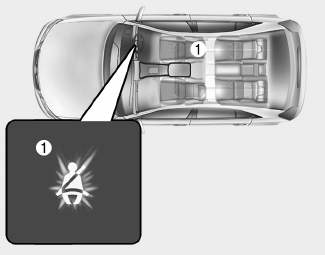 ■ Instrument cluster
As a reminder to the driver, the seat belt warning light will illuminate for approximately 6 seconds each time you turn the ignition switch ON regardless of belt fastening.