Hyundai i-30: Automatic climate control system / Manual heating and air conditioning
The heating and cooling system can be controlled manually by pushing buttons other than the AUTO button. In this case, the system works sequentially according to the order of buttons selected. When pressing any button except the AUTO button whilst using automatic operation, the functions not selected will be controlled automatically.
1.Start the engine.
2.Set the mode to the desired position. For improving the effectiveness of heating and cooling, select:
- Heating:


- Cooling:

3.Set the temperature control to the desired position.
4.Set the air intake control to the outside (fresh) air position.
5.Set the fan speed control to the desired speed.
6.If air conditioning is desired, turn the air conditioning system on.
7.Press the AUTO button to convert to full automatic control of the system.
Categories
Seat belt warning
Driver's seat belt warning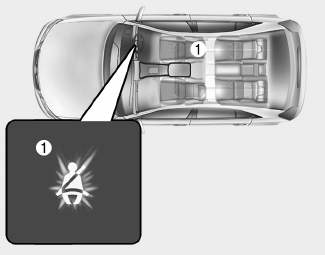 ■ Instrument cluster
As a reminder to the driver, the seat belt warning light will illuminate for approximately 6 seconds each time you turn the ignition switch ON regardless of belt fastening.