Hyundai i-30: Roof Trim / Roof Trim Assembly
Components and components location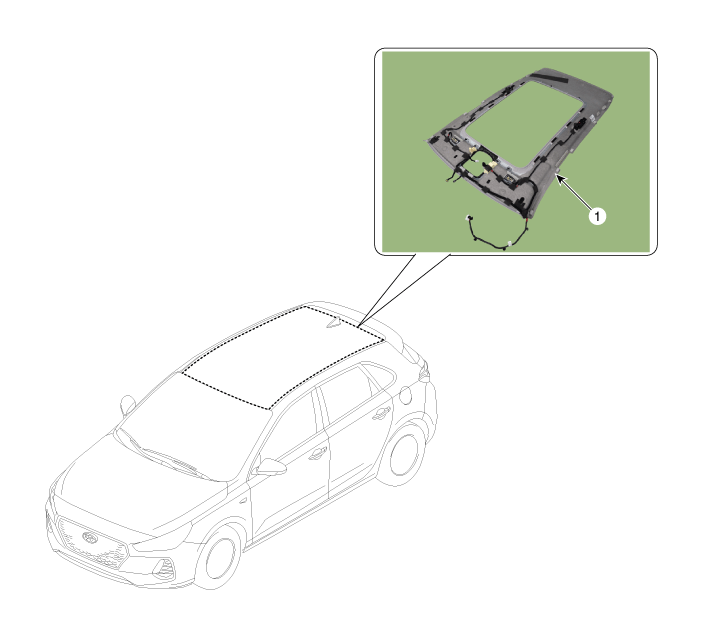 Repair procedures
| | |
| --- | --- |
| • | Put on gloves to prevent hand injuries. |
| | |
| --- | --- |
| • | When removing with a flat-tip screwdriver or remover, wrap protective tape around the tools to prevent damage to components. |
| | |
| --- | --- |
| • | When removing the interior trim pieces, use a plastic panel removal tool not to damage the surface. |
| | |
| --- | --- |
| • | Take care not to bend or scratch the trim and panels. |
1.

Remove the front seat.

(Refer to Front Seat - "Front Seat Assembly")
2.

Remove the rear seat.

(Refer to Rear Seat - "Rear Seat Assembly")
3.

Remove the front pillar trim.

(Rear to Interior Trim - "Front Pillar Trim")
4.

Remove the center pillar lower trim.

(Rear to Interior Trim - "Center Pillar Trim")
5.

Remove the center pillar upper trim.

(Rear to Interior Trim - "Center Pillar Trim")
6.

Remove the rear pillar trim.

(Rear to Interior Trim - "Rear Pillar Trim")
7.

Remove the sunvisor and retainer.

(Rear to Roof Trim - "Sunvisor")
8.

Remove the assist handle.

(Rear to Roof Trim - "Assist Handle")
9.

Remove the overhead console lamp.

(Rear to Body Electrical System - "Overhead Console Lamp")
10.

Remove the room lamp.

(Rear to Body Electrical System - "Room Lamp")
11.

Remove the ECM mirror connector.

(Refer to Body Electrical System - "Electro Chromic Inside Rear View Mirror")
| | |
| --- | --- |
| 12. | Disconnect the roof trim main connector (A) and the mounting clips in the front pillar. |
| | |
| --- | --- |
| 13. | Disconnect the sunroof motor connector (A). |
14.

Remove the roof trim mounting clip and remove the roof trim assembly (A).

| | |
| --- | --- |
| • | Be careful not to wrinkle on the roof trim. |
| | |
| --- | --- |
| 15. | Remove the roof trim assembly (A) from the body panel and then carry it out of the vehicle through the tailgate. |
| | |
| --- | --- |
| 16. | Carefully remove the tail gate weatherstrip. |
| | |
| --- | --- |
| 17. | Disconnect the roof antenna connector (A). |
18.

Remove the roof trim assembly (A) from the vehicle through the tail gate.

| | |
| --- | --- |
| • | Take care not to damage the roof trim when removing. |
19.

Remove the vanity lamp.

(Refer to Body Electrical - "Vanity Lamp")
20.

Remove roof trim wiring harness (A) from the roof trim (B).

| | |
| --- | --- |
| • | Take care not to damage the roof trim wiring harness (A) when removing. |

| | |
| --- | --- |
| 1) | When installing the roof trim wiring harness (A) on the roof trim, apply the hot melt continuously by using the hot melt gun tool. |

| | |
| --- | --- |
| 2) | Put anti-noise pad on roof trim to prevent the noise. |
21.

To install, reverse removal procedure.

| | |
| --- | --- |
| • | Make sure the connector is connected in properly. |

| | |
| --- | --- |
| • | Replace any damaged clips. |
Components and components location Component Location 1. Assist handle Repair procedures Replacement • Put on gloves to prevent hand injuries...
Other information:
1. Position the vehicles close enough that the jumper cables will reach, but do not allow the vehicles to touch. 2. Avoid fans or any moving parts in the engine compartment at all times, even when the vehicles are turned off. 3. Turn off all electrical devices such as radios, lights, air conditioning, etc...
Engine oil and filter The engine oil and filter should be changed at the intervals specified in the maintenance schedule. If the vehicle is being driven in severe conditions, more frequent oil and filter changes are required. Drive belts Inspect all drive belts for evidence of cuts, cracks, excessive wear or oil saturation and replace if necessary...
Categories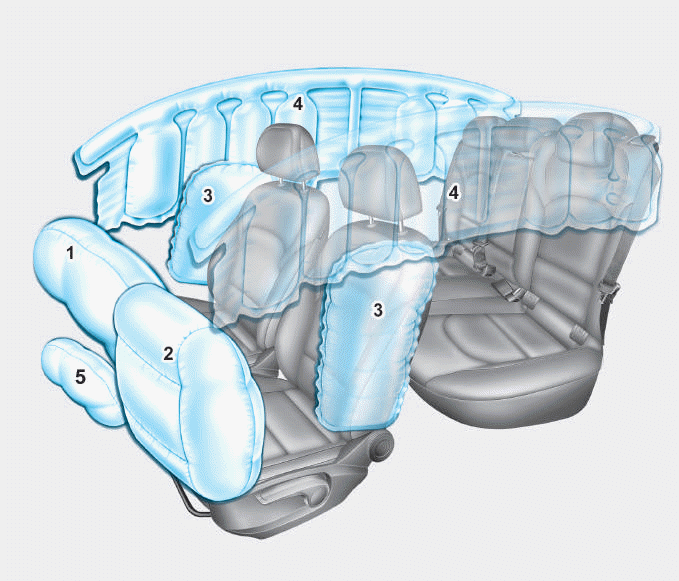 1. Driver's front air bag
2. Passenger's front air bag
3. Side air bag*
4. Curtain air bag*
5. Knee air bag*
6. Front passenger air bag ON/OFF switch