Hyundai i30 (PD) 2018-2021 Owner's Manual
Hyundai i30 (PD) 2018-2021 Owner's Manual
Oners Manual for third generation (PD) Hyundai i30, model years 2018-2021. This manual applies to all models of Hyundai i30 and includes descriptions and explanations of optional as well as standard equipment. As aresult, some of the equipment operating descriptions referred to may not apply to the particular vehicle with which this manual is supplied. Your Owner's Manual will introduce you to the features and operation of your new i30. To become familiar with your new Hyundai, so that you can fully enjoy it, read this Owner's Manual carefully before driving your new vehicle.

Other information:
Vehicle with front fog lamp To turn on the rear fog lamp: Position the light switch in the position lamp position, turn the light switch (1) to the front fog lamp position, and then turn the light switch (1) to the rear fog lamp position. To turn the rear fog lamps off, do one of the following: Turn off the position light switch...
Whenever the front door is opened, the ignition switch will illuminate, provided the ignition switch is not in the ON position. The light will go off immediately when the ignition switch is turned on or go off after about 30 seconds when the door is closed...
Categories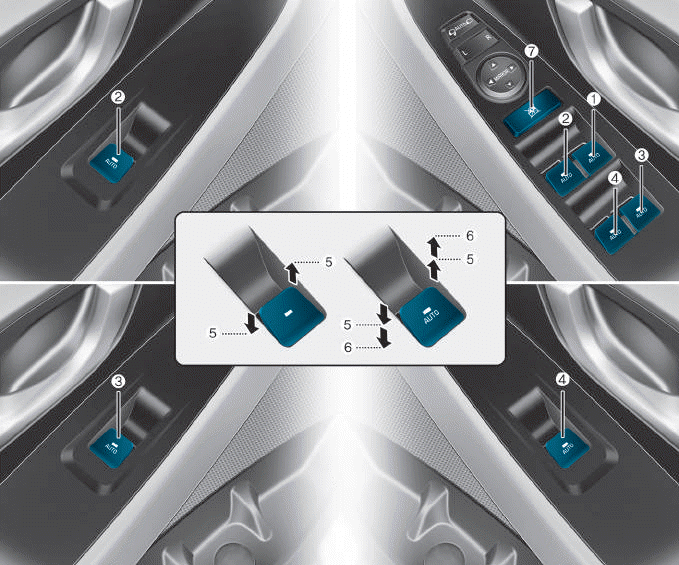 (1) Driver's door power window switch
(2) Front passenger's door power window switch
(3) Rear door (right) power window switch
(4) Rear door (left) power window switch
(5) Window opening and closing
(6) Automatic power window
(7) Power window lock switch