Hyundai i30 (PD) 2018-2021 Owner's Manual
Hyundai i30 (PD) 2018-2021 Owner's Manual
Oners Manual for third generation (PD) Hyundai i30, model years 2018-2021. This manual applies to all models of Hyundai i30 and includes descriptions and explanations of optional as well as standard equipment. As aresult, some of the equipment operating descriptions referred to may not apply to the particular vehicle with which this manual is supplied. Your Owner's Manual will introduce you to the features and operation of your new i30. To become familiar with your new Hyundai, so that you can fully enjoy it, read this Owner's Manual carefully before driving your new vehicle.

Other information:
Towing a trailer requires a certain amount of experience. Before setting out for the open road, you must get to know your trailer. Acquaint yourself with the feel of handling and braking with the added weight of the trailer. And always keep in mind that the vehicle you are driving is now longer and not nearly as responsive as your vehicle is by itself...
Always fasten your seat belt and make sure all passengers have fastened their seat belts before starting any trip. Air bags are designed to supplement the seat belt as an additional safety device, but they are not a substitute. Most countries require all occupants of a vehicle to wear seat belts...
Categories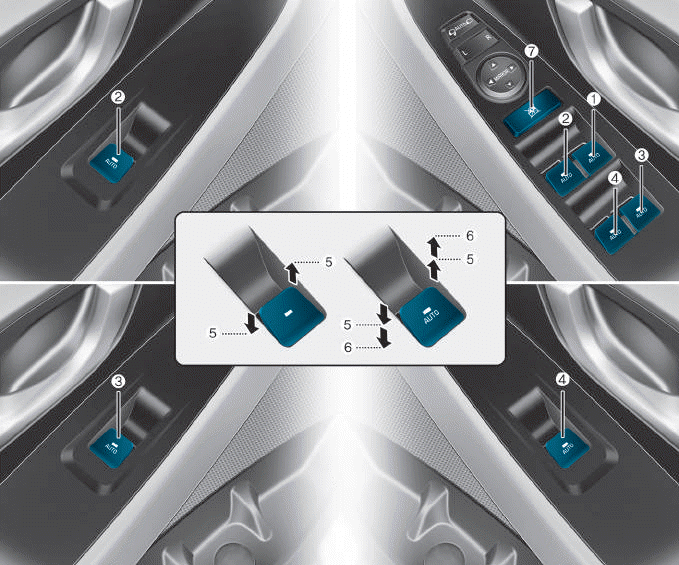 (1) Driver's door power window switch
(2) Front passenger's door power window switch
(3) Rear door (right) power window switch
(4) Rear door (left) power window switch
(5) Window opening and closing
(6) Automatic power window
(7) Power window lock switch