Hyundai i-30: Suspension System (NON-ECS) / Specifications
Front Suspension
Item

Specification

Suspension type

Mac Pherson Strut

Shock absorber

Type

Conventional valve

Rear Suspension
Item

Specification

Suspension type

Torsion Beam Axle

Shock absorber

Type

Monotube

Wheel & Tire
Item

Specification

Normal load

Maximum load

Front

Rear

Front

Rear

Wheel

Aluminum

6.0J * 15

6.5J * 16

7.0J * 17

7.5J * 18

Steel

6.0J * 15

Tire

195/65 R15

205/55 R16

225/45 R17

225/40 ZR18

Spare tire

T125/80 D15

T125/80 D16

pressure kPa (psi)

195/65 R15

220 (32)

220 (32)

235 (34)

250 (36)

205/55 R16

220 (32)

220 (32)

235 (34)

275 (40)

225/45 R17

220 (32)

220 (32)

235 (34)

275 (40)

225/40 ZR18

for Fastback

240 (35)

235 (34)

250 (36)

275 (40)

for N line

240 (35)

240 (35)

250 (36)

275 (40)

T125/80 D15

420 (60)

T125/80 D16

420 (60)

Wheel Alignment
Item

Specification

Front

Rear

Toe-in

Total

Europe

0.1° ± 0.2°

0.30° ± 0.3°

Russia

0.24° ± 0.3°

Individual

Europe

0.05° ± 0.1°

0.15° ± 0.15°

Russia

0.12° ± 0.15°

Camber angle

Europe

-0.5° ± 0.5°

-1.2° ± 0.5°

Russia

-0.4° ± 0.5°

Caster angle

6.4° ± 0.5°

-

King-pin angle

14.5° ± 0.5°

-

Ride height

Europe

375 ± 10mm (14.76 ± 0.4 Inch)

378 ± 10mm (14.88 ± 0.4 Inch)

Russia

385 ± 10mm (15.16 ± 0.4 Inch)

388 ± 10mm (16.38 ± 0.4 Inch)

Front Suspension
Item

Tightening torque (kgf.m)

N.m

kgf.m

lb-ft

Hub nuts

107.9 - 127.5

11.0 - 13.0

79.6 - 94.0

Lower arm to sub frame (Front)

117.7 - 137.3

12.0 - 14.0

86.8 - 101.3

Lower arm to sub frame (Rear)

156.9 - 176.5

16.0 - 18.0

115.7 - 130.2

Lower arm to knuckle

58.8 - 70.6

6.0 - 7.2

43.4 - 52.1

Tie rod end castle nut

24.5 - 34.3

2.5 - 3.5

18.1 - 25.3

Steering gear box to sub frame

88.3 - 107.9

9.0 - 11.0

65.1 - 79.6

Stabilizer bar to stabilizer link

98.1 - 117.7

10.0 - 12.0

72.3 - 86.8

Stabilizer bar to sub frame

44.1 - 53.9

4.5 - 5.5

32.5 - 39.8

Stabilizer bar to front strut assembly

98.1 - 117.7

10.0 - 12.0

72.3 - 86.8

Front strut assembly to front axle

156.9 - 176.5

16.0 - 18.0

115.7 - 130.2

Sub frame mounting bolt & nut

176.5 - 196.1

18.0 - 20.0

130.2 - 144.7

Sub frame stay bolt

44.1 - 53.9

4.5 - 5.5

32.5 - 39.8

Bolt connecting universal joint to pinion (M8 BOLT)

32.4 - 37.3

3.3 - 3.8

23.9 - 27.5

Bolt connecting universal joint to pinion (M10 BOLT)

49.0 - 58.8

5.0 - 6.0

36.2 - 43.4

Roll rod bracket to roll rod support bracket fixing bolt & nut

107.9 - 127.5

11.0 - 13.0

79.6 - 94.0

Rear Suspension
Item

Tightening torque (kgf.m)

N.m

kgf.m

lb-ft

Hub nuts

107.9 - 127.5

11.0 - 13.0

79.6 - 94.0

Shock absorber to body

49.0 - 63.7

5.0 - 6.5

36.2 - 47.0

Shock absorber to torsion beam axle

98.1 - 117.7

10.0 - 12.0

72.3 - 86.8

Torsion beam axle to frame

156.9 - 176.5

16.0 - 18.0

115.7 - 130.2

Bitmap Torsion beam axle to brake caliper

63.7 - 73.5

6.5 - 7.5

47.0 - 54.2

Special Service Tools Tool (Number and Name) Illustration Use 09568-1S100 Saperate the ball joint from the front alxe 09546-3X100 Shock absorber lock nut removal tool Used for remove the shock absorber lock nut...
Other information:
Specifications Specification Item Specification Type Hall effect sensor Output signal High: 11.8 - 16.8 mA Low: 5.9 - 8.4 mA Description and operation Description • Components location : DCT (Dual Clutch Transmission) • Function The input shaft speed sensor is important in that it detects the input shaft RPM and sends this information to the Transmission Control Module (TCM)...
When your brake pads are worn and new pads are required, you will hear a high pitched warning sound from your front or rear brakes. You may hear this sound come and go or it may occur whenever you depress the brake pedal. Note that some driving conditions or climates may cause a brake squeal when you first apply (or lightly apply) the brakes...
Categories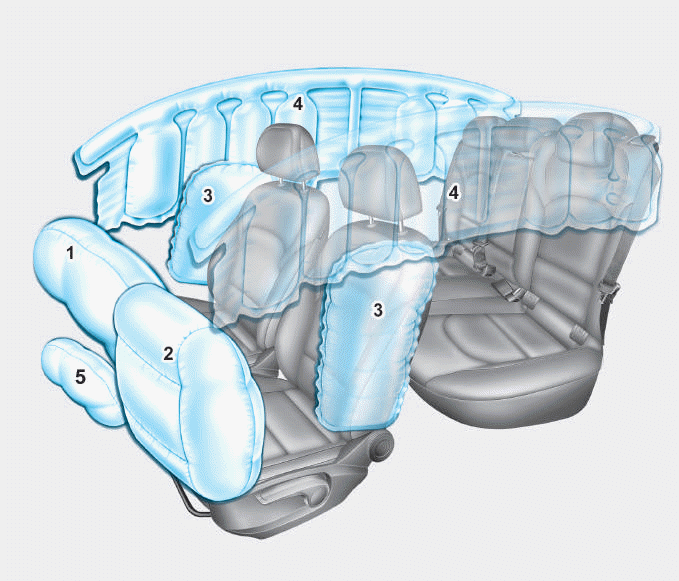 1. Driver's front air bag
2. Passenger's front air bag
3. Side air bag*
4. Curtain air bag*
5. Knee air bag*
6. Front passenger air bag ON/OFF switch