Hyundai i-30: Braking system / Vehicle Stability Management (VSM)
The Vehicle Stability Management (VSM) is a function of the Electronic Stability Control (ESC) system. It helps ensure the vehicle stays stable when accelerating or braking suddenly on wet, slippery and rough roads where traction over the four tyres can suddenly become uneven.
WARNING
Take the following precautions when using the Vehicle Stability Management (VSM):
ALWAYS check the speed and the distance to the vehicle ahead. The VSM is not a substitute for safe driving practices.
Never drive too fast for the road conditions. The VSM system will not prevent accidents. Excessive speed in bad weather, slippery and uneven roads can result in severe accidents.
VSM operation
VSM ON condition
The VSM operates when:
The Electronic Stability Control (ESC) is on.
Vehicle speed is approximately above 9 mph (15 km/h) on curve roads.
Vehicle speed is approximately above 12 mph (20 km/h) when the vehicle is braking on rough roads.
When operating
When you apply your brakes under conditions which may activate the ESC, you may hear sounds from the brakes, or feel a corresponding sensation in the brake pedal. This is normal and it means your VSM is active.
Information
The VSM does not operate when:
Driving on a banked road such as gradient or incline.
Driving in reverse.
The ESC OFF indicator light is on.
The EPS (Electric power steering) warning light () is on or blinks.
WARNING
If the ESC indicator light (

) or EPS warning light (

) stays or blinks, your vehicle may have a malfunction with the VSM system. When the warning light illuminates we recommend that the vehicle be checked by a HYUNDAI authorised repairer as soon as possible.
NOTICE
Driving with wheels and tyres with different sizes may cause the VSM system to malfunction. Before replacing tyres, make sure all four tyres and wheels are the same size. Never drive the vehicle with different sized tyres and wheels installed.
Categories
Operating door locks from outside the vehicle
Mechanical key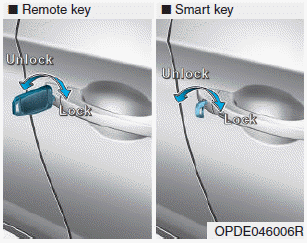 Turn the key toward the rear of the vehicle to unlock and toward the front of the vehicle to lock.
If you lock/unlock the driver's door with a key, a driver's door will lock/unlock automatically.