Hyundai i-30: Exterior features / Bonnet
Opening the bonnet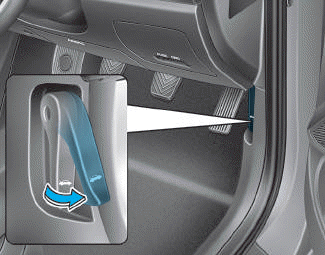 1. Park the vehicle and set the parking brake.
2. Pull the release lever to unlatch the bonnet. The bonnet should pop open slightly.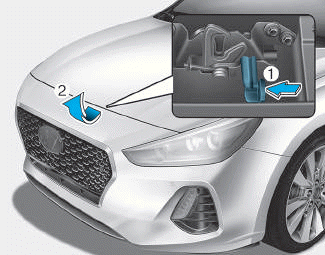 3. Go to the front of the vehicle, raise the bonnet slightly, push the secondary latch up (1) inside of the bonnet centre and lift the bonnet (2).
4. Pull out the support rod.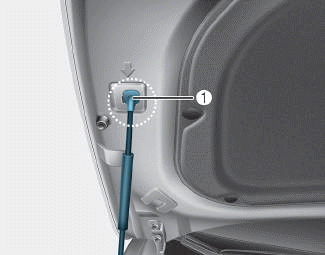 5. Hold the bonnet open with the support rod (1).
WARNING
Grasp the support rod in the area wrapped in rubber. The rubber will help prevent you from being burned by hot metal when the engine is hot.
The support rod must be inserted completely into the hole provided whenever you inspect the engine compartment. This will prevent the bonnet from falling and possibly injuring you.
Closing the bonnet
1. Before closing the bonnet, check the following:
All filler caps in engine compartment must be correctly installed.
Gloves, rags or any other combustible material must be removed from the engine compartment.
2. Return the support rod to its clip to prevent it from rattling.
3. Lower the bonnet halfway (lifted approximately 30cm from the closed position) and push down to securely lock in place. Then double check to be sure the bonnet is secure.
If the bonnet can be raised slightly, it is not securely locked. Open it again and close it with more force.
WARNING
Before closing the bonnet, ensure all obstructions are removed from around the bonnet opening.
Always double check to be sure that the bonnet is firmly latched before driving away. Check there is no bonnet open warning light or message displayed on the instrument cluster. If the bonnet is not latched whilst the vehicle is moving, the chime will sound to warn the driver the bonnet is not fully latched. Driving with the bonnet opened may cause a total loss of visibility, which might result in an accident.
Do not move the vehicle with the bonnet in the raised position, as vision is obstructed, which might result in an accident, and the bonnet could fall or be damaged.
Opening the tailgate ■ 5 Door, Wagon ■ Fastback Make sure the vehicle is in P (Park) and set the parking brake. Then do one of the following: 1...
Other information:
The luggage rail system may help prevent the luggage from rolling around in the luggage compartment. Build in segmentation bar Put both pillars (A) of the segmentation bar on the rail openings. To move the segmentation bar, push the lever (B)...
Lighting control To operate the lights, turn the knob at the end of the control lever to one of the following positions: (1) O (OFF) position (2) AUTO light position (if equipped) (3) Position lamp position (4) Headlamp position AUTO light position When the light switch is in the AUTO position, the position lamp and headlamp will be turned ON or OFF automatically depending on the amount of light outside the vehicle...