Hyundai i-30: Interior features / Cargo area cover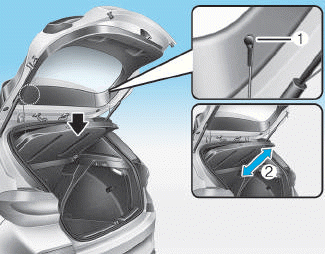 Use the cover to hide items stored in the cargo area.
The cargo area cover will lift when the tailgate is opened.
Disconnect the strap (1) from the holder if you want to return the cover to the original position.To remove the cargo area cover completely, lift the cover to a 50-degree angle and pull it out (2).
NOTICE
Since the cargo area cover may be damaged or deformed, do not put luggage on it when it is being used.
WARNING
Do not place objects on the cargo area cover whilst driving. Such objects may be thrown about inside the vehicle and possibly injure vehicle occupants during an accident or when braking.
Never allow anyone to ride in the luggage compartment. It is designed for luggage only.
Maintain balance of the vehicle and locate the weight as far forward as possible.
Categories
Operating door locks from outside the vehicle
Mechanical key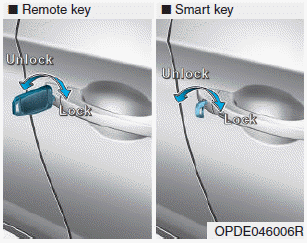 Turn the key toward the rear of the vehicle to unlock and toward the front of the vehicle to lock.
If you lock/unlock the driver's door with a key, a driver's door will lock/unlock automatically.