Hyundai i-30: Body (Interior and Exterior) / Fender
Troubleshooting Symptom Passible Cause Remedy (Refer to page) Water leaks from panorama sunroof Deteriorated roof lid weatherstrip Replace Excessive roof lid-to-body clearance and improperly fitted weatherstrip Adjust Wind noise around Panorama sunroof Loose or deformed deflector, gaps in body work Retighten adjust or replace Noise created by moving panorama sunroof lid Foreign particles lodged in guide rail Check drive cable and guide rails for foreign particles Loose guide rails and lid Retighten Motor runs but sunroof does not move or moves only partially Foreign particles lodged in guide rail Adjust or replace Incorrect engagement of motor pinion with drive cable Decrease in motor's clutch slipping force Increased sunroof sliding resistance or interference of sunroof with drive cables, weatherstrip, etc...
Other information:
The ISG system is to reduce the fuel consumption by automatically shutting down the engine, when the vehicle is at a standstill (i.e. red stop light, stop sign, and traffic jam). The engine is automatically started upon satisfying the starting conditions...
Repair procedures Hub nut tightening sequence 1. Tighten the hub nuts as follows. Tightening torque : 107.9 - 127.5 N.m (11.0 - 13.0 kgf.m, 79.6 - 94.0 lb-ft) • When using an impact gun, final tightening torque should be checked using a torque wrench...
Categories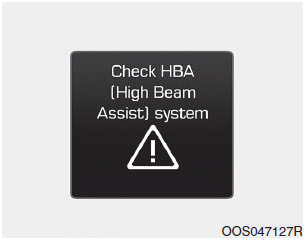 When the High Beam Assist (HBA) System is not working properly, the warning message will come on for a few second. After the message disappears, the master warning light (

) will illuminate.