Hyundai i-30: Instrument cluster / Instrument cluster control
Instrument panel illumination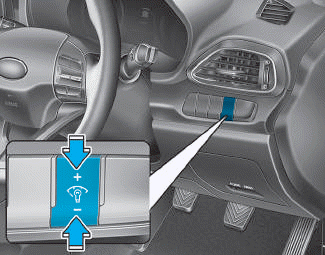 When the vehicle's position lights or headlamps are on, press the illumination control button to adjust the brightness of the instrument panel illumination.
When pressing the illumination control button, the interior switch illumination intensity is also adjusted.
WARNING
Never adjust the instrument cluster whilst driving. This could result in loss of control and lead to an accident that may cause death, serious injury, or vehicle damage.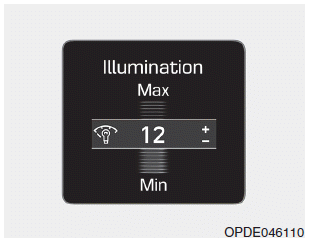 The brightness of the instrument panel illumination is displayed.
If the brightness reaches the maximum or minimum level, an alarm will sound.
Speedometer The speedometer indicates the speed of the vehicle and is calibrated in kilometers per hour (km/h) and/or miles per hour (MPH). Tachometer The tachometer indicates the approximate number of engine revolutions per minute (rpm)...
Other information:
The LDW system may operate prematurely even if the vehicle does not depart from the intended lane, OR, the LDW system may not warn you if the vehicle leaves the intended lane under the following circumstances: When the lane and road conditions are poor It is difficult to distinguish the lane marking from the road surface or the lane marking is faded or not clearly marked...
Description and operation Description The fuel pump control module (FPCM) is installed on the right side of the fuel tank and controls the DC motor mounted inside the low pressure fuel pump.The module compares instantaneous fuel pressure information measured by the fuel pressure sensor (FPS) with target fuel pressure information provided by the ECM and generates the desired target fuel pressure by controlling the fuel pump motor and regulating fuel flow rate in the low pressure fuel line between the low and high pressure fuel pumps...
Categories
Seat belt warning
Driver's seat belt warning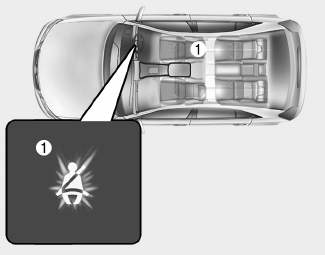 ■ Instrument cluster
As a reminder to the driver, the seat belt warning light will illuminate for approximately 6 seconds each time you turn the ignition switch ON regardless of belt fastening.