Hyundai i-30: Smart key / Locking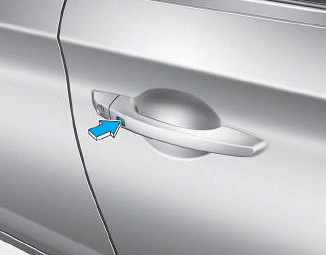 To lock :
1. Close all doors, engine bonnet and tailgate.
2. Either press the door handle button or press the Door Lock button (1) on the smart key.
3. The hazard warning lights will blink. Also, the outside rearview mirror will fold, if the outside rearview mirror folding switch is in the AUTO position (if equipped).
4. When the doors are locked, the indicator light on the central door lock/unlock switch will be illuminated.
Information
The door handle button will only operate when the smart key is within 0.7~1 m (28~40 in.) from the outside door handle.
Even though you press the outside door handle button, the doors will not lock and the chime will sound for three seconds if any of the following occur:
The Smart Key is in the vehicle.
The Engine Start/Stop button is in ACC or ON position.
Any door except the tailgate is open.
WARNING
Do not leave the Smart Key in your vehicle with unsupervised children. Unattended children could press the Engine Start/ Stop button and may operate power windows or other controls, or even make the vehicle move, which could result in serious injury or death.
Categories
Operating door locks from outside the vehicle
Mechanical key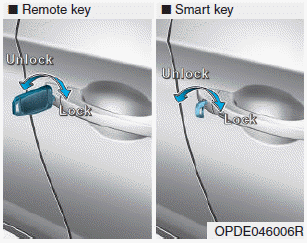 Turn the key toward the rear of the vehicle to unlock and toward the front of the vehicle to lock.
If you lock/unlock the driver's door with a key, a driver's door will lock/unlock automatically.