Hyundai i-30: Clutch Tube / Repair procedures
| | |
| --- | --- |
| 1. | Turn ignition switch OFF and disconnect the negative (-) battery cable. |
2.

Remove the air duct and air cleaner assembly.

(Refer to Engine Mechanical System - "Air Cleaner")
3.

Remove the battery and battery tray.

(Refer to Engine Electrical System - "Battery")
4.

Remove the ECM.

(Refer to Engine Control / Fuel System - "ECM")
5.

Remove the snap pin (A) and then separate the clutch tube (B).

| | |
| --- | --- |
| • | Do not spill brake fluid on the vehicle it may damage the paint if brake fluid does contact the paint, wash it off immediately with water. |

[Gasoline 1.0 T-GDI]

[Gasoline 1.5 MPI]
6.

In case of the diesel 1.6 vehicle, loosen the tube flare nut and then separatet the clutch tube (A).

Tightening torque :

12.7 - 16.7 N.m (1.3 - 1.7 kgf.m, 9.4 - 12.3 lb-ft)
7.

Remove the clutch tube & hose. [Gasoline 1.0 T-GDI, 1.5MPI]

1)

Loosen the bolts (A) and then removing the clutch tube bracket.

Tightening torque :

9.8 - 14.7 N.m (1.0 - 1.5 kgf.m, 7.2 - 10.8 Ib-ft)

| | |
| --- | --- |
| 2) | Remove the clip (A) and then separate the clutch hose (B). |

| | |
| --- | --- |
| 3) | Remove the clutch tube & hose (A) from the vehicle. |
8.

Remove the clutch tube & hose. [Diesel 1.6 TCI]

1)

Loosen the bolts (A) and then removing the clutch tube bracket.

Tightening torque :

9.8 - 14.7 N.m (1.0 - 1.5 kgf.m, 7.2 - 10.8 Ib-ft)

| | |
| --- | --- |
| 2) | Remove the clip (A) and then separate the clutch hose (B). |

| | |
| --- | --- |
| 3) | Remove the clutch tube & hose (A) from the vehicle. |
[Intellingent Manual Transaxle Type]
1.

Remove the electronic clutch actuator.

(Refer to Intelligent Manual Transaxle (IMT) Control System - "Electronic Clutch Actuator")
2.

Pull the clip (A) and then removing the clutch tube (B).

[Gasoline 1.0 T-GDI]

[Gasoline 1.5 T-GDI / Diesel 1.6 TCI]
| | |
| --- | --- |
| 1. | Check conditions (disassembled, damaged) of the clutch tube (A) and check leakages of the connectors (B) with sweeping in a circumference direction. |
2.

If IMT system clutch tube and line have been faulty, remove related parts, then replace or re-install the parts.

(Refer to Intelligent Manual Transaxle (IMT) Control System - "IMT System Actuator")
| | |
| --- | --- |
| 1. | To install, reverse the removal procedures. |
2.

After mounting, perform the IMT system learning procedures.

(Refer to Intelligent Manual Transaxle (IMT) Control System - "IMT System Learning Procedures)
Components [Gasoline 1.0 T-GDI] 1. Clutch pedal assembly 2. Clutch pedal arm 3. Ignition lock & clutch switch 4...
Other information:
Towbars Information The mounting hole for towbars are located on both sides of the underbody behind the rear tyres. It's important to have the correct towbar equipment. Crosswinds, large trucks going by, and rough roads are a few reasons why you'll need the right towbar...
Anti-lock Brake System (ABS) Warning Light This warning light illuminates: When you set the ignition switch or the Engine Start/Stop button to the ON position. - It illuminates for approximately 3 seconds and then goes off. When there is a malfunction with the ABS (The normal braking system will still be operational without the assistance of the anti-lock brake system)...
Categories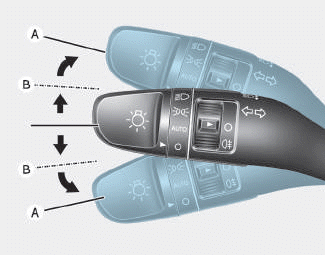 To signal a turn, push down on the lever for a left turn or up for a right turn in position (A). To signal a lane change, move the turn signal lever slightly and hold it in position (B).The lever will return to the OFF position when released or when the turn is completed.