Hyundai i-30: Concentric Slave Cylinder Assembly / Repair procedures
[Manual Transaxle Type]
1.

Remove the manual transaxle assembly.

(Refer to Manual Transaxle System - "Manual Transaxle")
2.

Loosen the bolts and then removing the concentric slave cylinder (A).

Tightening torque :

19.6 - 26.5 N.m (2.0 - 2.7 kgf.m, 14.2 - 19.5 lb-ft)
[Intellingent Manual Transaxle Type]
1.

Remove the Intelligent Manual Transaxle (IMT).

(Refer to Intelligent Manual Transmission (IMT) System (M6CF1e) - "Intelligent Manual Transaxle (IMT)")

(Refer to Intelligent Manual Transmission (IMT) System (M6CF3-1e) - "Intelligent Manual Transaxle (IMT)")
2.

Pull the clip (A).

[Gasoline 1.0 T-GDI]

[Gasoline 1.5 T-GDI / Diesel 1.6 TCI]
3.

Loosen the bolts and then removing the concentric slave cylinder (A).

[Gasoline 1.0 T-GDI]

[Gasoline 1.5 T-GDI / Diesel 1.6 TCI]
[Manual Transaxle Type]
1.

To install, reverse the removal procedures.

| | |
| --- | --- |
| • | Install the concentric slave cylinder bolts. Not to be bent or twisted, Tighten them in diagonal directions. |

| | |
| --- | --- |
| • | Cup, Inner surface of body and outer surface of tube guide must be free from flaws. |

| | |
| --- | --- |
| • | When it is assembled, it must be free from invasive foreign matters and oil leakage. |

•

When it is installed, assembly oil must be applied adequately to inner surface of body and outer surface of tube guide.

Specified fluid : KLUBER 9R1007
[Intellingent Manual Transaxle Type]
1.

Lightly install the concentric slave cylinder (B) on the input shaft (A)

[Gasoline 1.0 T-GDI]

[Gasoline 1.5 T-GDI / Diesel 1.6 TCI]
2.

Insert the clutch tube (A) into the concentric slave cylinder and then push the clip (B).

[Gasoline 1.0 T-GDI]

[Gasoline 1.5 T-GDI / Diesel 1.6 TCI]

•

Check the rubber caps (A) of the clutch tube and apply the grease before assembling the clutch tube. Assembling would be difficult without the grease. Don't use engine oil, gearbox oil, coolant, windscreen clear and etc. instead of "RG306".

[Gasoline 1.0 T-GDI]

[Gasoline 1.5 T-GDI / Diesel 1.6 TCI]

| | |
| --- | --- |
| • | Check 'click' sound when the clutch tube is inserted into the female connector of the CSC and the clutch actuator assembly. |
3.

Install the concentric slave cylinder (A) and then tightening the bolts.

Tightening torque:

19.6 - 26.5 N.m (2.0 - 2.7 kgf.m, 14.2 - 19.5 lb-ft)

[Gasoline 1.0 T-GDI]

[Gasoline 1.5 T-GDI / Diesel 1.6 TCI]
| | |
| --- | --- |
| 1. | The fault of CSC could be inspected by the using the diagnostic tool. |
2.

Perform the filling check function by using the diagnostic tool.

(Refer to Intelligent Manual Transaxle (IMT) Control System - "IMT System Learning Procedures")

| | |
| --- | --- |
| • | If there are no leakages of IMT system clutch tube and line but oil level of the actuator reservoir go down rapidly and continuously during the IMT filling check procedure, make a guess the fault of the CSC. |
3.

Turn ignition on in vehicle condition and check "clutch motor current" in the sensor data by the using the diagnostic tool.

| | |
| --- | --- |
| • | If the clutch motor current is less than "1 A" and clutch motor position is more than "10 mm (0.39 in.)" when it is being actuated and held clutch pedal with gear N, make a guess the fault of the CSC. |
4.

Identify type of oil and source of leakages.

| | |
| --- | --- |
| • | If transaxle is removed from vehicle for once, replacement of CSC is recommended when clutch disc has caused excessive wear. |

| | |
| --- | --- |
| • | When unknown oil is spread out in the engine room (especially on the under cover) but the oil couldn't find nearby the clutch housing downward halls, the leakages would occur in other parts. |

| | |
| --- | --- |
| • | Do not confuse transaxle oil as IMT system actuator fluid. The transaxle oil is more slippery than IMT system actuator fluid. |

| | |
| --- | --- |
| • | To avoid a misdiagnosis, inspect leakages of the transaxle oil and leakages of the IMT system actuator fluid from IMT system clutch tube and line. |

| | |
| --- | --- |
| • | When changing and adding IMT system actuator fluid, handle it carefully. |

| | |
| --- | --- |
| • | Do not let it come in contact with your eyes. |

| | |
| --- | --- |
| • | If IMT system actuator fluid should come in contact with your eyes, immediately flush them with a large quantity of fresh tap water. |

| | |
| --- | --- |
| • | Have your eyes examined by a doctor as soon as possible. |

| | |
| --- | --- |
| • | Do not allow IMT system actuator fluid to contact the vehicle's body paint, as paint damage will result. |

| | |
| --- | --- |
| • | The IMT system actuator fluid, which has been exposed to open air for an extended time should never be used as its quality cannot be guaranteed. It should be properly disposed. |

| | |
| --- | --- |
| • | Don't put in the wrong kind of fluid. A few drops of mineral based oil, such as engine oil, in the IMT system actuator can damage IMT system actuator parts.d. |
5.

If the oil is identified as IMT system actuator fluid, remove the transaxle.

(Refer to Intelligent Manual Transaxle (IMT) System - "Intelligent Manual Transaxle (IMT)")
| | |
| --- | --- |
| 6. | Check leakage in the clutch housing and nearby bearing of CSC Then check the fault of CSC by inspecting damages of external shape. |
| | |
| --- | --- |
| 7. | If fault of CSC occur, replace the CSC. |
8.

If there are no leakages in the clutch housing and no external damages of CSC, replace the IMT system actuator.

(Refer to Intelligent Manual Transaxle (IMT) Control System - "IMT System Actuator")
9.

Install the transaxle and fill the IMT system actuator fluid (A) up to the MAX mark (B).

Recommended :

- DOT-LV4 (Recommended), DOT-4 or DOT-3

• Recommended fluid : SAE J1704 DOT-4 LV, ISO4925 CLASS-6

• Useable fluid : FMVSS116 DOT-4, FMVSS116 DOT-3
10.

After mounting, perform the IMT system learning procedures.

(Refer to Intelligent Manual Transaxle (IMT) Control System - "IMT System Learning Procedures")
[Gasoline 1.0 T-GDI, 1.5 MPI] [MT]
| | |
| --- | --- |
| 1. | Turn ignition switch OFF and disconnect the negative (-) battery cable. |
2.

Remove the air duct and air cleaner assembly.

(Refer to Engine Mechanical System - "Air Cleaner")
| | |
| --- | --- |
| 3. | Open the concentric slave cylinder air bleed cap (A). |
| | |
| --- | --- |
| 4. | Connect the vinyl hose (A) to the air bleeder plug. |
5.

After opening the air bleeder plug (A), press and release the clutch pedal about 10 times.

•

How to open & close the air bleeder plug

| | |
| --- | --- |
| Open (Counter-Clockwise, 90°) | Close (Clockwise, 90°) |
| | |



| | |
| --- | --- |
| 1. | Turn ignition switch OFF and disconnect the negative (-) battery cable. |
2.

Remove the air duct and air cleaner assembly.

(Refer to Engine Mechanical System - "Air Cleaner")
| | |
| --- | --- |
| 3. | After disconnecting a cap from the concentric slave cylinder air bleeder, insert a vinyl hose in the plug. |
4.

Refill the reservoir tank with the specified fluid.

•

Use the specified fluid. Avoid mixing different brands of fluid.

Specified fluid : SAE J1703 (DOT 3 or DOT 4)
| | |
| --- | --- |
| 5. | Pump the clutch pedal about 10 times. |
| | |
| --- | --- |
| 6. | Loosen the air bleed screw (A) at hold down the clutch pedal to allow air to escape from the clutch system. Then tighten the air bleed screw. |
| | |
| --- | --- |
| 7. | Repeat the step 2 - 4 until there is no bubble in the fluid. |
Components Location [MT] 1. Concentric slave cylinder assembly (C.S.C) 2. Clutch housing [IMT] 1...
Other information:
Repair procedures Removal and Installation 1. Remove the oil level gauge (A). 2. Timing chain cover (A). (Refer to Timing System - "Timing Chain Cover") 3...
To unlock: 1. Carry the Smart Key. 2. Either press the door handle button or press the Door Unlock button (2) on the smart key. 3. The doors will unlock. The hazard warning lights will blink two times. Also, the outside rearview mirror will unfold, if the outside rearview mirror folding switch is in the AUTO position...
Categories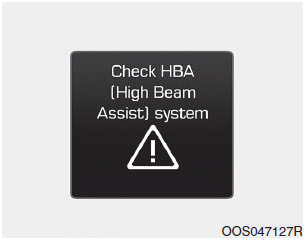 When the High Beam Assist (HBA) System is not working properly, the warning message will come on for a few second. After the message disappears, the master warning light (

) will illuminate.