Hyundai i-30: Wipers and washers / Windscreen washers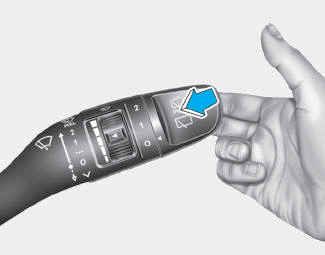 In the O position, pull the lever gently toward you to spray washer fluid on the windscreen and to run the wipers 1-3 cycles. The spray and wiper operation will continue until you release the lever.
If the washer does not work, you may need to add washer fluid to the washer fluid reservoir.
WARNING
When the outside temperature is below freezing, ALWAYS warm the windscreen using the defroster to prevent the washer fluid from freezing on the windscreen and obscuring your vision which could result in an accident and serious injury or death.
NOTICE
To prevent possible damage to the washer pump, do not operate the washer when the fluid reservoir is empty.
To prevent possible damage to the wipers or windscreen, do not operate the wipers when the windscreen is dry.
To prevent damage to the wiper arms and other components, do not attempt to move the wipers manually.
To prevent possible damage to the wipers and washer system, use anti-freezing washer fluids in the winter season or cold weather.
Categories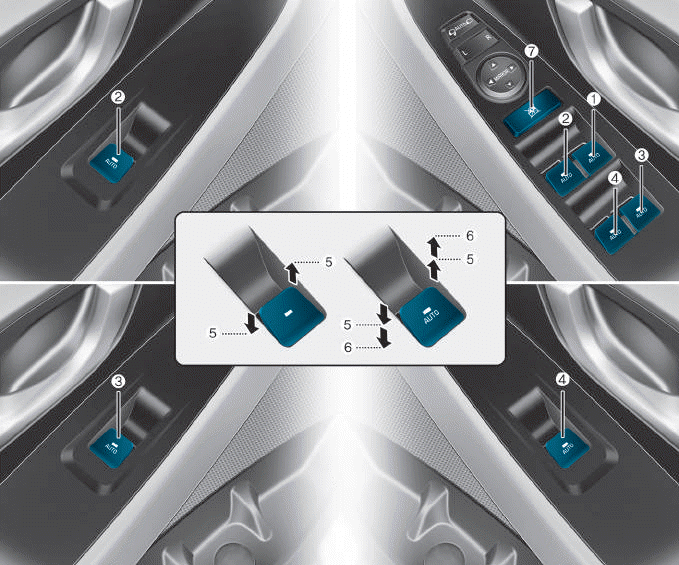 (1) Driver's door power window switch
(2) Front passenger's door power window switch
(3) Rear door (right) power window switch
(4) Rear door (left) power window switch
(5) Window opening and closing
(6) Automatic power window
(7) Power window lock switch