Hyundai i-30: Windscreen defrosting and defogging / Auto defogging system (only for automatic climate control system)
Auto defogging reduces the possibility of fogging up the inside of the windscreen by automatically sensing the moisture on inside the windscreen.
The auto defogging system operates when the heater or air conditioning is on.
Information
The auto defogging system may not operate normally, when the outside temperature is below -10 °C.
To cancel or set the Auto Defogging System, keep the front defroster button pressed for 3 seconds. The "ADS OFF" symbol will be shown in the climate display to inform you that the system is deactivated. To re-activate the auto defogging system, follow the procedure mentioned above and the "ADS OFF" symbol will disappear.
If the battery has been disconnected or discharged, it resets to the auto defogging status.
Information
For efficiency, do not select recirculated air position whilst the Auto defogging system is operating.
NOTICE
Do not remove the sensor cover located on the upper end of the windscreen glass.
Damage to system parts could occur and may not be covered by your vehicle warranty.
Categories
Seat belt warning
Driver's seat belt warning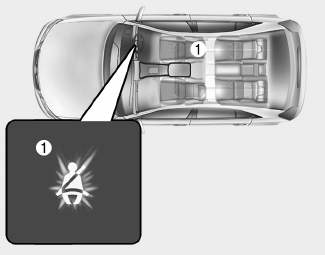 ■ Instrument cluster
As a reminder to the driver, the seat belt warning light will illuminate for approximately 6 seconds each time you turn the ignition switch ON regardless of belt fastening.