Hyundai i-30: Tyre pressure monitoring system (TPMS) (Type A) / Check tyre pressure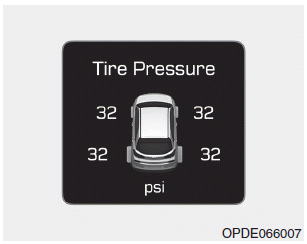 You can check the tyre pressure in the Assist mode on the cluster. Refer to the "LCD Display Modes" in chapter 3.
Tyre pressure is displayed after a few minutes of driving after initial engine start up.
If tyre pressure is not displayed when the vehicle is stopped, "Drive to display" message will appear. After driving, check the tyre pressure.
The displayed tyre pressure values may differ from those measured with a tyre pressure gauge.
You can change the tyre pressure unit in the User Settings mode on the instrument cluster.
WARNING Over-inflation or under-inflation can reduce tyre life, adversely affect vehicle handling, and lead to sudden tyre failure that may cause loss of vehicle control resulting in an accident...
Other information:
The rain sensor located on the upper end of the windscreen glass senses the amount of rainfall and controls the wiping cycle for the proper interval. The more it rains, the faster the wiper operates. When the rain stops, the wiper stops. To vary the speed setting, turn the speed control knob (1)...
Check your tyres, including the spare tyre, once a month or more. How to check Use a good quality tyre pressure gauge to check tyre pressure. You can not tell if your tyres are properly inflated simply by looking at them. Radial tyres may look properly inflated when they are under-inflated...
Categories
Operating door locks from outside the vehicle
Mechanical key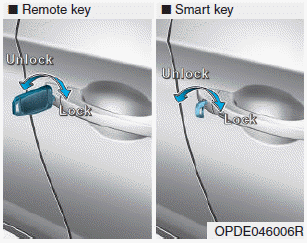 Turn the key toward the rear of the vehicle to unlock and toward the front of the vehicle to lock.
If you lock/unlock the driver's door with a key, a driver's door will lock/unlock automatically.