Hyundai i-30: Tyre pressure monitoring system (TPMS) (Type A) / Check tyre pressure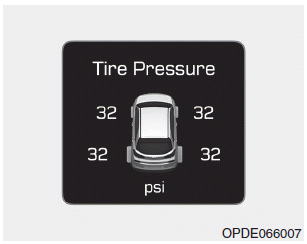 You can check the tyre pressure in the Assist mode on the cluster. Refer to the "LCD Display Modes" in chapter 3.
Tyre pressure is displayed after a few minutes of driving after initial engine start up.
If tyre pressure is not displayed when the vehicle is stopped, "Drive to display" message will appear. After driving, check the tyre pressure.
The displayed tyre pressure values may differ from those measured with a tyre pressure gauge.
You can change the tyre pressure unit in the User Settings mode on the instrument cluster.
WARNING Over-inflation or under-inflation can reduce tyre life, adversely affect vehicle handling, and lead to sudden tyre failure that may cause loss of vehicle control resulting in an accident...
Other information:
Headlamp aiming 1. Inflate the tyres to the specified pressure and remove any loads from the vehicle except the driver, spare tyre, and tools. 2. The vehicle should be placed on a flat floor. 3. Draw vertical lines (Vertical lines passing through respective head lamp centres) and a horizontal line (Horizontal line passing through centre of head lamps) on the screen...
Wheel replacement When replacing the metal wheels for any reason, make sure the new wheels are equivalent to the original factory units in diameter, rim width and offset. Tyre traction Tyre traction can be reduced if you drive on worn tyres, tyres that are improperly inflated or on slippery road surfaces...
Categories
Operating door locks from outside the vehicle
Mechanical key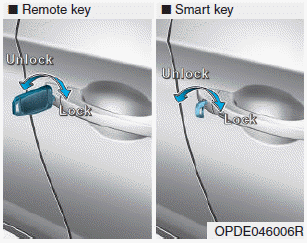 Turn the key toward the rear of the vehicle to unlock and toward the front of the vehicle to lock.
If you lock/unlock the driver's door with a key, a driver's door will lock/unlock automatically.