Hyundai i-30: Evaporative Emission Control System / Description and operation
Evaporative emission control system prevents fuel vapor stored in fuel tank from vaporizing into the atmosphere. When the fuel evaporates in the fuel tank, the vapor passes through vent hoses or tubes to the canister filled with charcoal and the canister temporarily holds the vapor in the charcoal. If ECM determines to draw the gathered vapor into the combustion chambers during certain operating conditions, it will use vacuum in intake manifold to move it.
Schematic Diagram Canister Canister is filled with charcoal and absorbs evaporated vapor in fuel tank. The gathered fuel vapor in canister is drawn into the intake manifold by the ECM/PCM when appropriate conditions are set...
Other information:
1. Position the vehicles close enough that the jumper cables will reach, but do not allow the vehicles to touch. 2. Avoid fans or any moving parts in the engine compartment at all times, even when the vehicles are turned off. 3. Turn off all electrical devices such as radios, lights, air conditioning, etc...
Troubleshooting Symptom Suspect area Remedy Engine misfire with abnormal internal lower engine noises. Worn crankshaft bearings. Loose or damaged engine drive plate. Replace the crankshaft and bearings as required...
Categories
Opening the bonnet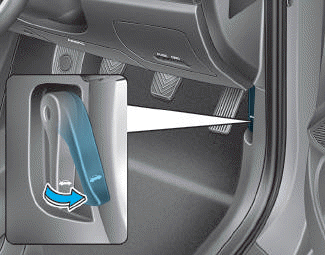 1. Park the vehicle and set the parking brake.
2. Pull the release lever to unlatch the bonnet. The bonnet should pop open slightly.