Hyundai i-30: Your vehicle at a glance / Exterior overview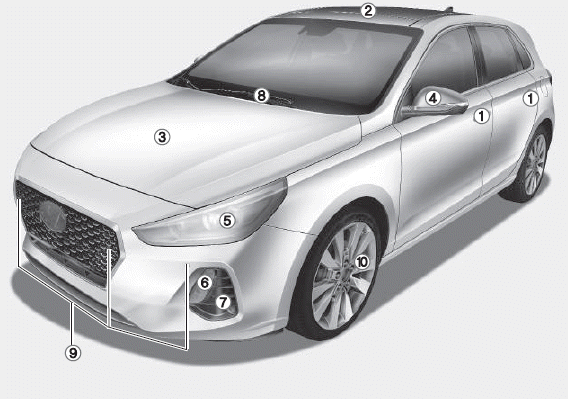 ■ Front view • 5 Door, Wagon
1. Door locks
2. Panorama sunroof
3. Bonnet
4. Outside rearview mirror
5. Head lamp
6. Daytime Running Light (DRL)
7. Front fog lamp
8. Front windscreen wiper blades
9. Parking Distance Warning system (Reverse/Forward)
10. Tyres and wheels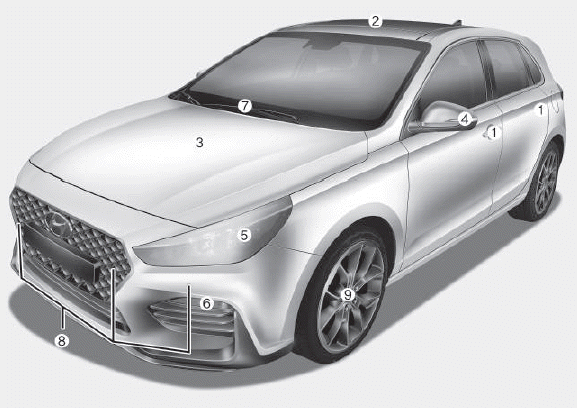 ■ Front view • 5 Door (N line)
1. Door locks
2. Panorama sunroof
3. Bonnet
4. Outside rearview mirror
5. Head lamp
6. Daytime Running Light (DRL)
7. Front windscreen wiper blades
8. Parking Distance Warning system (Reverse/Forward)
9. Tyres and wheels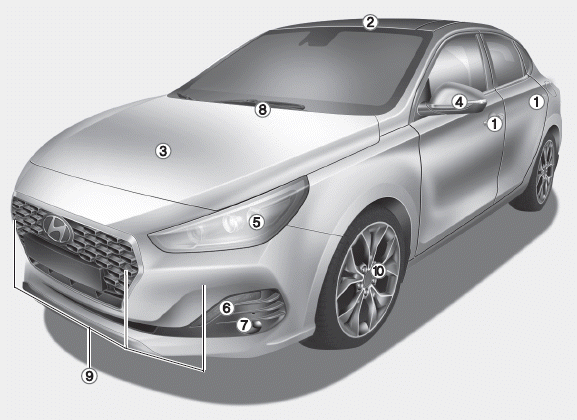 ■ Front view • Fastback
1. Door locks
2. Panorama sunroof
3. Bonnet
4. Outside rearview mirror
5. Head lamp
6. Daytime Running Light (DRL)
7. Front fog lamp
8. Front windscreen wiper blades
9. Parking Distance Warning system (Reverse/Forward)
10. Tyres and wheels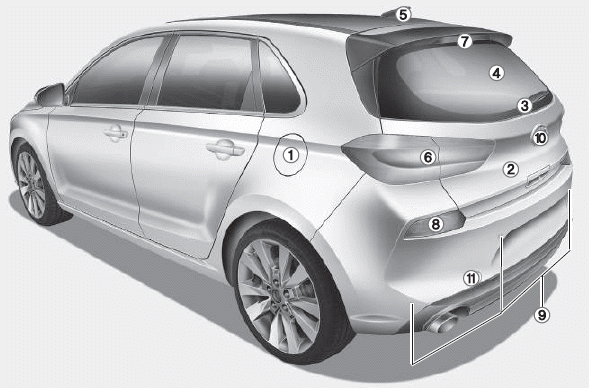 ■ Rear view • 5 Door, Wagon
1. Fuel filler door
2. Tailgate
3. Rear window wiper blade
4. Defroster
5. Antenna
6. Rear combination lamp
7. High mounted stop lamp
8. Rear fog lamp
9. Parking Distance Warning system (Reverse)
10. Rear View Monitor
11. Towing hook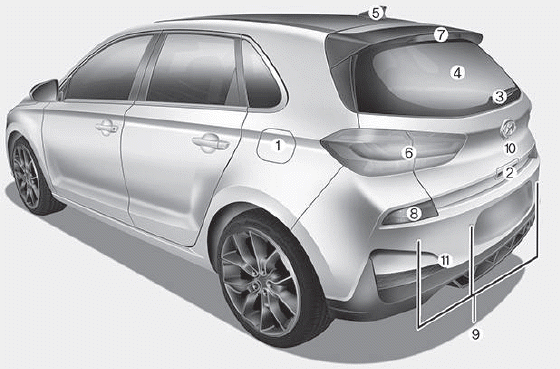 ■ Rear view • 5 Door (N Line)
1. Fuel filler door
2. Tailgate
3. Rear window wiper blade
4. Defroster
5. Antenna
6. Rear combination lamp
7. High mounted stop lamp
8. Rear fog lamp
9. Parking Distance Warning system (Reverse)
10. Rear View Monitor
11. Towing hook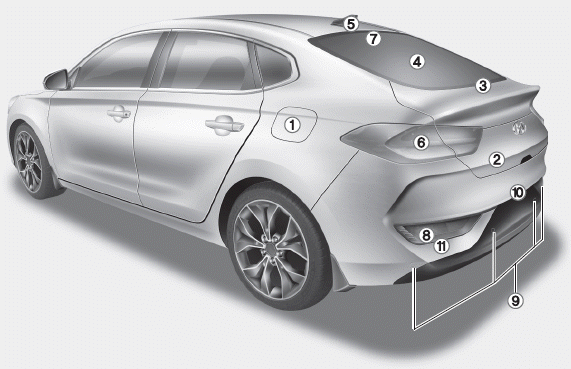 ■ Rear view • Fastback
1. Fuel filler door
2. Tailgate
3. Rear window wiper blade
4. Defroster
5. Antenna
6. Rear combination lamp
7. High mounted stop lamp
8. Rear fog lamp
9. Parking Distance Warning system (Reverse)
10. Rear View Monitor
11. Towing hook
1. Inside door handle 2. Driver position memory system 3. Outside rearview mirror folding 4. Outside rearview mirror control 5. Power window lock switch 6...
Other information:
[A] : Blind spot area [B] : Closing at high speed The Blind-spot Collision Warning (BCW) system uses radar sensors in the rear bumper to monitor and warn the driver of an approaching vehicle in the driver's blind spot area. The system monitors the rear area of the vehicle and provides information to the driver with an audible alert and an indicator on the outside rearview mirrors...
Lap/shoulder belt To fasten your seat belt: Pull it out of the retractor and insert the metal tab (1) into the buckle (2). There will be an audible "click" when the tab locks into the buckle. You should place the lap belt (1) portion across your hips and the shoulder belt (2) portion across your chest...
Categories
Operating door locks from outside the vehicle
Mechanical key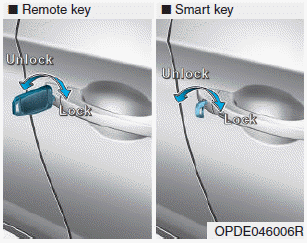 Turn the key toward the rear of the vehicle to unlock and toward the front of the vehicle to lock.
If you lock/unlock the driver's door with a key, a driver's door will lock/unlock automatically.