Hyundai i-30: Your vehicle at a glance / Exterior overview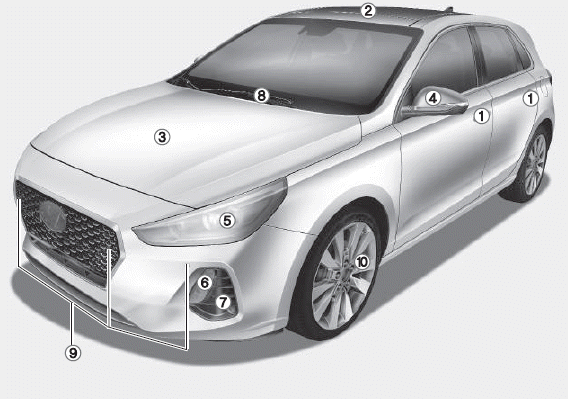 ■ Front view • 5 Door, Wagon
1. Door locks
2. Panorama sunroof
3. Bonnet
4. Outside rearview mirror
5. Head lamp
6. Daytime Running Light (DRL)
7. Front fog lamp
8. Front windscreen wiper blades
9. Parking Distance Warning system (Reverse/Forward)
10. Tyres and wheels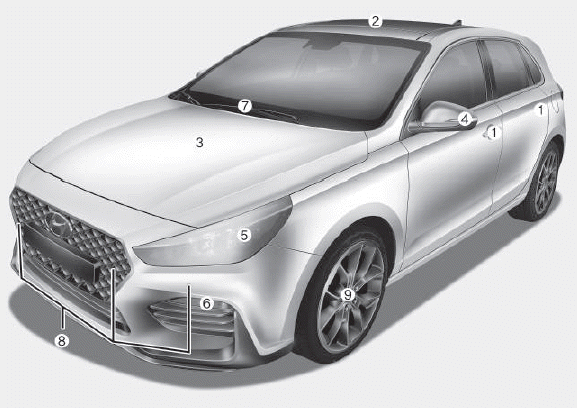 ■ Front view • 5 Door (N line)
1. Door locks
2. Panorama sunroof
3. Bonnet
4. Outside rearview mirror
5. Head lamp
6. Daytime Running Light (DRL)
7. Front windscreen wiper blades
8. Parking Distance Warning system (Reverse/Forward)
9. Tyres and wheels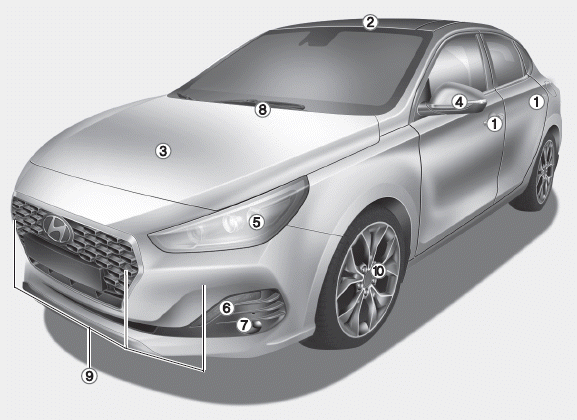 ■ Front view • Fastback
1. Door locks
2. Panorama sunroof
3. Bonnet
4. Outside rearview mirror
5. Head lamp
6. Daytime Running Light (DRL)
7. Front fog lamp
8. Front windscreen wiper blades
9. Parking Distance Warning system (Reverse/Forward)
10. Tyres and wheels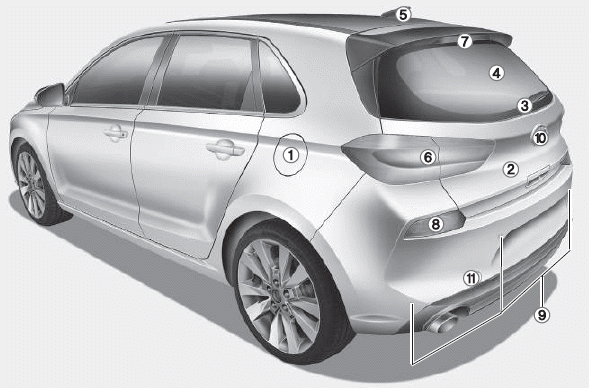 ■ Rear view • 5 Door, Wagon
1. Fuel filler door
2. Tailgate
3. Rear window wiper blade
4. Defroster
5. Antenna
6. Rear combination lamp
7. High mounted stop lamp
8. Rear fog lamp
9. Parking Distance Warning system (Reverse)
10. Rear View Monitor
11. Towing hook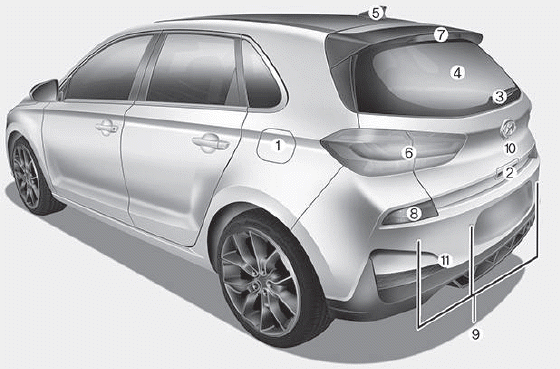 ■ Rear view • 5 Door (N Line)
1. Fuel filler door
2. Tailgate
3. Rear window wiper blade
4. Defroster
5. Antenna
6. Rear combination lamp
7. High mounted stop lamp
8. Rear fog lamp
9. Parking Distance Warning system (Reverse)
10. Rear View Monitor
11. Towing hook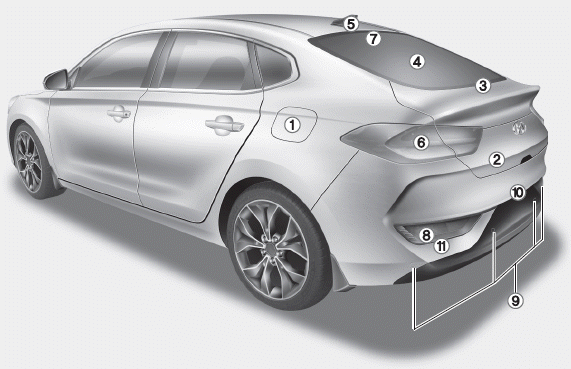 ■ Rear view • Fastback
1. Fuel filler door
2. Tailgate
3. Rear window wiper blade
4. Defroster
5. Antenna
6. Rear combination lamp
7. High mounted stop lamp
8. Rear fog lamp
9. Parking Distance Warning system (Reverse)
10. Rear View Monitor
11. Towing hook
1. Inside door handle 2. Driver position memory system 3. Outside rearview mirror folding 4. Outside rearview mirror control 5. Power window lock switch 6...
Other information:
Applying the parking brake To apply the EPB (Electronic Parking Brake): 1. Depress the brake pedal. 2. Pull up the EPB switch. Make sure the Parking Brake Warning Light comes on. WARNING To reduce the risk of SERIOUS INJURY or DEATH, do not operate the EPB whilst the vehicle is moving except in an emergency situation...
The trip computer is a microcomputer- controlled driver information system that displays information related to driving. Information Some driving information stored in the trip computer (for example Average Vehicle Speed) resets if the battery is disconnected...
Categories
Operating door locks from outside the vehicle
Mechanical key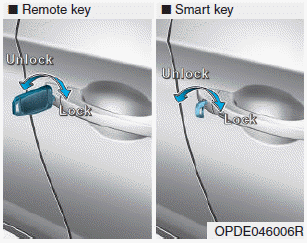 Turn the key toward the rear of the vehicle to unlock and toward the front of the vehicle to lock.
If you lock/unlock the driver's door with a key, a driver's door will lock/unlock automatically.