Hyundai i-30: Your vehicle at a glance / Exterior overview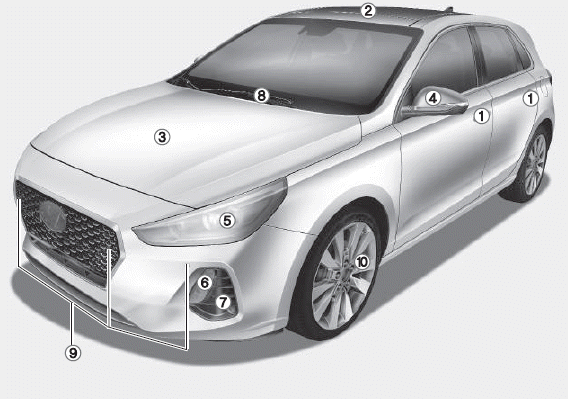 ■ Front view • 5 Door, Wagon
1. Door locks
2. Panorama sunroof
3. Bonnet
4. Outside rearview mirror
5. Head lamp
6. Daytime Running Light (DRL)
7. Front fog lamp
8. Front windscreen wiper blades
9. Parking Distance Warning system (Reverse/Forward)
10. Tyres and wheels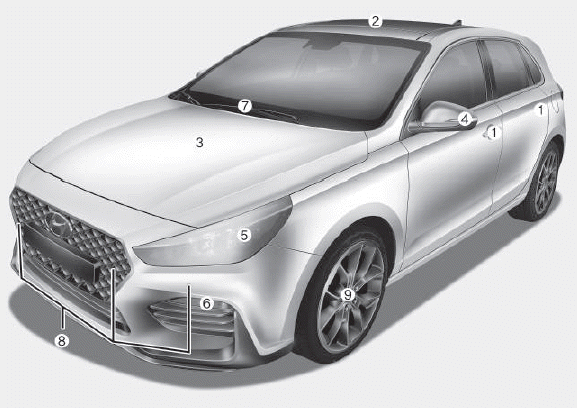 ■ Front view • 5 Door (N line)
1. Door locks
2. Panorama sunroof
3. Bonnet
4. Outside rearview mirror
5. Head lamp
6. Daytime Running Light (DRL)
7. Front windscreen wiper blades
8. Parking Distance Warning system (Reverse/Forward)
9. Tyres and wheels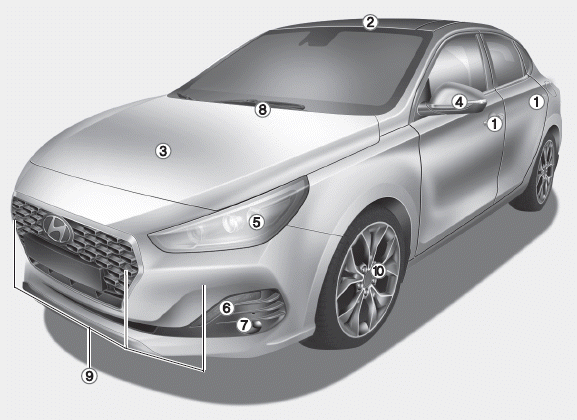 ■ Front view • Fastback
1. Door locks
2. Panorama sunroof
3. Bonnet
4. Outside rearview mirror
5. Head lamp
6. Daytime Running Light (DRL)
7. Front fog lamp
8. Front windscreen wiper blades
9. Parking Distance Warning system (Reverse/Forward)
10. Tyres and wheels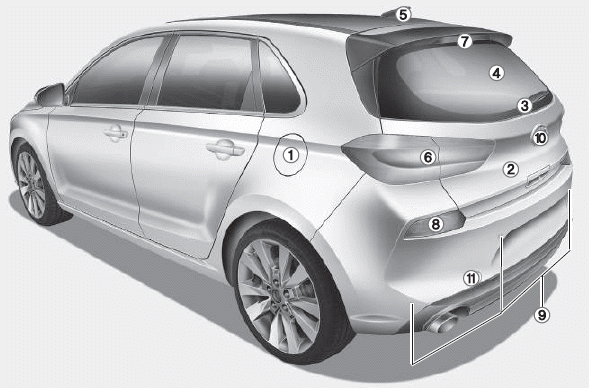 ■ Rear view • 5 Door, Wagon
1. Fuel filler door
2. Tailgate
3. Rear window wiper blade
4. Defroster
5. Antenna
6. Rear combination lamp
7. High mounted stop lamp
8. Rear fog lamp
9. Parking Distance Warning system (Reverse)
10. Rear View Monitor
11. Towing hook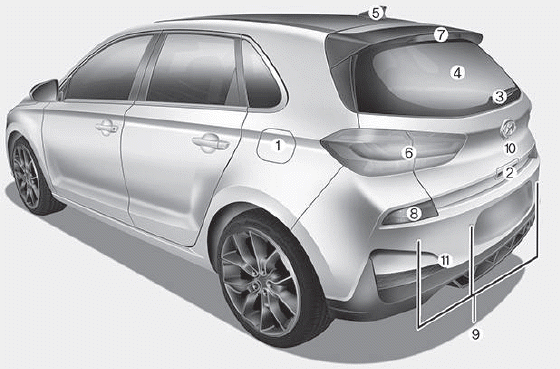 ■ Rear view • 5 Door (N Line)
1. Fuel filler door
2. Tailgate
3. Rear window wiper blade
4. Defroster
5. Antenna
6. Rear combination lamp
7. High mounted stop lamp
8. Rear fog lamp
9. Parking Distance Warning system (Reverse)
10. Rear View Monitor
11. Towing hook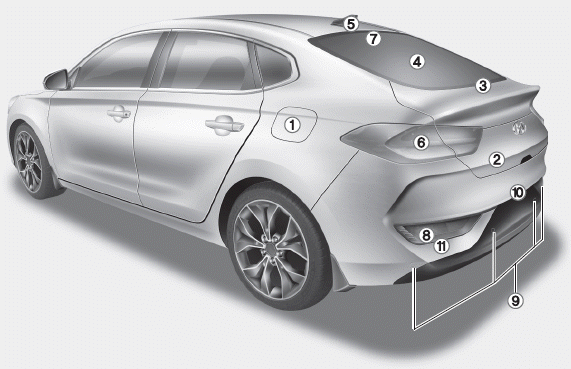 ■ Rear view • Fastback
1. Fuel filler door
2. Tailgate
3. Rear window wiper blade
4. Defroster
5. Antenna
6. Rear combination lamp
7. High mounted stop lamp
8. Rear fog lamp
9. Parking Distance Warning system (Reverse)
10. Rear View Monitor
11. Towing hook
1. Inside door handle 2. Driver position memory system 3. Outside rearview mirror folding 4. Outside rearview mirror control 5. Power window lock switch 6...
Other information:
Low tyre pressure telltale Low tyre pressure position telltale and tyre pressure telltale When the tyre pressure monitoring system warning indicators are illuminated and a warning message displayed on the cluster LCD display, one or more of your tyres is significantly under-inflated...
The high-pressure cooling system has a reservoir filled with year-round antifreeze coolant. The reservoir is filled at the factory. Check the antifreeze protection and coolant concentration level at least once a year, at the beginning of the winter season, and before travelling to a colder climate...
Categories
Operating door locks from outside the vehicle
Mechanical key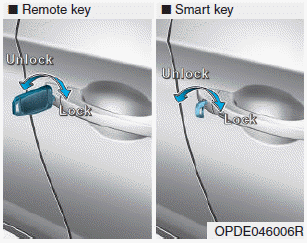 Turn the key toward the rear of the vehicle to unlock and toward the front of the vehicle to lock.
If you lock/unlock the driver's door with a key, a driver's door will lock/unlock automatically.