Hyundai i-30: Your vehicle at a glance / Exterior overview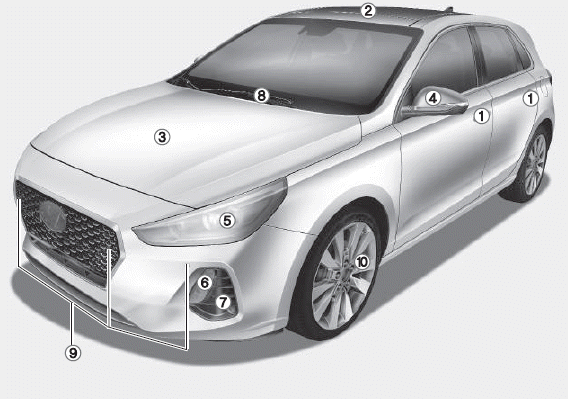 ■ Front view • 5 Door, Wagon
1. Door locks
2. Panorama sunroof
3. Bonnet
4. Outside rearview mirror
5. Head lamp
6. Daytime Running Light (DRL)
7. Front fog lamp
8. Front windscreen wiper blades
9. Parking Distance Warning system (Reverse/Forward)
10. Tyres and wheels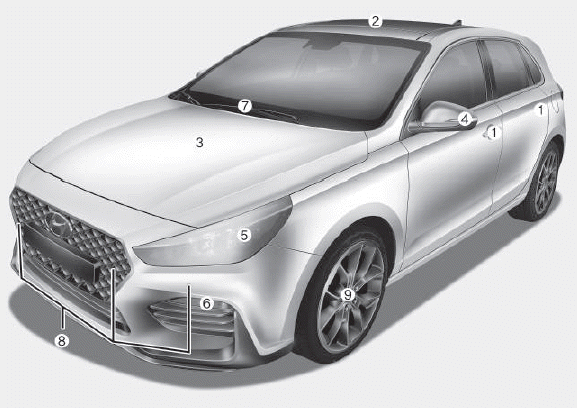 ■ Front view • 5 Door (N line)
1. Door locks
2. Panorama sunroof
3. Bonnet
4. Outside rearview mirror
5. Head lamp
6. Daytime Running Light (DRL)
7. Front windscreen wiper blades
8. Parking Distance Warning system (Reverse/Forward)
9. Tyres and wheels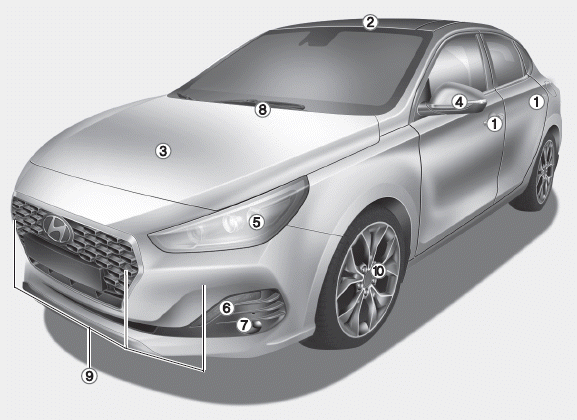 ■ Front view • Fastback
1. Door locks
2. Panorama sunroof
3. Bonnet
4. Outside rearview mirror
5. Head lamp
6. Daytime Running Light (DRL)
7. Front fog lamp
8. Front windscreen wiper blades
9. Parking Distance Warning system (Reverse/Forward)
10. Tyres and wheels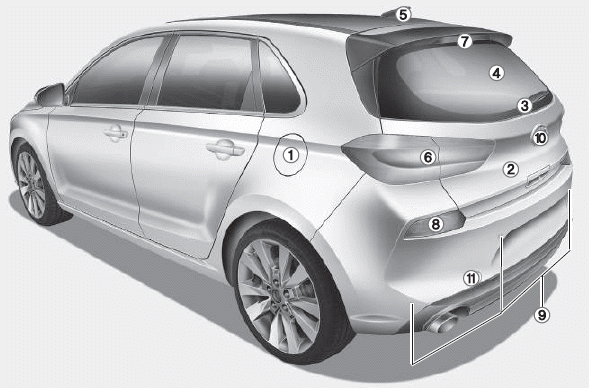 ■ Rear view • 5 Door, Wagon
1. Fuel filler door
2. Tailgate
3. Rear window wiper blade
4. Defroster
5. Antenna
6. Rear combination lamp
7. High mounted stop lamp
8. Rear fog lamp
9. Parking Distance Warning system (Reverse)
10. Rear View Monitor
11. Towing hook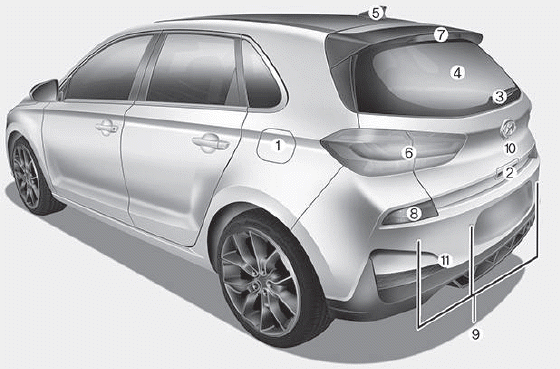 ■ Rear view • 5 Door (N Line)
1. Fuel filler door
2. Tailgate
3. Rear window wiper blade
4. Defroster
5. Antenna
6. Rear combination lamp
7. High mounted stop lamp
8. Rear fog lamp
9. Parking Distance Warning system (Reverse)
10. Rear View Monitor
11. Towing hook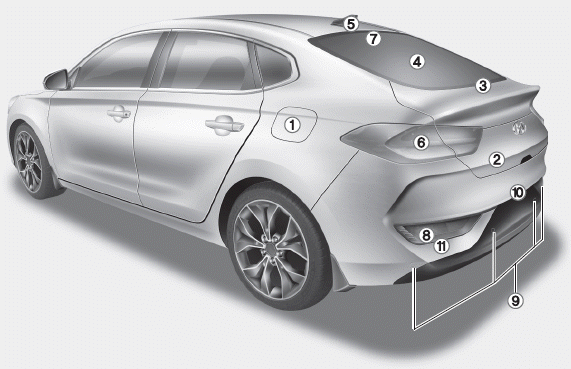 ■ Rear view • Fastback
1. Fuel filler door
2. Tailgate
3. Rear window wiper blade
4. Defroster
5. Antenna
6. Rear combination lamp
7. High mounted stop lamp
8. Rear fog lamp
9. Parking Distance Warning system (Reverse)
10. Rear View Monitor
11. Towing hook
1. Inside door handle 2. Driver position memory system 3. Outside rearview mirror folding 4. Outside rearview mirror control 5. Power window lock switch 6...
Other information:
Welcome light Puddle lamp When all the doors (and tailgate) are closed and locked, the puddle lamp will come on for about 15 seconds if any of the below is performed. When the door unlock button is pressed on the remote key or smart key...
1. After driving approximately 7~10 km (4~6 miles or about 10 min), stop at a safety location. 2. Connect the filling hose (3) of the compressor directly to the tyre valve. 3. Plug the compressor power cord into the vehicle power outlet...
Categories
Operating door locks from outside the vehicle
Mechanical key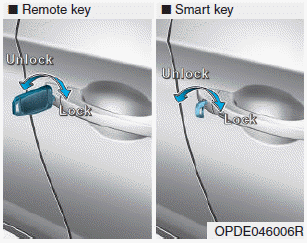 Turn the key toward the rear of the vehicle to unlock and toward the front of the vehicle to lock.
If you lock/unlock the driver's door with a key, a driver's door will lock/unlock automatically.