Hyundai i-30: Your vehicle at a glance / Exterior overview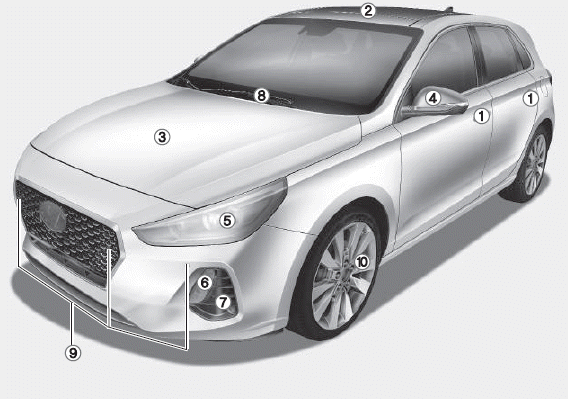 ■ Front view • 5 Door, Wagon
1. Door locks
2. Panorama sunroof
3. Bonnet
4. Outside rearview mirror
5. Head lamp
6. Daytime Running Light (DRL)
7. Front fog lamp
8. Front windscreen wiper blades
9. Parking Distance Warning system (Reverse/Forward)
10. Tyres and wheels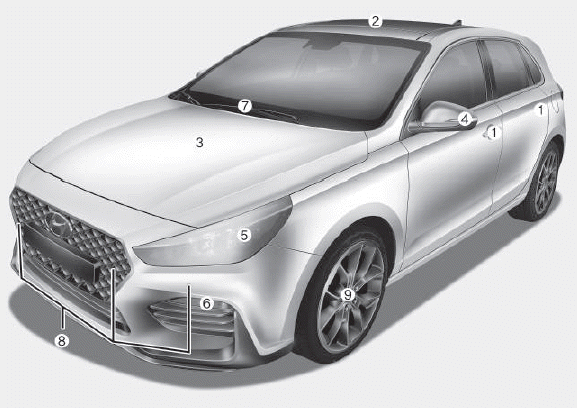 ■ Front view • 5 Door (N line)
1. Door locks
2. Panorama sunroof
3. Bonnet
4. Outside rearview mirror
5. Head lamp
6. Daytime Running Light (DRL)
7. Front windscreen wiper blades
8. Parking Distance Warning system (Reverse/Forward)
9. Tyres and wheels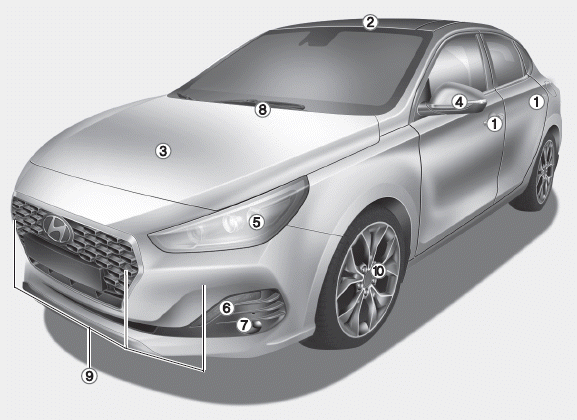 ■ Front view • Fastback
1. Door locks
2. Panorama sunroof
3. Bonnet
4. Outside rearview mirror
5. Head lamp
6. Daytime Running Light (DRL)
7. Front fog lamp
8. Front windscreen wiper blades
9. Parking Distance Warning system (Reverse/Forward)
10. Tyres and wheels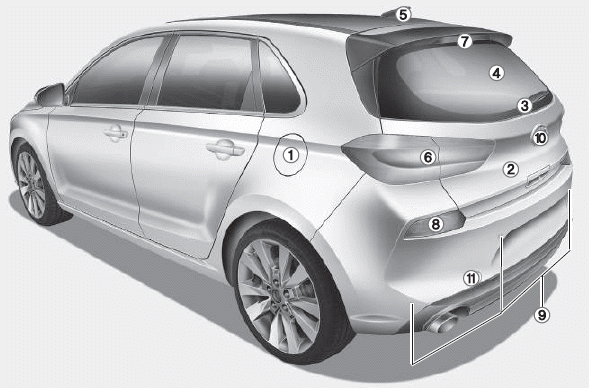 ■ Rear view • 5 Door, Wagon
1. Fuel filler door
2. Tailgate
3. Rear window wiper blade
4. Defroster
5. Antenna
6. Rear combination lamp
7. High mounted stop lamp
8. Rear fog lamp
9. Parking Distance Warning system (Reverse)
10. Rear View Monitor
11. Towing hook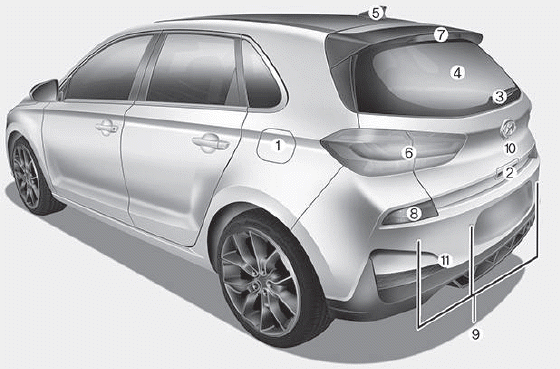 ■ Rear view • 5 Door (N Line)
1. Fuel filler door
2. Tailgate
3. Rear window wiper blade
4. Defroster
5. Antenna
6. Rear combination lamp
7. High mounted stop lamp
8. Rear fog lamp
9. Parking Distance Warning system (Reverse)
10. Rear View Monitor
11. Towing hook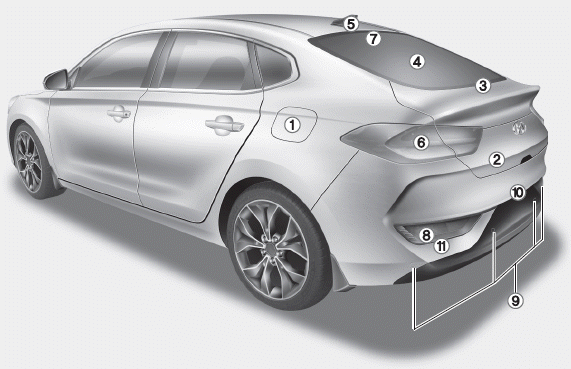 ■ Rear view • Fastback
1. Fuel filler door
2. Tailgate
3. Rear window wiper blade
4. Defroster
5. Antenna
6. Rear combination lamp
7. High mounted stop lamp
8. Rear fog lamp
9. Parking Distance Warning system (Reverse)
10. Rear View Monitor
11. Towing hook
1. Inside door handle 2. Driver position memory system 3. Outside rearview mirror folding 4. Outside rearview mirror control 5. Power window lock switch 6...
Other information:
The wheels on your vehicle were aligned and balanced carefully at the factory to give you the longest tyre life and best overall performance. In most cases, you will not need to have your wheels aligned again. However, if you notice unusual tyre wear or your vehicle pulling one way or the other, the alignment may need to be reset...
Climate control air filter This filter is installed behind the glove box. It filters the dust or other pollutants that enter the vehicle through the heating and air conditioning system. We recommend that the climate control air filter be replaced by a HYUNDAI authorised repairer according to the maintenance schedule...
Categories
Operating door locks from outside the vehicle
Mechanical key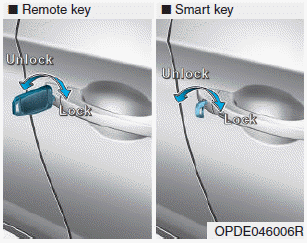 Turn the key toward the rear of the vehicle to unlock and toward the front of the vehicle to lock.
If you lock/unlock the driver's door with a key, a driver's door will lock/unlock automatically.