Hyundai i-30: Restraint / General information
The supplemental restraint system (SRS) is designed to supplement the seat belt to help reduce the risk or severity of injury to the driver and passenger by activating and deploying the driver, passenger, side airbag and belt pretensioner in certain frontal or side collisions.
The SRS (Airbag) consists of ; a driver side airbag module located in the center of the steering wheel, which contains the folded cushion and an inflator unit ; a passenger side airbag module located in the passenger side crash pad contains the folded cushion assembled with inflator unit ; side airbag modules located in the front seat contain the folded cushion and an inflator unit ; curtain airbag modules located inside of the headliner which contains folded cushions and inflator units. The impact sensing function of the SRSCM is carried out by electronic accelerometer that continuously measure the vehicle's acceleration and delivers a corresponding signal through amplifying and filtering circuitry to the microprocessor.
SRSCM (SRS Control Module)
SRSCM will detect front impact with front impact sensors and internal acceleration sensors inside of SRSCM. For side impact, SRSCM will detect the side impact with 4 side impact sensors, 2 conventional acceleration sensors in Center pillar inner locations and 2 pressure sensing sensors in side of front door module, and internal acceleration sensor inside of SRSCM.
SRSCM is designed to issue corresponding airbag module(s) deployment(s) using above described sensor inputs.
| | |
| --- | --- |
| 1. | DC/DC converter : DC/DC converter in power supply unit includes up/down transformer converter, and provides ignition voltage for all firing circuits, implemented as ASICs and the internal operation voltage of the SRSCM itself. if the internal operation voltage is below critical value setting, it will perform resetting. |
| | |
| --- | --- |
| 2. | Back up power supply : SRSCM has separate back up power supply, that will supply deployment energy instantly in low voltage condition or upon power failure by front crash. |
| | |
| --- | --- |
| 3. | Self diagnosis : SRSCM will constantly monitor current SRS operation status and detect system failure while vehicle power supply is on, system failure may be checked with trouble codes using GDS. |
| | |
| --- | --- |
| 4. | Airbag warning lamp on : Upon detecting error, the module will transmit signal to SRSCM indicator lamp located at cluster. MIL lamp will indicat to the driver that there is an SRS error. Upon ignition key on, SRS lamp will turn on for about six seconds. |
| | |
| --- | --- |
| 5. | Trouble code registration : Upon error occurrence in system, SRSCM will store DTC corresponding to the error. DTC can be cleared only by GDS. However, if an internal fault code is active or if a crash is recorded the fault clearing cannot be performed. |
| | |
| --- | --- |
| 6. | Self diagnostic connector : Data stored in SRSCM memory will be output to GDS or other external output devices through a connector located below driver side crash pad. |
| | |
| --- | --- |
| 7. | Once airbag is deployed, SRSCM should not be used again but replaced. |
| | |
| --- | --- |
| 8. | SRSCM will determine whether passenger fasten the seat belt by the signal from built-in switch in seat belt buckle, and deploy front seat airbag at each set crash speed. |
| | |
| --- | --- |
| 9. | Side airbag deployment will be determined by SRSCM that will detect satellite sensor impact signal upon side crash, irrespective to seat belt condition. |
Specification Item Resistance (Ω) Driver Airbag (DAB) 2.0 - 6.0 Passenger Airbag (PAB) 1...
Other information:
Description and operation Description Differential pressure valve (DPV) is control the pressure difference of EGR inlet and outlet. Specifications Specification [Motor] Item Specification Coil Resistance (Ω) 2...
The wheels on your vehicle were aligned and balanced carefully at the factory to give you the longest tyre life and best overall performance. In most cases, you will not need to have your wheels aligned again. However, if you notice unusual tyre wear or your vehicle pulling one way or the other, the alignment may need to be reset...
Categories
Operating door locks from outside the vehicle
Mechanical key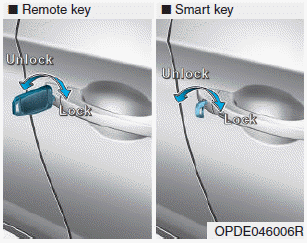 Turn the key toward the rear of the vehicle to unlock and toward the front of the vehicle to lock.
If you lock/unlock the driver's door with a key, a driver's door will lock/unlock automatically.