Hyundai i-30: Intake and Exhaust System / Air Cleaner
Components and components location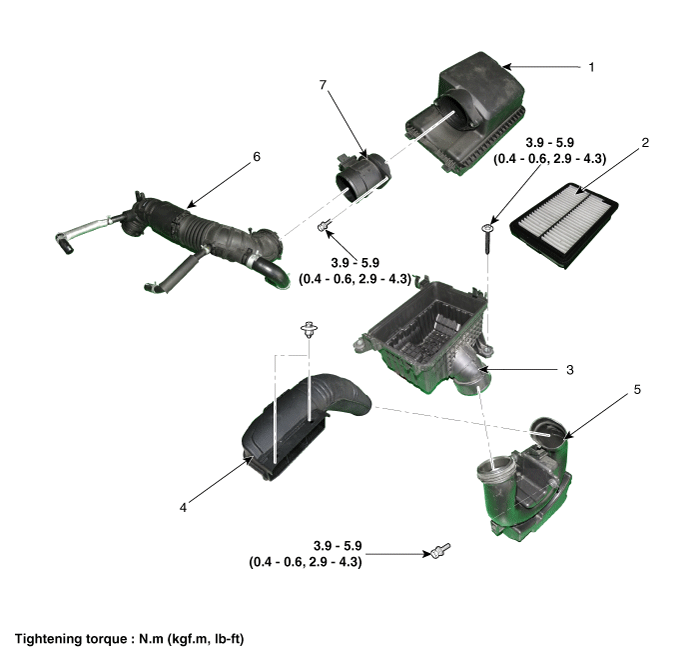 1. Air cleaner upper cover
2. Air cleaner element
3. Air cleaner body
4. Air duct

5. Resonator
6. Air intake hose
7. Air flow sensor

Repair procedures
Air Cleaner Assembly
| | |
| --- | --- |
| 1. | Disconnect the battery negative terminal. |
2.

Remove the engine cover.

(Refer to Engine and Transaxle Assembly - "Engine Cover")
| | |
| --- | --- |
| 3. | Remove the air duct (A). |
4.

Remove the air cleaner assembly.

| | |
| --- | --- |
| (1) | Disconnect the air flow sensor connector (A) |

| | |
| --- | --- |
| (2) | Disconnect the breather hose (B) |

| | |
| --- | --- |
| (3) | Disconnect the vacuum hose (C) |

| | |
| --- | --- |
| (4) | Disconnect the PCV hose (D) |

| | |
| --- | --- |
| (5) | Disconnect the RCV hose (E) |

| | |
| --- | --- |
| (6) | Disconnect the air intake hose (F) and then remove the air cleaner assembly (G). |

Tightening torque

Hose clamp :

2.9 - 4.9 N.m (0.3 - 0.5 kgf.m, 2.2 - 3.6 lb-ft)

Air cleaner bolts :

3.9 - 5.9 N.m (0.4 - 0.6 kgf.m, 2.9 - 4.3 lb-ft)
| | |
| --- | --- |
| 5. | Install in the reverse order of removal. |
Resonator
| | |
| --- | --- |
| 1. | Disconnect the battery negative terminal. |
2.

Remove the air duct and air cleaner assembly.

(Refer to Intake and Exhaust System - "Air Cleaner")
| | |
| --- | --- |
| 3. | Disconnect the wiring connectors and harness clamps and remove the connector brackets around the resonator. |
4.

Remove the resonator (A).

Tightening torque :

3.9 - 5.9 N.m (0.4 - 0.6 kgf.m, 2.9 - 4.3 lb-ft)
| | |
| --- | --- |
| 5. | Install in the reverse order of removal. |
Air Cleaner Element Replacement
| | |
| --- | --- |
| 1. | Remove the clamp and open the air cleaner cover. |
2.

Replace the air cleaner element (A) with a new one.

| | |
| --- | --- |
| • | If there is any foreign substance inside the air cleaner assembly, clean the inside and replace the air cleaner element. |
3.

Close the air cleaner cover and engage the clamp.

| | |
| --- | --- |
| • | Insert the hinge (A) and engage the clamp when mounting the air cleaner cover. |
Components and components location Comoinents 1. Intercooler assembly 2. Intercooler air guard 3. Intercooler inlet hose & pipe 4...
Other information:
The ISLW displays the speed limit information and overtaking restriction through the instrument cluster and the navigation. The ISLW detects the traffic signs through a front view camera, which is attached on the upper part of the inner front windscreen...
Components and components location Components 1. Cylinder block 3. Oil pump sproket 2. Oil pump Repair procedures Removal And Installation Oil Pump 1. Remove the engine room under cover...
Categories
If your vehicle is equipped with a sunroof, you can slide or tilt your sunroof with the sunroof control lever located on the overhead console.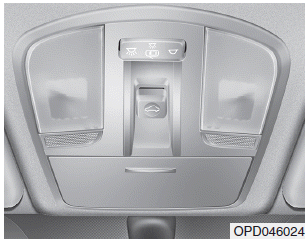 The ignition switch must be in the ON position before you can open or close the sunroof.
The sunroof can be operated for approximately 30 seconds after the ignition key is removed or turned to the ACC or LOCK(or OFF) position. However, if the front door is opened, the sunroof cannot be operated even within 30 seconds.