Hyundai i-30: Warning and indicator lights / Lane Keeping Assist (LKA) system Indicator Light. Icy Road Warning Light
Lane Keeping Assist (LKA) system Indicator Light

This indicator light illuminates:
[Green] When the system operating conditions are satisfied.
[White] The system operating conditions are not satisfied.
[Yellow] When there is a malfunction with the lane keeping assist system.
In this case, we recommend that you have your vehicle inspected by a HYUNDAI authorised repairer.
Icy Road Warning Light

This warning light is to warn the driver the road may be icy.
When the temperature on the outside temperature gauge is approximately below 4°C (40°F), the Icy Road Warning Light and Outside Temperature Gauge blinks 10 times, and then illuminates. Also, the warning chime sounds 1 time.
Information
If the icy road warning light appears whilst driving, you should drive more attentively and safely refraining from over-speeding, rapid acceleration, sudden braking or sharp turning, etc.
Categories
Opening the bonnet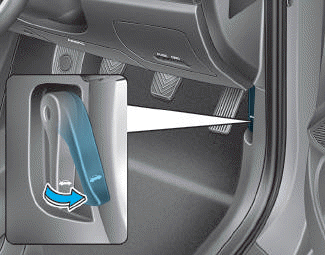 1. Park the vehicle and set the parking brake.
2. Pull the release lever to unlatch the bonnet. The bonnet should pop open slightly.