Hyundai i-30: General Information / Specifications
Item

Specification

Type

Electric Power Steering System

Steering gear

Type

Rack & Pinion

Rack stroke

154 ± 1 mm (6.07 ± 0.04 in)

Steering angle (Max.)

Inner

39.2° + 0.5° / -1.5°

Outer

32.8°

Item

Tightening torque (kgf.m)

N.m

kgf.m

lb-ft

Hub nuts

107.9 - 127.5

11.0 - 13.0

79.6 - 94.0

Steering wheel lock nut

44.1 - 49.0

4.5 - 5.0

32.5 - 36.2

Steering column mounting

Bolt

53.9 - 58.8

5.5 - 6.0

39.8 - 43.4

Nuts

25.0 - 29.4

2.5 - 3.0

14.5 - 21.7

Steering column to Universal joint (M8 BOLT)

32.4 - 38.3

3.3 - 3.8

23.9 - 27.5

Steering column to Universal joint (M10 BOLT)

49.0 - 58.8

5.0 - 6.0

36.2 - 43.4

Bolt connecting universal joint to pinion (M8 BOLT)

32.4 - 37.3

3.3 - 3.8

23.9 - 27.5

Bolt connecting universal joint to pinion (M10 BOLT)

49.0 - 58.8

5.0 - 6.0

36.2 - 43.4

Tie rod end castle nut

24.5 - 34.3

2.5 - 3.5

18.1 - 25.3

Lower arm to front axle

58.8 - 70.6

6.0 - 7.2

43.4 - 52.1

Steering gear box to sub frame

88.3 - 107.9

9.0 - 11.0

65.1 - 79.6

Stabilizer link nut

98.1 - 117.7

10.0 - 12.0

72.3 - 86.8

Sub frame mounting bolts & nuts

156.9 - 176.5

16.0 - 18.0

115.7 - 130.2

Other information:
Troubleshooting Symptom Suspect area Remedy Engine misfire with abnormal internal lower engine noises. Worn crankshaft bearings. Loose or damaged engine drive plate. Replace the crankshaft and bearings as required...
The driver can disable the power window switches on the rear passengers' doors by pressing the power window lock switch. When the power window lock switch is pressed: The driver's master control can operate all the power windows. The front passenger's control can operate the front passenger's power window...
Categories
Seat belt warning
Driver's seat belt warning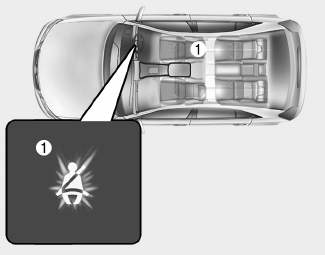 ■ Instrument cluster
As a reminder to the driver, the seat belt warning light will illuminate for approximately 6 seconds each time you turn the ignition switch ON regardless of belt fastening.