Hyundai i-30: Tire Pressure Monitoring System / TPMS Receiver
Description and operation
TPMS Receiver : BCM(body control module) integrated management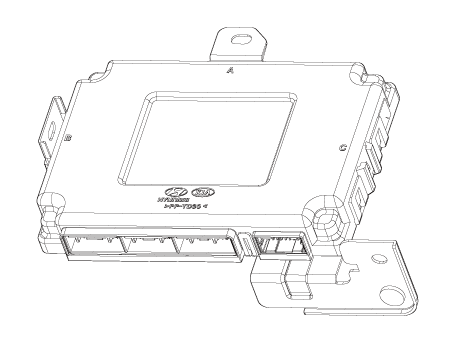 1.

Mode

(1)

Virgin State

| | |
| --- | --- |
| – | The receiver as a sole part is shipped in this state. Replacement parts should therefore arrive in this state. |

| | |
| --- | --- |
| – | In this state, there is no Auto-Location, no sensor wake-up, no sensor monitoring and no DTC monitoring. |

| | |
| --- | --- |
| – | The state indicates that platform specific parameters must be written to the receiver and that sensors are un-learned. |

(2)

Normal State

| | |
| --- | --- |
| – | In order for tire inflation state and DTC monitoring to occur, the receiver must be in this state. |

| | |
| --- | --- |
| – | In this state, automatic sensor location / learning is enabled. |
2.

Overview

| | |
| --- | --- |
| – | Learn TPMS sensor for under inflation monitoring automatically. |

| | |
| --- | --- |
| – | Uses sensor information, distance travelled, background noise levels, Auto-learn status, short / open circuit output status, vehicle battery level, internal receiver states to determine if there is a system or a vehicle fault. |
1.

General Function

| | |
| --- | --- |
| – | Auto-learn takes place only once per Ignition cycle. |

| | |
| --- | --- |
| – | On successful completion, 4 road wheel sensor ID's are latched into memory for monitoring. |

| | |
| --- | --- |
| – | Until Auto - learn completes, previously learned sensors are monitored for under inflation / leak warnings. |
2.

General Conditions to Learn New Sensors :

–

Receiver must determine that it is confident that sensor is not temporary :

a. Uses vehicle speed.

b. Uses confidence reduction of previously learned sensors.

| | |
| --- | --- |
| – | Typical time at driving continuously over 15.5 mph (25 kph) to learn a new sensor is up to 20 minutes. |
3.

General Conditions to Un-Learn a sensor that is removed :

| | |
| --- | --- |
| – | It takes less than 20 minutes at 15.5 mph (20 - 30 kph). |

| | |
| --- | --- |
| – | Confidence reduction is dependent on time which vehicle is driven at speed greater than or equal to 12.4 mph (20 - 30 kph). |
Repair procedures
| | |
| --- | --- |
| 1. | Disconnect the negative (-) battery terminal. |
2.

Remove the glove box.

(Refer to Body - "Glove Box Upper Cover Assembly")
3.

Remove the smart key unit.

(Refer to Body - "Smart Key Unit")
| | |
| --- | --- |
| 4. | Remove the body control module (A). |
| | |
| --- | --- |
| 5. | Disconnect the connectors (A) and then remove the body control mudule (B). |
| | |
| --- | --- |
| 1. | Install the body control module. |
| | |
| --- | --- |
| 2. | Install the smart key unit. |
| | |
| --- | --- |
| 3. | Install the glove box upper cover assembly. |
Diagnosis procedure by using diagnostic device
The main contents of diagnostic method using diagnostic device are as follows:
| | |
| --- | --- |
| 1. | Connect self-diagnosis connector (16 pins) located in the lower driver side crash pad to self-diagnosis device, and then turn on the self-diagnosis device after key is ON. |
| | |
| --- | --- |
| 2. | Select the "vehicle model" and "TPMS" on GDS vehicle selection screen, then select OK. |
[Vehicle Name Writing Method]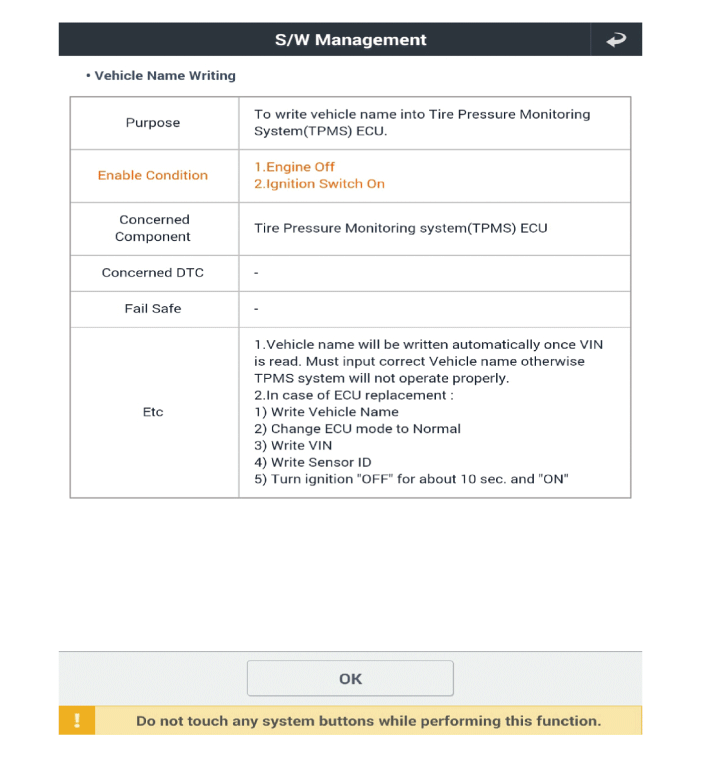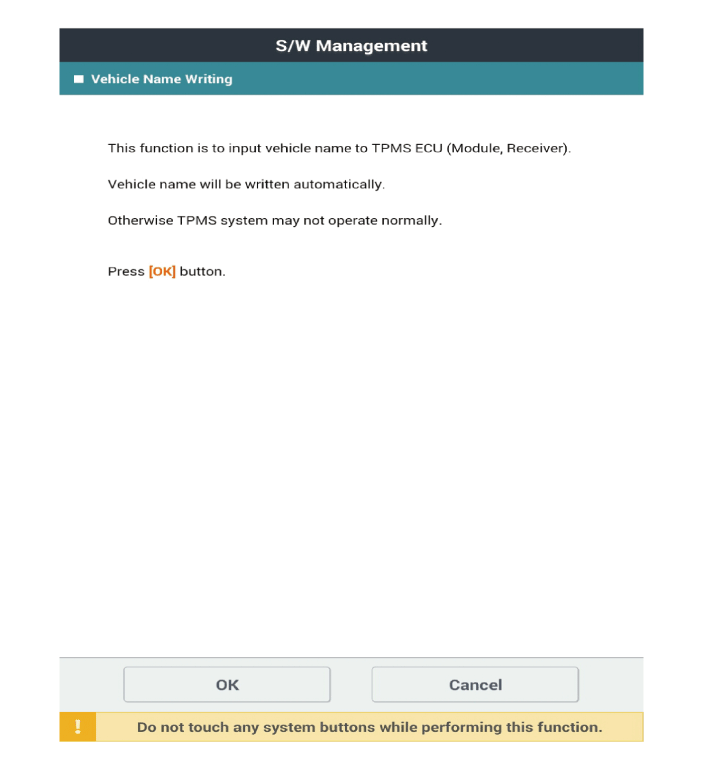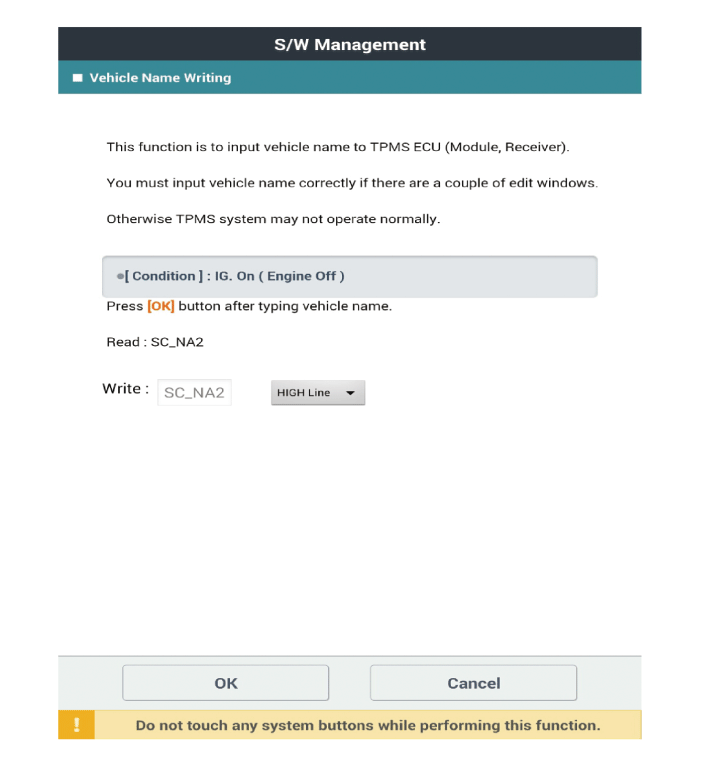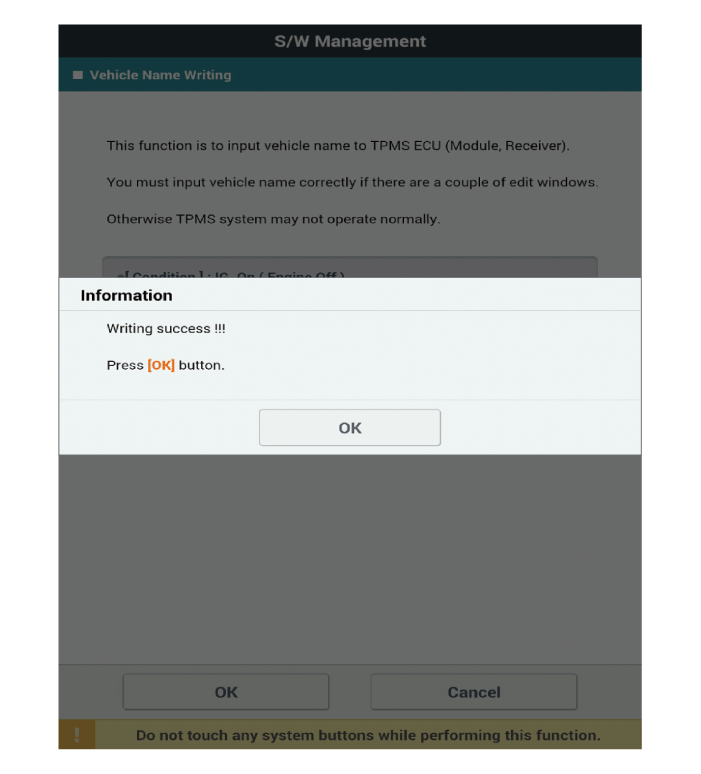 [Wheel Sensor ID Writing Method]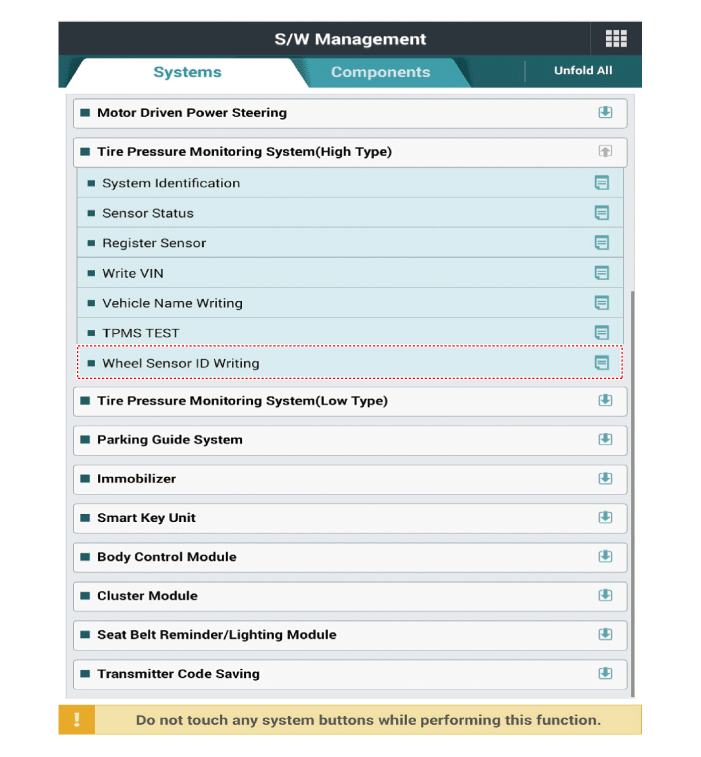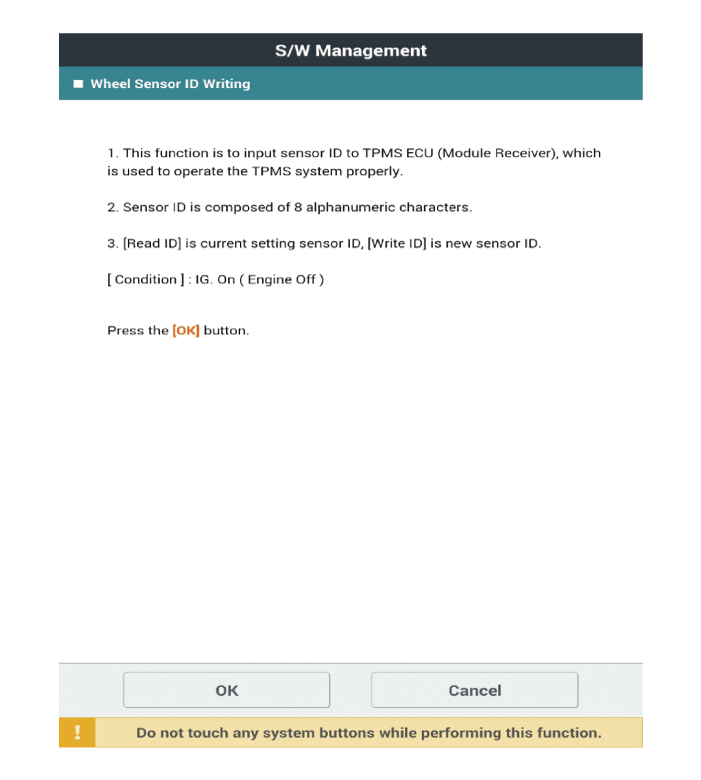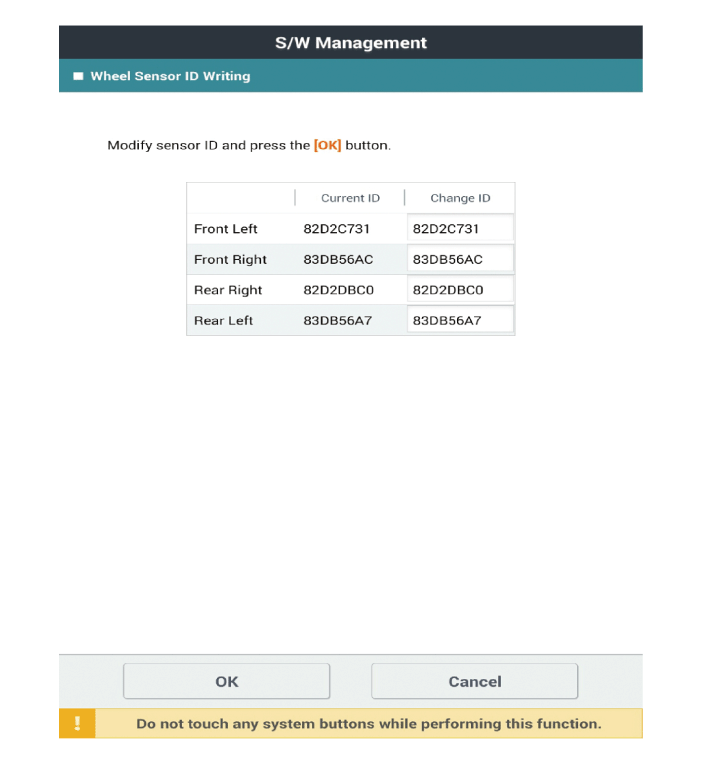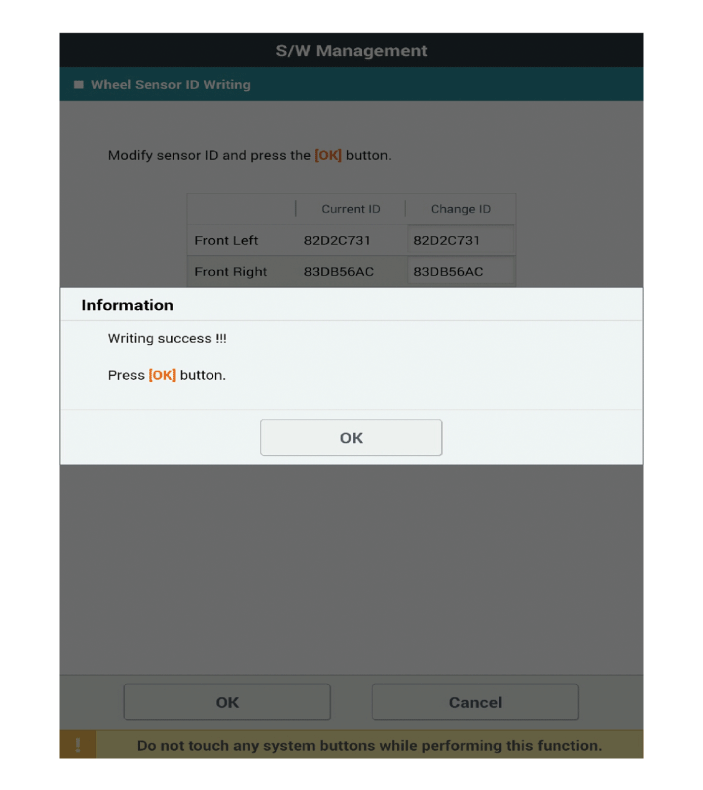 Description and operation Description 1. General description WU is a sensor placed in the tire that reports pressure and temperature...
Other information:
Inside the fuse/relay box cover, you can find the fuse/relay label describing fuse/relay names and ratings. Information Not all fuse panel descriptions in this manual may be applicable to your vehicle; the information is accurate at the time of printing...
Components and components location Components [LHD] 1. Reservoir cap 2. Reservoir 3. Brake booster 4. Master cylinder 5. Push rod [RHD] 1. Reservoir cap 2...
Categories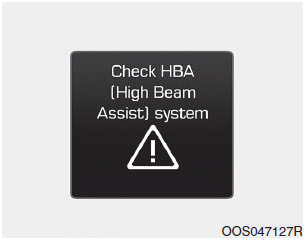 When the High Beam Assist (HBA) System is not working properly, the warning message will come on for a few second. After the message disappears, the master warning light (

) will illuminate.