Hyundai i-30: Convenient features of your vehicle / Panorama sunroof
If your vehicle is equipped with a sunroof, you can slide or tilt your sunroof with the sunroof control lever located on the overhead console.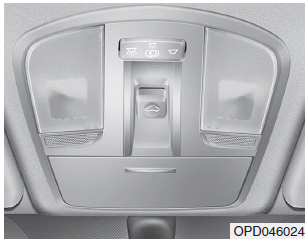 The ignition switch must be in the ON position before you can open or close the sunroof.
The sunroof can be operated for approximately 30 seconds after the ignition key is removed or turned to the ACC or LOCK(or OFF) position. However, if the front door is opened, the sunroof cannot be operated even within 30 seconds.
Information
In cold and wet climates, the sunroof may not work properly due to freezing conditions.
After the vehicle is washed or in a rainstorm, be sure to wipe off any water that is on the sunroof before operating it.
NOTICE
Do not continue to move the sunroof control lever after the sunroof is fully opened, closed, or tilted. Damage to the motor or system components could occur.
Make sure the sunroof is closed fully when leaving your vehicle. If the sunroof is open, rain or snow may leak through the sunroof and wet the interior as well as allow theft.
WARNING
Never adjust the sunroof or sunshade whilst driving. This could result in loss of control and an accident that may cause death, serious injury, or property damage.
Make sure heads, other body parts or objects are out of the way before using the sunroof. • Do not leave the engine running and the key in your vehicle with unsupervised children. Unattended children could operate the sunroof, which could result in serious injury.
The panorama sunroof is made of glass, subject to break in case of accident. Passengers without the appropriate protection( e.g. seat belt, CRS, etc.) on may project out through the broken glasses and get seriously injured or even result in death.
Do not sit on the top of the vehicle. It may cause injuries or vehicle damage.
Categories
Operating door locks from outside the vehicle
Mechanical key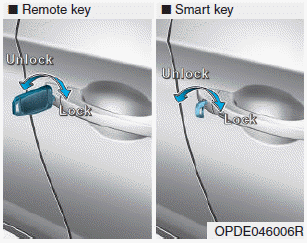 Turn the key toward the rear of the vehicle to unlock and toward the front of the vehicle to lock.
If you lock/unlock the driver's door with a key, a driver's door will lock/unlock automatically.