Hyundai i-30: Driving your vehicle / Idle stop and go (ISG) system
The ISG system is to reduce the fuel consumption by automatically shutting down the engine, when the vehicle is at a standstill (i.e. red stop light, stop sign, and traffic jam).
The engine is automatically started upon satisfying the starting conditions.
The ISG system is always active, when the engine is running.
Information
When the engine is automatically started by the ISG system, some warning lights (i.e. ABS, ESC, ESC OFF, EPS, and parking brake warning light) may illuminate for a few seconds due to the low battery voltage. However, it does not indicate a malfunction with the ISG system.
Categories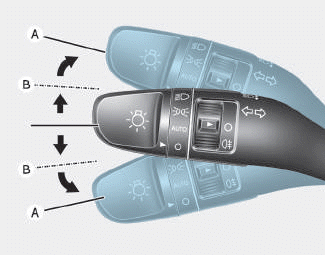 To signal a turn, push down on the lever for a left turn or up for a right turn in position (A). To signal a lane change, move the turn signal lever slightly and hold it in position (B).The lever will return to the OFF position when released or when the turn is completed.