Hyundai i-30: Engine Control / Fuel System / Specifications
Fuel Delivery System
Items

Specification

Fuel Tank

Capacity

50 lit. (13.2 U.S.gal., 52.8 U.S.qt., 44.0 Imp.qt.)

Fuel Filter

Type

Paper type

Fuel Pressure

Low Pressure Fuel Line

480 - 500 kPa (4.9 - 5.1 kgf/cm² , 69.6 - 72.5 psi)

High Pressure Fuel Line

2.0 - 35.0 MPa (20.4 - 357.0 kg/cm², 290.1 - 5077.7 psi)

Fuel Pump

Type

Electrical, in-tank type

Driven by

Electric motor

High Pressure Fuel Pump

Type

Mechanical type

Driven by

Camshaft

Sensors
Mass Air Flow Sensor (MAFS)
▷ Type : Hot-Film Type
▷ Specification
| | |
| --- | --- |
| Air Flow (kg/h) | SENT |
| -40 | 1 |
| -30 | 645 |
| -20 | 1381 |
| -15 | 1788 |
| -12 | 2047 |
| -10 | 2228 |
| -8 | 2416 |
| -6 | 2613 |
| 0 | 3300 |
| 6 | 4122 |
| 8 | 4359 |
| 10 | 4585 |
| 12 | 4801 |
| 15 | 5112 |
| 20 | 5599 |
| 30 | 6480 |
| 40 | 7252 |
| 50 | 7922 |
| 60 | 8501 |
| 70 | 9004 |
| 80 | 9444 |
| 90 | 9833 |
| 105 | 10341 |
| 120 | 10780 |
| 140 | 11284 |
| 160 | 11719 |
| 180 | 12103 |
| 200 | 12446 |
| 220 | 12756 |
| 250 | 13174 |
| 280 | 13547 |
| 310 | 13884 |
| 340 | 14191 |
| 370 | 14475 |
| 400 | 14738 |
| 440 | 15063 |
| 480 | 15363 |
| 560 | 15901 |
| 600 | 16145 |
Manifold Absolute Pressure Sensor (MAPS)
▷ Type : Piezo-resistive pressure sensor type
▷ Specification
Pressure
[kPa (kg/cm², psi)]

Output Voltage (V)

10 (0.10, 1.45)

0.5

40 (0.41, 5.80)

0.913

80 (0.82, 11.60)

1.465

120 (1.22, 17.40)

2.017

160 (1.63, 23.21)

2.569

200 (2.04, 29.01)

3.12

220 (2.24, 31.91)

3.396

240 (2.45, 34.81)

3.672

280 (2.86, 40.61)

4.224

300 (3.06, 43.51)

4.5

Intake Air Temperature Sensor (IATS)
▷ Type : Thermistor type
▷ Specification
Temperature

Resistance (kΩ)

°C

°F

-40 ± 1

-40 ± 1

38.88 - 50.77

-20 ± 1

-4 ± 1

13.20 - 16.83

0 ± 1

32 ± 1

5.12 - 6.12

20 ± 1

68 ± 1

2.20 - 2.69

25 ± 1

77 ± 1

1.81 - 2.21

40 ± 1

104 ± 1

1.02 - 1.27

60 ± 1

140 ± 1

0.52 - 0.65

80 ± 1

176 ± 1

0.28 - 0.35

100 ± 1

212 ± 1

0.16 - 0.21

120 ± 1

248 ± 1

0.10 - 0.13

130 ± 1

266 ± 1

0.08 - 0.10

150 ± 1

302 ± 1

0.05 - 0.07

Ambient Temperature Sensor (ATS)
▷ Type : Thermistor type
▷ Specification
| | |
| --- | --- |
| Temperature [°C (°F)] | Resistance (kΩ) |
| -40 (-40) | 841.2 - 1019.3 |
| -20 (-4) | 263.8 - 306.5 |
| 0 (32) | 92.4 - 102.8 |
| 20 (68) | 57.0 - 62.2 |
| 25 (77) | 36.2 - 38.8 |
| 40 (104) | 15.3 - 16.7 |
| 50 (122) | 10.3 - 11.4 |
| 60 (140) | 7.1 - 8.0 |
| 80 (176) | 3.5-4.0 |
Boost Pressure Sensor (BPS)
▷ Type : Piezo-resistive pressure sensor type
▷ Specification
Pressure
[kPa (kgf/cm², psi)]

Output Voltage (V)

10 (0.1, 1.5)

0.5

40 (0.4, 5.8)

0.91

80 (0.8, 11.6)

1.47

120 (1.2, 17.4)

2.02

160 (1.6, 23.2)

2.57

200 (2.0, 29.0)

3.12

220 (2.2, 31.9)

3.4

240 (2.4, 34.8)

3.67

280 (2.9, 40.6)

4.22

300 (3.1, 43.5)

4.5

Engine Coolant Temperature Sensor (ECTS)
▷ Type : Thermistor type
▷ Specification
Temperature

Resistance (kΩ)

°C

°F

-40

-40

41.74 - 54.54

-30

-22

23.54 - 29.94

-20

-4

14.13 - 16.83

-10

14

8.39 - 10.22

0

32

5.28 - 6.29

10

50

3.42 - 4.00

20

68

2.31 - 2.59

30

86

1.55 - 1.86

40

104

1.08 - 1.21

50

122

0.77 - 0.85

60

140

0.56 - 0.61

70

158

0.41 - 0.44

80

176

0.31 - 0.33

90

194

0.23 - 0.25

100

212

0.18 - 0.19

Throttle Position Sensor (TPS) [Integrated into ETC Module]
▷ Type : IC rotate sensor type
▷ Specification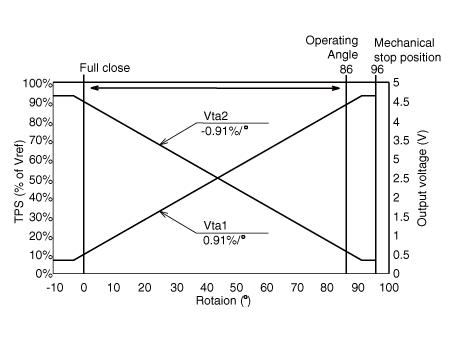 Crankshaft Position Sensor (CKPS)
▷ Type : Magnetic field sensitive Type
▷ Specification
Camshaft Position Sensor (CMPS)
▷ Type : Hall effect type
▷ Type : Piezo-electricity type
▷ Specification
| | |
| --- | --- |
| Item | Specification |
| Capacitance (pF) | 850 - 1,150 |
| Resistance (MΩ) | R > 1 |
Heated Oxygen Sensor (HO2S) [Bank 1 / Sensor 1]
▷ Type : Zirconia (ZrO2) [Linear] Type
▷ Specification
| | |
| --- | --- |
| Item | Specification |
| Heater Resistance (Ω) | Approx. 2.5 [20°C (68°F)] |
Heated Oxygen Sensor (HO2S) [Bank 1 / Sensor 2]
▷ Type : Zirconia (ZrO2) [Binary] Type
▷ Specification
| | |
| --- | --- |
| Item | Specification |
| Heater Resistance (Ω) | Approx. 3.0 [20°C (68°F)] |
Rail Pressure Sensor (RPS)
▷ Type : Piezo-electricity type
▷ Specification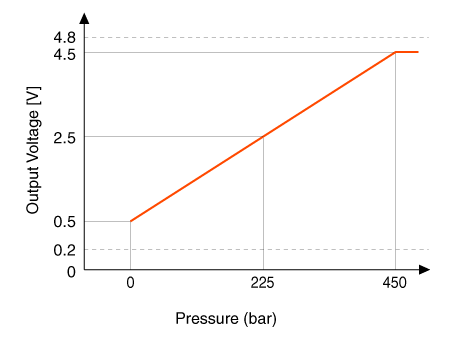 Electronic Waste Gate Actuator (EWGA) Position Sensor [Integrated into EWGA]
▷ Type : Hall effect, Non-contact Type
▷ Specification
| | | |
| --- | --- | --- |
| Position | Output Voltage [V] | Operating Angle [°] |
| Mechanical Close end stop Position (MCP) | 4.8 | 80.8 |
| Electrical Close end stop Position (ECP) | 3.8 | 106.9 |
| Electrical Open end stop Position (EOP) | 1.2 | 172.9 |
| Mechanical Open end stop Position (MOP) | 0.5 | 190.8 |
Accelerator Position Sensor (APS)
▷ Type : Variable resistor type
▷ Specification
Accelerator Position

Output Voltage (V)

APS1

APS2

C.T

0.7 - 0.8

0.325 - 0.425

W.O.T

3.98 - 4.22

1.93 - 2.17

Actuators
▷ Specification
| | |
| --- | --- |
| Item | Specification |
| Coil Resistance (Ω) | 11.4 - 12.6 [20°C (68°F)] |
ETC Motor [integrated into ETC Module]
▷ Specification
| | |
| --- | --- |
| Item | Specification |
| Coil Resistance (Ω) | 1.19 - 1.31 [20°C (68°F)] |
Purge Control Solenoid Valve (PCSV)
▷ Specification
| | |
| --- | --- |
| Item | Specification |
| Coil Resistance (Ω) | 1.29 - 1.57 [20°C (68°F)] |
Variable Force Solenoid (VFS) [Bank 1 / Intake, Exhaust]
▷ Specification
| | |
| --- | --- |
| Item | Specification |
| Coil Resistance (Ω) | 5.12 - 6.12 [20°C (68°F)] |
| Operating Voltage (V) | 10 - 16 |
Fuel Pressure control Valve
▷ Specification
| | |
| --- | --- |
| Item | Specification |
| Coil Resistance (Ω) | 0.52 - 0.58 [20°C (68°F)] |
Electronic Waste Gate Actuator (EWGA) DC Motor [Integrated into EWGA]
▷Specification
| | |
| --- | --- |
| Item | Specification |
| Coil Resistance (Ω) | 1.13 - 1.64 [25°C (77°F)] |
RCV Control Solenoid Valve
▷ Specification
| | |
| --- | --- |
| Item | Specification |
| Coil Resistance (Ω) | 28.3 - 31.1 [20°C (68°F)] |
Item

Specification

Ignition Timing (°)

BTDC 2 ± 10

Idle Speed (rpm)

A/C OFF

Neutral, N, P-range

630 ± 100

D-range

630 ± 100

A/C ON

Neutral, N, P-range

700 ± 100

D-range

680 ± 100

Other information:
The Automatic Climate Control System is controlled by setting the desired temperature. 1. Press the AUTO button. The modes, fan speeds, air intake and air-conditioning will be controlled automatically by the temperature setting you select...
Checking the washer fluid level Check the fluid level in the washer fluid reservoir and add fluid if necessary. Plain water may be used if washer fluid is not available. However, use washer solvent with antifreeze characteristics in cold climates to prevent freezing...
Categories
Operating door locks from outside the vehicle
Mechanical key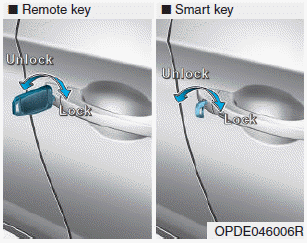 Turn the key toward the rear of the vehicle to unlock and toward the front of the vehicle to lock.
If you lock/unlock the driver's door with a key, a driver's door will lock/unlock automatically.