Hyundai i-30: Idle stop and go (ISG) system / The battery sensor deactivation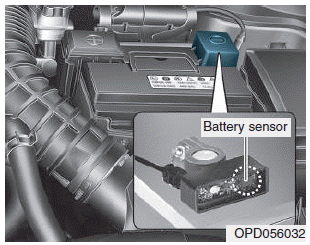 The battery sensor is deactivated, when the battery is disconnected from the negative pole for maintenance purpose.
In this case, the ISG system is limitedly operated due to the battery sensor deactivation. Thus, the driver needs to take the following procedures to reactivate the battery sensor after disconnecting the battery.
Prerequisites to reactivate the battery sensor
Keep the engine in the OFF status for 4 hours, and attempt to restart the engine 3 to 4 times for the batterysensor reactivation.
Pay extreme caution not to connect any accessories (i.e. navigation and black box) to the vehicle with the engine in the OFF status. If not, the battery sensor may not be reactivated.
Information
The ISG system may not operate in the following situations.
- There is a malfunction with the ISG system.
- The battery is weak.
- The brake vacuum pressure is low. In those cases, we recommend that you have the ISG system checked by a HYUNDAI authorised repairer.
NOTICE
Use only the genuine HYUNDAI ISG battery for replacement. If not, the ISG system may not normally operate.
Do not recharge the ISG battery with a general battery charger. If not, it may damage or explode the ISG battery.
Do not remove the battery cap. If not, the battery electrolyte, which is harmful to the human body, may leak out.
Categories
If your vehicle is equipped with a sunroof, you can slide or tilt your sunroof with the sunroof control lever located on the overhead console.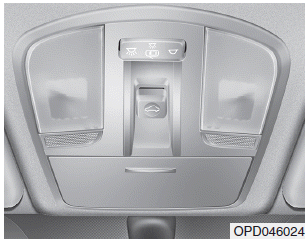 The ignition switch must be in the ON position before you can open or close the sunroof.
The sunroof can be operated for approximately 30 seconds after the ignition key is removed or turned to the ACC or LOCK(or OFF) position. However, if the front door is opened, the sunroof cannot be operated even within 30 seconds.