Hyundai i-30: What to do in an emergency / If the engine will not start
If the engine doesn't turn over or turns over slowly
Be sure the shift lever is in N (Neutral) or P (Park) if it is an automatic transmission/dual clutch transmission vehicle. The engine starts only when the shift lever is in N (Neutral) or P (Park).
Check the battery connections to be sure they are clean and tight.
Turn on the interior light. If the light dims or goes out when you operate the starter, the battery is drained.
Do not push or pull the vehicle to start it. This could cause damage to your vehicle. See instructions for "Jump Starting" provided in this chapter.
CAUTION
Push or pull starting the vehicle may cause the catalytic converter to overload which can lead to damage to the emission control system.
If the engine turns over normally but doesn't start
• Check the fuel level and add fuel if necessary.
If the engine still does not start, we recommend that you call a HYUNDAI authorised repairer for assistance.
Categories
Speedometer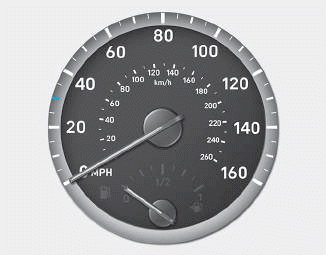 The speedometer indicates the speed of the vehicle and is calibrated in kilometers per hour (km/h) and/or miles per hour (MPH).
Tachometer