Hyundai i-30: Intelligent speed limit warning (ISLW) system / Limitations of the system
The driver must be cautious in the following situations. The ISLW may not assist the driver and may not properly operate.
Do not disassemble camera temporarily for tinted window or attaching any types of coatings and accesories. If you disassemble a camera and assemble it again, take your vehicle to an authorized HYUNDAI dealer and have the system checked to need a calibration.
Do not locate any reflective objects (i.e. white paper, mirror) over the dashboard. Any light reflection may cause a mal-function of the ISLW.
Pay extreme caution to keep the camera sensor out of water.
Do not arbitrarily disassemble the camera assembly, nor apply any impact on the camera assembly.
The ISLW is only to assist the driver. The driver should pay great caution to the vehicle operation.
The driver always holds the responsibility of safe driving by following the applicable road traffic rule(s) and regulation(s).
Categories
Speedometer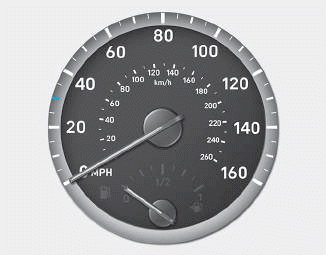 The speedometer indicates the speed of the vehicle and is calibrated in kilometers per hour (km/h) and/or miles per hour (MPH).
Tachometer