Hyundai i-30: Interior features / Luggage rail system (wagon)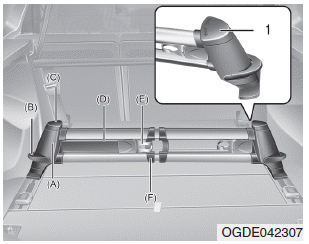 The luggage rail system may help prevent the luggage from rolling around in the luggage compartment.
Build in segmentation bar
Put both pillars (A) of the segmentation bar on the rail openings.
To move the segmentation bar, push the lever (B).
Make sure the pillars click into place.
To release the belt, turn the upper side of the pillar (C) to the left or right until it clicks.
Pull the belt (D) and put it around the luggage and fasten the hook to the centre of the segmentation bar (F) to secure the luggage.
You can secure the bulky luggage by engaging the both hooks together.
To make sure that the belt is securely fixed, put the upper side of the pillar (C) to lock position (1).
CAUTION
When mounting or removing the segmentation bar, you need to move both pillars together at the same time.
Max. load: 30 kg with one belt 40 kg with two belts
Using the shackle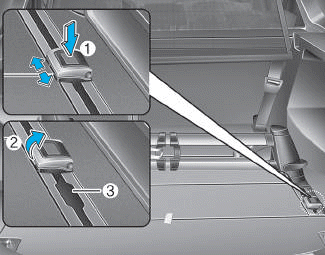 Put the shackle (A) on the rail, on the position where the shackle is supposed to be placed.
To move the shackle, press the button (1) and move the shackle along the rail.
Make sure the shackle is clicked into place.
To fix the luggage, pull up the hook (2) in the middle cargo bay.
Now you can mount e.g. belt to fix the luggage in the hook.
You cannot use the shackle when the shackle is in the rail groove (3).
CAUTION
Tensile force : max. 30 kgf. for 1 shackle
Categories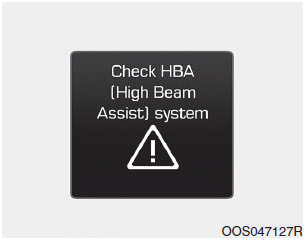 When the High Beam Assist (HBA) System is not working properly, the warning message will come on for a few second. After the message disappears, the master warning light (

) will illuminate.