Hyundai i-30: Parking Brake System / Parking Brake Lever
Repair procedures
| | |
| --- | --- |
| 1. | Disconnect the negative (-) battery cable. |
| | |
| --- | --- |
| 2. | Release the parking brake. |
3.

Remove the floor console assembly.

(Refer to Body - "Floor Console")
| | |
| --- | --- |
| 4. | Disconnect the connector of parking brake switch. |
| | |
| --- | --- |
| 5. | Remove the parking brake cable after removing the nut and cable retainer. |
| | |
| --- | --- |
| 6. | Remove the parking brake lever assembly after loosening the bolts. |
1.

Install the parking brake lever assembly.

Tightening torque :

19.6 - 29.4 N.m (2.0 - 3.0 kgf.m, 14.5 - 21.7 lb-ft)
| | |
| --- | --- |
| 2. | Install the parking brake cable after removing the cable retainer. |
3.

Apply a coating of the specified grease to each sliding parts (A) of the ratchet plate or the ratchet pawl.

Specified grease : CASMOLY 623
4.

Install the parking brake cable adjuster, then adjust the parking brake lever stroke by turning adjusting nut (A).

Parking brake lever stroke :

5 - 7 clicks (Pull the lever with 196N (20 kgf, 44 lbf))
1.

Remove the floor console assembly.

(Refer to Body - "Floor Console")
| | |
| --- | --- |
| 2. | Bring the brake pads in their operating position by pressing the brake pedal down several times until there is resistance. |
3.

Tension the parking brake cable by tightening the adjusting nut, until the operating levers on both calipers lift from the stop, up to a distance of (A) and (D) between operating lever (B) and stopper (C).

Distance (A + D) :

Max. 3 mm (0.12 in)
| | |
| --- | --- |
| 4. | adjust the parking brake lever stroke by turning adjusting nut (A). |
| | |
| --- | --- |
| 5. | Release the parking brake lever fully, and check that parking brakes do not drag when the rear wheels are turned. Readjust if necessary. |
| | |
| --- | --- |
| 6. | Make sure that the parking brakes are fully applied when the parking brake lever is pulled up fully. |
7.

Install the floor console.

(Refer to Body - "Floor Console")
Repair procedures Removal 1. Disconnect the negative (-) battery cable. 2. Release the parking brake...
Other information:
A/S Repair produres MDPS System A/S Workflow ① Noise / malfunction Inspection ② Warning lamp (DTC) / CAN Line error 2 - 1 Checking Connectors and Wiring 1. Checking Connectors and Wiring...
Removal 1. Remove the manual transaxle assembly. [In case by MT apply] (Refer to Manual Transaxle System - "Manual Transaxle") 2. Remove the intelligent manual transaxle assembly...
Categories
Opening the bonnet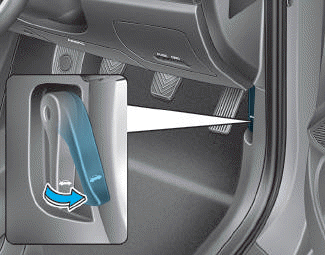 1. Park the vehicle and set the parking brake.
2. Pull the release lever to unlatch the bonnet. The bonnet should pop open slightly.