Hyundai i-30: Ignition System / Repair procedures
Inspect ignition coil assembly and Perform spark test
1.

Check for DTCs.

•

If a DTC is present, perform troubleshooting in accordance with the procedure for that DTC.

(Refer to DTC guide)
2.

Check if sparks occur.

(1)

Remove the engine cover.

(Refer to Engine Mechanical System - "Engine Cover")

(2)

Remove the ignition coils.

(Refer to Ignition System - "Ignition Coil")

(3)

Using a spark plug wrench, remove the spark plugs.

(Refer to Ignition System - "Spark Plug")

| | |
| --- | --- |
| (4) | Connect the connector after install the spark plug to ignition coil. |

| | |
| --- | --- |
| (5) | Ground the spark plug to the engine. |

| | |
| --- | --- |
| (6) | Check if sparks occur at each spark plug while engine is being cranked. |

| | |
| --- | --- |
| • | Do not crank the engine for more then 5 seconds. |
| | |
| --- | --- |
| 3. | If sparks do not occur, perform the following test. |
4.

Using a spark plug wrench, install spark plugs.

(Refer to Ignition System - "Spark Plug")
5.

Install the ignition coils.

(Refer to Ignition System - "Ignition Coil")
6.

Install the engine cover.

(Refer to Engine Mechanical System - "Engine Cover")
Description and operation Description The ignition coil is mounted on the top side of the cylinder head cover end. The ignition coil consists of the primary coil that receives battery power and the secondary coil that generates high voltage...
Other information:
1. Loosen the pin-type retainers and screws of the rear wheel guard and then detach it from the rear bumper. 2. Reach your hand into the back of the rear bumper. 3. Remove the socket from the housing by turning the socket counterclockwise until the tabs on the socket align with the slots of the housing...
Low tyre pressure telltale Low tyre pressure position telltale and tyre pressure telltale When the tyre pressure monitoring system warning indicators are illuminated and a warning message displayed on the cluster LCD display, one or more of your tyres is significantly under-inflated...
Categories
Opening the tailgate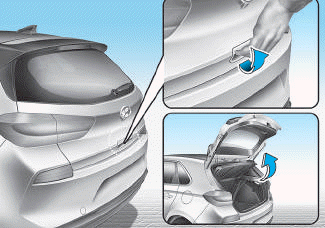 ■ 5 Door, Wagon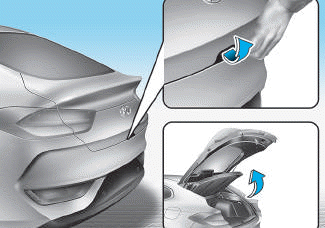 ■ Fastback
Copyright © 2023 www.hi30.net