Hyundai i-30: Clutch Cover And Disc / Repair procedures
1.

Remove the manual transaxle assembly. [In case by MT apply]

(Refer to Manual Transaxle System - "Manual Transaxle")
2.

Remove the intelligent manual transaxle assembly. [In case by IMT apply]

(Refer to Intelligent Manual Transaxle (IMT) System - "Intelligent Manual Transaxle (IMT) System")
| | |
| --- | --- |
| 3. | Remove the clutch cover bolts. Be careful not to be bent or twist bolts. Loosen bolts. Loosen bolts in diagonal directions. |
4.

Loosen the clutch cover mounting bolts and then removing the clutch cover.

| | |
| --- | --- |
| • | Be careful not to be bent or twist bolts. |

| | |
| --- | --- |
| • | Loosen bolts in diagonal directions. |

[Gasoline 1.0 T-GDI, 1.5 MPI, 1.5 T-GDI]

[Diesel 1.6 TCI]
| | |
| --- | --- |
| 1. | Inspect diaphragm spring wear which is in contact with a concentic slave cylinder bearing. |
| | |
| --- | --- |
| 2. | Check the clutch cover and disc surface for wear or cracks. |
| | |
| --- | --- |
| 3. | Check the clutch disc lining for slipping or oil marks. |
4.

Measure the depth from a clutch lining surface to a rivet. If the measured value is less than the specification below, replace it.

Engine

Item

Specification

Gasoline 1.0 T-GDI

Clutch disc thickness (A) [When free]

8.1 ± 0.3 mm (0.3189 ± 0.0118 in.)

Clutch disc rivet depth (B)

Min 0.9 mm (0.0354 in.)

Gasoline 1.5 MPI

Clutch disc thickness (A) [When free]

8.3 ± 0.3 mm (0.3267±0.011 in.)

Clutch disc rivet depth (B)

1.1 - 1.6 mm (0.0433 - 0.0630 in.)

Gasoline 1.5 T-GDI

Clutch disc thickness (A) [When free]

8.65 mm (+0.25/-0.3mm) (0.3406 (+0.0098/-0.0118 in.)

Clutch disc rivet depth (B)

Min 1.1 mm (0.0433 in.)

Diesel 1.6 TCI

Clutch disc thickness (A) [When free]

7.2 ± 0.3mm (0.2834 ± 0.011 in)

Clutch disc rivet depth (B)

Min 1.0 mm (0.0394 in.)

ALL

Clutch disc rivet depth (Service standard)

0.3 mm (0.0118 in.)




1.

Apply grease on a disc spline part and transaxle input shaft spline part as required.

Specified grease : CASMOLY L9508

Amount : 0.1 - 0.3g

Possible problems when not following

| | |
| --- | --- |
| • | When not applying: Excessive wear of splines and bad clutch operation can occur. |

| | |
| --- | --- |
| • | When excessively applying: Grease can be scattered bycentrifugal force which can conteminate the clutch disc. This can cause a loss of friction force causing a slip. |
2.

When it is assembled, marked face "TM SIDE" of clutch disc should be toward clutch cover or marked face "Fly WHEEL SIDE" of clutch disc should be toward flywheel.

Possible problems when the disc is installed in the opposite direction.

| | |
| --- | --- |
| • | There can be an interference between the concentric slave cylinder on the transaxle side and a engine flywheel surface. |

| | |
| --- | --- |
| • | Transaxle shift error or a strange sound can occur due to clutch separation. |

| | |
| --- | --- |
| • | The concentric slave cylinder can break. If it does, the concentric slave cylinder should be replaced new one. |
| | |
| --- | --- |
| 3. | Install the clutch disc and the cover with SST(A : 09411-11000). |
4.

Install the clutch cover bolts.

Tightening torque :

11.8 - 14.7 N.m (1.2 - 1.5 kgf.m, 8.7 - 10.8 lb-ft) [Diesel 1.6]

14.7 - 21.6 N.m (1.5 - 2.2 kgf.m, 10.8 - 15.9 lb-ft) [Gasoline 1.0 T-GDI, 1.5 MPI]

24.5 - 34.3 N.m (2.5 - 3.6kgf.m, 18.1 - 26.0 lb-ft) [Gasoline 1.5 T-GDI]

| | |
| --- | --- |
| • | Install the all the components with the specified torques. If not, the clutch torque transaxle may have concerns or the mounting bolt can loosen. |

•

When installing the clutch cover assembly, check the below fastening order for each number of bolts and tighten the bolts loosely. Then, fasten the bolts to their proper tightening torque. This can prevent twisting and vibration of the cover, and the lifting of the pressure plate.

ㅡ Fastening order for each number of bolts for installing the clutch cover assembly

[Gasoline 1.0 T-GDI, 1.5 MPI, 1.5 T-GDI]

[Diesel 1.6 TCI]
| | |
| --- | --- |
| 5. | Remove the clutch disc guide SST (No.: 09411-1P000). |
6.

Install the transaxle assembly. [In case by MT apply]

(Refer to Manual Transaxle System - "Manual Transaxle")
7.

Install the intelligent manual transaxle assembly. [In case by IMT apply]

(Refer to Intelligent Manual Transaxle (IMT) System - "Intelligent Manual Transaxle (IMT) System")
Other information:
This is used to select the outside (fresh) air position or recirculated air position. To change the air intake control position, push the control button. Recirculated air position With the recirculated air position selected, air from the passenger compartment will be drawn through the heating system and heated or cooled according to the function selected...
Operating Condition for the ISG function 1. Auto stop or Auto start condition ▶ If all of the below conditions are satisfied • If the following conditions are not met, entry into the ISG system is prohibited...
Categories
Operating door locks from outside the vehicle
Mechanical key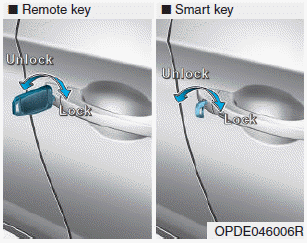 Turn the key toward the rear of the vehicle to unlock and toward the front of the vehicle to lock.
If you lock/unlock the driver's door with a key, a driver's door will lock/unlock automatically.