Hyundai i-30: Maintenance / Light bulbs
Consult a HYUNDAI authorised repairer to replace most vehicle light bulbs. It is difficult to replace vehicle light bulbs because other parts of the vehicle must be removed before you can get to the bulb. This is especially true for removing the headlamp assembly to get to the bulb(s).
Removing/installing the headlamp assembly can result in damage to the vehicle.
WARNING
Prior to working on a light, firmly apply the parking brake, ensure that the ignition switch is in the LOCK/OFF position and turn off the lights to avoid sudden movement of the vehicle and burning your fingers or receiving an electric shock.
NOTICE
Be sure to replace the burned-out bulb with one of the same wattage rating. Otherwise, it may cause damage to the fuse or electrical wiring system.
Information
After heavy driving rain or washing, headlamp and tail lamp lenses could appear frosty. This condition is caused by the temperature difference between the lamp inside and outside. This is similar to the condensation on your windows inside your vehicle when raining and doesn't indicate a problem with your vehicle. If the water leaks into the lamp bulb circuitry, we recommend that the system be checked by a HYUNDAI authorised repairer.
Information
The headlamp aiming should be adjusted after an accident or after the headlamp assembly is reinstalled at a HYUNDAI authorised repairer.
Information - Traffic Change
The low beam light distribution is asymmetric. If you go abroad to a country with opposite traffic direction, this asymmetric part will dazzle oncoming car driver. To prevent dazzle, ECE regulation demand several technical solutions (ex. automatic change system, adhesive sheet, down aiming). These headlamps are designed not to dazzle opposite drivers. So, you need not change your headlamps in a country with opposite traffic direction.
Categories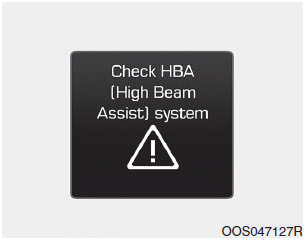 When the High Beam Assist (HBA) System is not working properly, the warning message will come on for a few second. After the message disappears, the master warning light (

) will illuminate.