Hyundai i-30: Remote key / Tailgate unlocking & Start-up
Tailgate unlocking
To unlock:
1. Press the Tailgate Unlock button (3) on the remote key for more than one second.
2. The hazard warning lights will blink two times.
Information
The word "HOLD" is written on the button to inform you that you must press and hold the button for more than one second.
Start-up
For detailed information refer to "Key Ignition Switch" in chapter 5.
NOTICE
To prevent damaging the remote key:
Keep the remote key away from water or any liquid and fire. If the inside of the smart key gets damp (due to drinks or moisture), or is heated, internal circuit may malfunction and may void the vehicle warranty.
Avoid dropping or throwing the remote key.
Protect the remote key from extreme temperatures.
Categories
Speedometer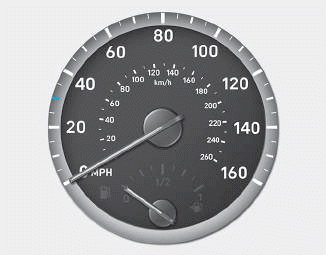 The speedometer indicates the speed of the vehicle and is calibrated in kilometers per hour (km/h) and/or miles per hour (MPH).
Tachometer