Hyundai i-30: Specifications & Consumer information / Tyres and wheels
Full size tyre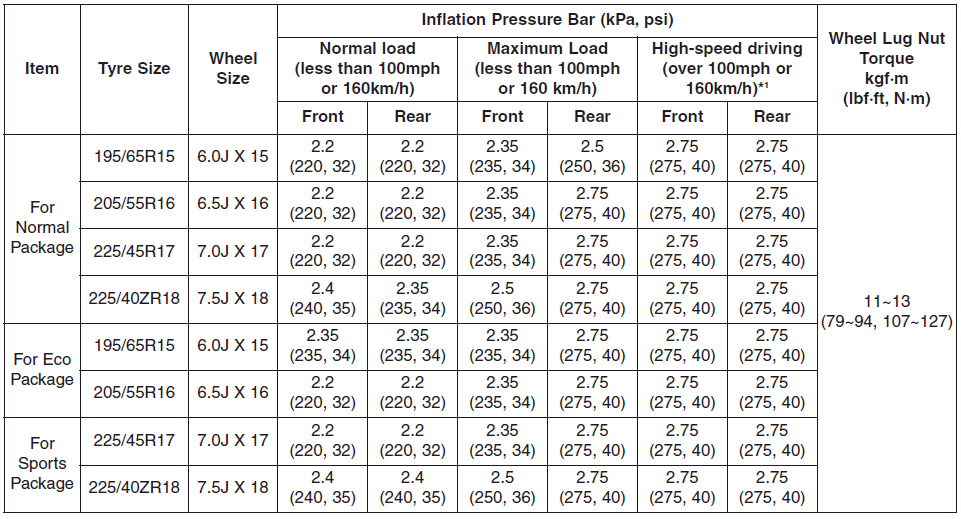 *1 : In order to drive at high speed(over 100mph or 160km/h) where the speed is lega, adjust tyre pressure as shown in above table.
Compact spare tyre

NOTICE
It is permissible to add 3 psi (20 kPa) to the standard tyre pressure specification if colder temperatures are expected soon. Tyres typically lose 1 psi (7 kPa) for every 7°C (12°F) temperature drop. If extreme temperature variations are expected, recheck your tyre pressure as necessary to keep them properly inflated.
An air pressure generally decreases, as you drive up to a high-altitude area above sea level.Thus, if you plan to drive a high-altitude area, check the tyre pressures in advance. If necessary, inflate them to a proper level (Air inflation per altitude: +2.4 psi/1 mile (+10 kPa/1 km)).
Must do not exceed maximum inflation pressure shown on equipped tyre sidewall.
CAUTION
When replacing tyres, use the same size originally supplied with the vehicle. Using tyres of a different size can damage the related parts or make it work irregularly.
Load and speed capacity tyres *1 LI : LOAD INDEX *2 SS : SPEED SYMBOL Air conditioning system Contact a HYUNDAI authorised repairer for more details...
Other information:
When selecting a Child Restraint System for your child, always: Make sure the Child Restraint System has a label certifying that it meets applicable Safety Standards of your country. A Child Restraint System may only be installed if it was approved in accordance with the requirements of ECE-R44 or ECE-R129...
WARNING Never store cigarette lighters, propane cylinders, or other flammable/explosive materials in the vehicle. These items may catch fire and/or explode if the vehicle is exposed to hot temperatures for extended periods. WARNING ALWAYS keep the storage compartment covers closed securely whilst driving...
Categories
Operating door locks from outside the vehicle
Mechanical key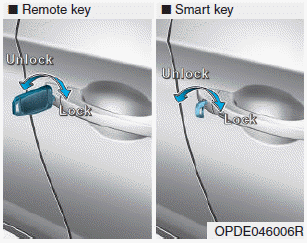 Turn the key toward the rear of the vehicle to unlock and toward the front of the vehicle to lock.
If you lock/unlock the driver's door with a key, a driver's door will lock/unlock automatically.