Hyundai i-30: Motor Driven Power Steering / Description and operation
EPS (Electric power steering, Column assist type) system uses an electric motor to assist the steering force and it is an engine operation independent steering system.
EPS control module controls the motor operation according to information received from the each sensor and CAN (Controller Area Network), resulting in a more precise and timely control of steering assist than conventional engine-driven hydraulic systems.
Components (Torque Sensor, Fail-safe relay, etc.) of the EPS system are located inside the steering column & EPS unit assembly and the steering column & EPS unit assembly must not be disassemble to inspect or replace them.
Components Location LHD 1. Steering wheel 2. Steering column 3. MDPS motor 4. MDPS motor 4. MDPS ECU 5...
Other information:
Low Tyre Pressure This warning message is displayed if the tyre pressure is low. The corresponding tyre on the vehicle will be illuminated. Turn FUSE SWITCH on This warning message is displayed if the fuse switch located on the fuse box under the steering wheel is OFF...
Check LDW system If there is a problem with the system a message will appear for a few seconds. If the problem continues the LDW system failure indicator will illuminate. LDW system failure indicator The LDW system failure indicator (yellow) will illuminate if the LDW system is not working properly...
Categories
Operating door locks from outside the vehicle
Mechanical key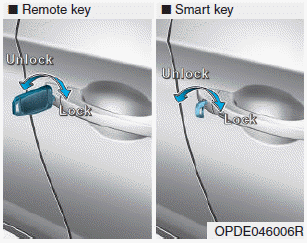 Turn the key toward the rear of the vehicle to unlock and toward the front of the vehicle to lock.
If you lock/unlock the driver's door with a key, a driver's door will lock/unlock automatically.