Hyundai i-30: Limitations of the system / Detecting pedestrians
The sensor may be limited when:
The pedestrian is not fully detected by the camera recognition system, for example, if the pedestrian is leaning over or is not fully walking upright
The pedestrian is moving very quickly or appears abruptly in the camera detection area
The pedestrian is wearing clothing that easily blends into the background, making it difficult to be detected by the camera recognition system
The outside lighting is too bright (e.g. when driving in bright sunlight or in sun glare) or too dark (e.g. when driving on a dark rural road at night)
It is difficult to detect and distinguish the pedestrian from other objects in the surroundings, for example, when there is a group of pedestrians or a large crowd
There is an item similar to a person's body structure
The pedestrian is small
The pedestrian has impaired mobility
The sensor recognition is limited
The radar sensor or camera is blocked with a foreign object or debris
Inclement weather such as heavy rain or snow obscures the field of view of the radar sensor or camera
When light coming from a street light or an oncoming vehicle is reflected on a wet road surface such as a puddle in the road
The field of view in front is obstructed by sun glare
The windscreen glass is fogged up; a clear view of the road is obstructed
The adverse road conditions cause excessive vehicle vibrations whilst driving
WARNING
Do not use the Forward Collision avoidance Assist (FCA) system when towing a vehicle. Application of the FCA system whilst towing may adversely affect the safety of your vehicle or the towing vehicle.
Use extreme caution when the vehicle in front of you has cargo that extends rearward from the cab, or when the vehicle in front of you has higher ground clearance.
The FCA system is designed to detect and monitor the vehicle ahead or detect a pedestrian in the roadway through radar signals and camera recognition. It is not designed to detect bicycles, motorcycles, or smaller wheeled objects such as luggage bags, shopping carts, or strollers.
Never try to test the operation of the FCA system. Doing so may cause severe injury or death.
Information
In some instances, the FCA system may be cancelled when subjected to electromagnetic interference.
Categories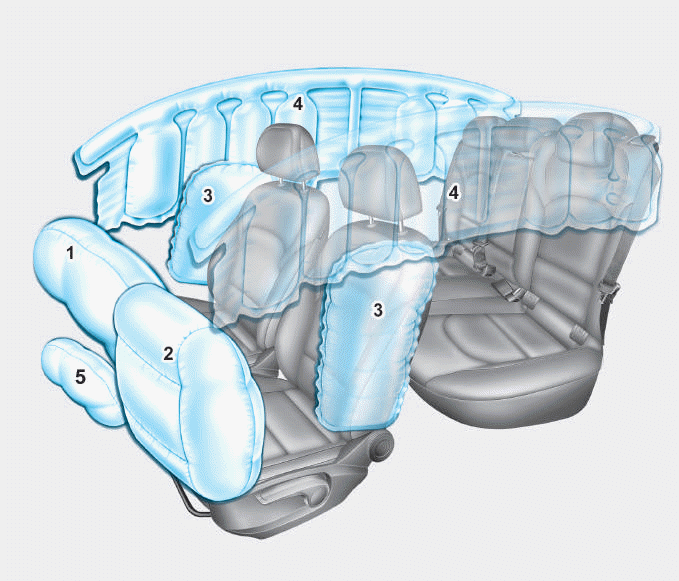 1. Driver's front air bag
2. Passenger's front air bag
3. Side air bag*
4. Curtain air bag*
5. Knee air bag*
6. Front passenger air bag ON/OFF switch