Hyundai i-30: Lighting / Exterior lights
Lighting control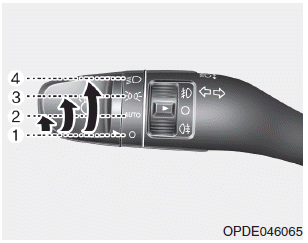 To operate the lights, turn the knob at the end of the control lever to one of the following positions:
(1) O (OFF) position
(2) AUTO light position (if equipped)
(3) Position lamp position
(4) Headlamp position
AUTO light position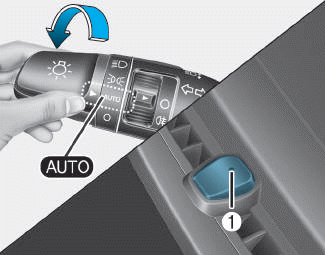 When the light switch is in the AUTO position, the position lamp and headlamp will be turned ON or OFF automatically depending on the amount of light outside the vehicle.
Even with the AUTO light feature in operation, it is recommended to manually turn ON the lamps when driving at night or in a fog, or when you enter dark areas, such as tunnels and parking facilities.
NOTICE
Do not cover or spill anything on the sensor (1) located on the instrument panel.
Do not clean the sensor using a window cleaner, the cleanser may leave a light film which could interfere with sensor operation.
If your vehicle has window tint or other types of metallic coating on the front windscreen, the AUTO light system may not work properly.
Position lamp position (

)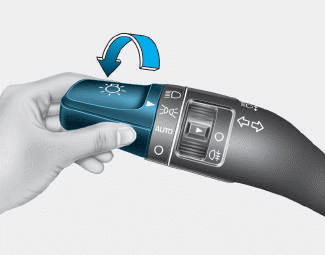 The position lamp, license plate lamp and instrument panel lamp are turned ON.
Headlamp position (

)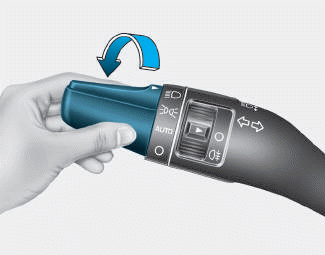 The headlamp, position lamp, license plate lamp and instrument panel lamp are turned ON.
Information
The ignition switch must be in the ON position to turn on the headlamp.
To turn on the high beam headlamp, push the lever away from you. The lever will return to its original position. The high beam indicator will light when the headlamp high beams are switched on...
Other information:
To help achieve proper engine and powertrain performance and durability, use only lubricants of the proper quality. The correct lubricants also help promote engine efficiency that results in improved fuel economy. These lubricants and fluids are recommended for use in your vehicle...
This warning message is displayed when vehicle is driven slowly on a grade and the vehicle detects that the brake pedal is not applied. Steep grade Driving up hills or on steep grades: To hold the vehicle on an incline use the foot brake or the parking brake...
Categories
Operating door locks from outside the vehicle
Mechanical key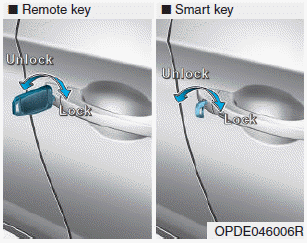 Turn the key toward the rear of the vehicle to unlock and toward the front of the vehicle to lock.
If you lock/unlock the driver's door with a key, a driver's door will lock/unlock automatically.