Hyundai i-30: Seats / Front seats
The front seat can be adjusted by using the control lever (or knob) or switches located on the outside of the seat cushion. Before driving, adjust the seat to the proper position so that you can easily control the steering wheel, foot pedals and controls on the instrument panel.
WARNING
Take the following precautions when adjusting your seat:
NEVER attempt to adjust the seat whilst the vehicle is moving. The seat could respond with unexpected movement and may cause loss of vehicle control resulting in an accident.
Do not place anything under the front seats. Loose objects in the driver's foot area could interfere with the operation of the foot pedals, causing an accident.
Do not allow anything to interfere with the normal position and proper locking of the seatback.
Do not place a cigarette lighter on the floor or seat. When you operate the seat, gas may exit out of the lighter causing a fire.
Use extreme caution when picking up small objects trapped under the seats or between the seat and the centre console.Your hands might be cut or injured by the sharp edges of the seat mechanism.
If there are occupants in the rear seats, be careful whilst adjusting the front seat position.
CAUTION
To prevent injury:
Do not adjust your seat whilst wearing your seat belt. Moving the seat cushion forward may cause strong pressure on your abdomen.
Do not allow your hands or fingers to get caught in the seat mechanisms whilst the seat is moving.
Categories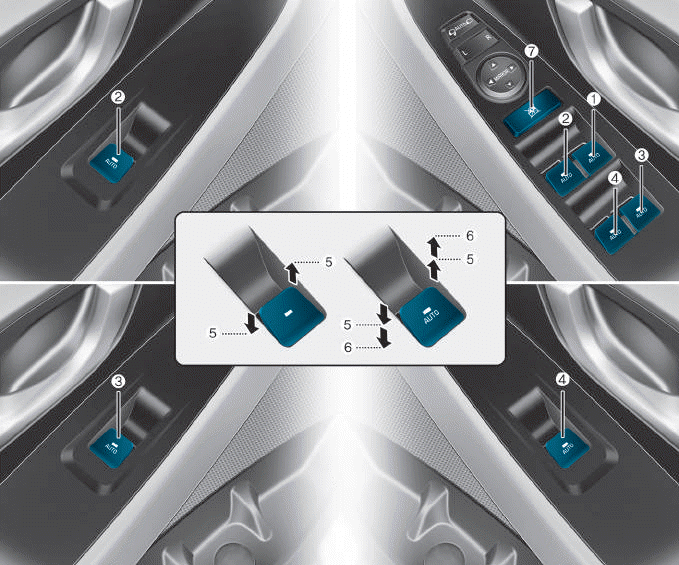 (1) Driver's door power window switch
(2) Front passenger's door power window switch
(3) Rear door (right) power window switch
(4) Rear door (left) power window switch
(5) Window opening and closing
(6) Automatic power window
(7) Power window lock switch