Hyundai i-30: Safety system of your vehicle
This chapter provides you with important information about how to protect yourself and your passengers. It explains how to properly use your seats and seat belts, and how your air bags work. Additionally, this chapter explains how to properly restrain infants and children in your vehicle.
Categories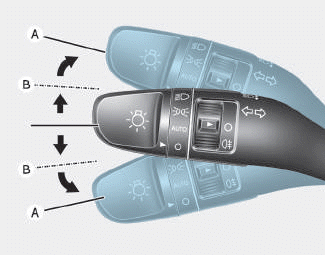 To signal a turn, push down on the lever for a left turn or up for a right turn in position (A). To signal a lane change, move the turn signal lever slightly and hold it in position (B).The lever will return to the OFF position when released or when the turn is completed.