Hyundai i-30: Lane departure warning (LDW) system / Limitations of the system
The LDW system may operate prematurely even if the vehicle does not depart from the intended lane, OR, the LDW system may not warn you if the vehicle leaves the intended lane under the following circumstances:
When the lane and road conditions are poor
It is difficult to distinguish the lane marking from the road surface or the lane marking is faded or not clearly marked.
There are markings on the road surface that look like a lane line that is inadvertently being detected by the camera.
The lane line is merged or divided. (e.g. tollgate)
The lane number increases or decreases or the lane marker are crossing complicatedly.
There are more than two lane lines on the road in front of you.
The lane line is very thick or thin.
The lanes ahead are not visible due to rain, snow, water on the road, damaged or stained road surface, or other factors.
The shadow is on the lane marker by a median strip, trees, etc.
The lanes are incomplete or the area is in a construction zone.
There are crosswalk signs or other symbols on the road.
The lane line in a tunnel is stained with oil, etc.
When external condition is intervened
The brightness outside changes suddenly such as when entering or exiting a tunnel, or when passing under a bridge.
The brightness outside is too low such as when the headlamps are not on at night or the vehicle is going through a tunnel.
There is a boundary structure in the roadway such as a concrete barrier, guardrail and reflector post that is inadvertently being detected by the camera.
When light coming from a street light or an oncoming vehicle is reflected on a wet road surface such as a puddle in the road.
The field of view in front is obstructed by sun glare.
The lane suddenly disappears such as at the intersection.
There is not enough distance between you and the vehicle in front to be able to detect the lane line or the vehicle ahead is driving on the lane line.
Driving on a steep grade, over a hill, or when driving on a curved road.
The adverse road conditions cause excessive vehicle vibrations whilst driving.
The surrounding of the inside rear view mirror temperature is high due to direct sunlight.
When front visibility is poor
The windscreen or the LDW system camera lens is blocked with dirt or debris.
The windscreen glass is fogged up; a clear view of the road is obstructed.
Placing objects on the dashboard, etc.
Categories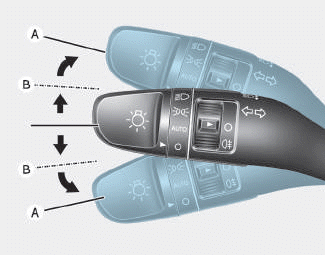 To signal a turn, push down on the lever for a left turn or up for a right turn in position (A). To signal a lane change, move the turn signal lever slightly and hold it in position (B).The lever will return to the OFF position when released or when the turn is completed.