Hyundai i-30: Trailer towing / Maintenance when towing a trailer
Your vehicle will need service more often when you regularly pull a trailer. Important items to pay particular attention to include engine oil, automatic transmission fluid, axle lubricant and cooling system fluid. Brake condition is another important item to frequently check. If you're trailering, it's a good idea to review these items before you start your trip. Don't forget to also maintain your trailer and towbar. Follow the maintenance schedule that accompanied your trailer and check it periodically. Preferably, conduct the check at the start of each day's driving. Most importantly, all towbar nuts and bolts should be tight.
NOTICE
To prevent vehicle damage:
Due to higher load during trailer usage, overheating might occur on hot days or during uphill driving. If the coolant gauge indicates over-heating, switch off the air conditioner and stop the vehicle in a safe area to cool down the engine.
Do not switch off the engine whilst the coolant gauge indicates over-heating. (Keep the engine idle to cool down the engine)
When towing check automatic transmission fluid more frequently.
If your vehicle is not equipped with an air conditioner, you should install a condenser fan to improve engine performance when towing a trailer.
Categories
Operating door locks from outside the vehicle
Mechanical key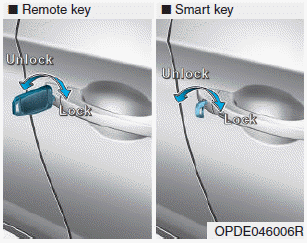 Turn the key toward the rear of the vehicle to unlock and toward the front of the vehicle to lock.
If you lock/unlock the driver's door with a key, a driver's door will lock/unlock automatically.