Hyundai i-30: Driving your vehicle / Trailer towing
If you are considering to tow with your vehicle, you should first your country's legal requirements. As laws vary the requirements for towing trailers, cars, or other types of vehicles or apparatus may differ. Ask a HYUNDAI authorised repairer for further details before towing.
Remember that trailering is different than just driving your vehicle by itself. Trailering means changes in handling, durability, and fuel economy. Successful, safe trailering requires correct equipment, and it has to be used properly. Damage to your vehicle caused by improper trailer towing is not covered by your vehicle manufacturer's warranty.
This section contains many timetested, important trailering tips and safety rules. Many of these are important for your safety and that of your passengers. Please read this section carefully before you pull a trailer.
WARNING
Take the following precautions:
If you don't use the correct equipment and/or drive improperly, you can lose control of the vehicle when you are pulling a trailer. For example, if the trailer is too heavy, the braking performance may be reduced. You and your passengers could be seriously or fatally injured. Pull a trailer only if you have followed all the steps in this section.
Before towing, make sure the total trailer weight, GCW (Gross Combination Weight), GVW (Gross Vehicle Weight), GAW (Gross Axle Weight) and trailer tongue load are all within the limits.
When you tow a trailer, make sure to turn off the ISG system.
Information
The technically permissible maximum load on the rear axle(s) may be exceeded by not more than 15 % and the technically permissible maximum laden mass of the vehicle may be exceeded by not more than 10% or 100 kg (220.4 lbs), whichever value is lower. In this case, do not exceed 62.1 mph (100 km/h) for vehicle of category M1 or 49.7 mph (80 km/h) for vehicle of category N1.
When a vehicle of category M1 is towing a trailer, the additional load imposed at the trailer coupling device may cause the tyre maximum load ratings to be exceeded, but not by more than 15%. In this case, do not exceed 62.1 mph (100 km/h) and increase the tyre inflation pressure by at least 0.2 bar.
Categories
Opening the tailgate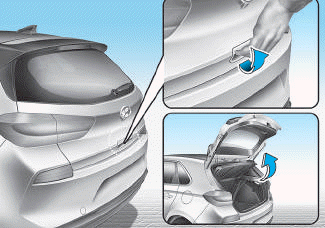 ■ 5 Door, Wagon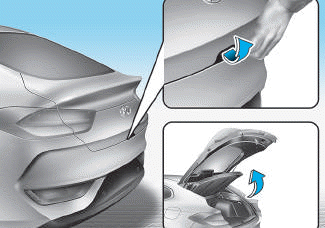 ■ Fastback