Hyundai i-30: Multifunction Switch / Repair procedures
| | |
| --- | --- |
| 1. | Disconnect the negative (-) battery terminal. |
2.

Remove the steering wheel.

(Refer to Steering System - "Steering Wheel")
3.

Remove the steering column upper and lower shrouds after loosening the screws.

(Refer to Body - "Steering Column Shroud Panal")
4.

Remove the clock spring.

(Refer to Restraint - "Driver Airbag (DAB) Module and Clock Spring")
| | |
| --- | --- |
| 5. | Disconnect the multifunction switch connector (A). |
| | |
| --- | --- |
| 6. | Remove the multifunction switch assembly (A) after loosening the screws. |
| | |
| --- | --- |
| 1. | Install the multifunction switch. |
| | |
| --- | --- |
| 2. | Install the clock spring. |
| | |
| --- | --- |
| 3. | Install the steering column upper and lower shrouds. |
| | |
| --- | --- |
| 4. | Install the steering wheel. |
| | |
| --- | --- |
| 5. | Connect the negative (-) battery terminal. |
Multifunction Switch Inspection
1.

Check for continuity between the terminals in each switch position as shown below.

[Left Handle Drive]

Switch

Switch position

Switch terminal

Resistance (Ω, ±3.5%)

Front wiper switch

MIST

1-9

330

OFF

∞

Intermittent (AUTO)

800

LOW

1800

HIGH

5700

Rear wiper switch

OFF

9-16

∞

LOW

910

HIGH

2910

Wiper intermittent volume

Volume 1

7-9

330

Volume 2

690

Volume 3

1310

Volume 4

2610

Volume 5

7310

Fog lamp switch

OFF

9-10

∞

Front foglamp

910

Rear foglamp

2910

Turnsignal switch

OFF

9-12

∞

Left

910

Right

2910

Dimmer & Passing switch

OFF

9-13

∞

Passing

910

Dimmer

2910

Light switgh

OFF

9-14

∞

AUTO / DRL

680

Tail lamp

1680

Low beam

5580





[Right Handle Drive]

Switch

Switch position

Switch terminal

Resistance (Ω, ±3.5%)

Front Wiper switch

MIST

3-16

330

OFF

∞

Intermittent (AUTO)

800

LOW

1800

HIGH

5700

Rear wiper switch

OFF

9-16

∞

LOW

910

HIGH

2910

Wiper intermittent volume

Volume 1

2-16

330

Volume 2

690

Volume 3

1310

Volume 4

2610

Volume 5

7310

Fog lamp switch

OFF

14-16

∞

Front foglamp

910

Rear foglamp

2910

Turnsignal switch

OFF

13-16

∞

Left

910

Right

2910

Dimmer & Passing switch

OFF

12-16

∞

Passing

910

Dimmer

2910

Light switgh

OFF

11-16

∞

AUTO / DRL

680

Tail lamp

1680

Low beam

5580




Inspection (With GDS)
1.

In the body electrical system, failure can be quickly diagnosed by using the vehicle diagnostic system (GDS).

The diagnostic system(GDS) provides the following information.

| | |
| --- | --- |
| (1) | Self diagnosis : Checking failure and code number (DTC) |

| | |
| --- | --- |
| (2) | Current data : Checking the system input/output data state |

| | |
| --- | --- |
| (3) | Actuation test : Checking the system operation condition |

| | |
| --- | --- |
| (4) | Additional function : Controlling other features including system option setting and zero point adjustment |
| | |
| --- | --- |
| 2. | Select the 'Car model' and the 'Body Control Module (BCM)' to be checked in order to check the vehicle with the tester. |
| | |
| --- | --- |
| 3. | Select the 'Current Data' menu to search the current state of the input/output data. |
Other information:
Description and operation Description The Knee Airbag (KAB) is installed inside the crash pad lower panel and protects the driver in the event of a frontal crash. The SRSCM determines if and when to deploy the KAB. • Never attempt to measure the circuit resistance of the airbag module (squib) even if you are using a specified tester...
Inside the fuse/relay box covers, you can find the fuse/relay label describing fuse/relay names and ratings. Information Not all fuse panel descriptions in this manual may be applicable to your vehicle. It is accurate at the time of printing...
Categories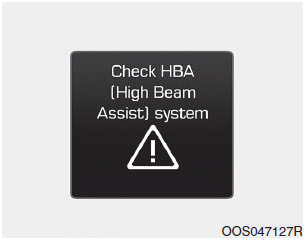 When the High Beam Assist (HBA) System is not working properly, the warning message will come on for a few second. After the message disappears, the master warning light (

) will illuminate.