Hyundai i-30: Dual Clutch Transmission Control System / Shift Cable
Components and components location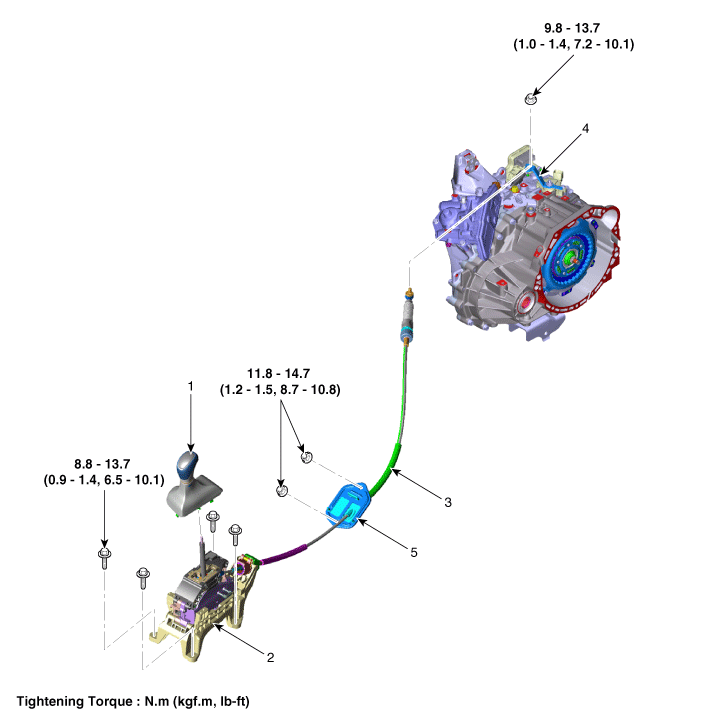 1. Shift lever knob & boots assembly
2. Shift lever assembly
3. Shift cable

4. Manual control lever
5. Shift cable retainer

Repair procedures
1.

Remove the air cleaner assembly and air duct.

(Refer to Engine Mechnical System - "Air cleaner")
2.

Remove the battery and tray.

(Refer to Engine Electrical System - "Battery")
3.

Remove the ECM.

(Refer to Engine Control System - "ECM")
| | |
| --- | --- |
| 4. | Remove the shift cable (C) from the cable bracket (B), after loosening the mounting nut (A). |
| | |
| --- | --- |
| 5. | Remove the shift lever knob & boots (A) pull both of it up. |
6.

Remove the floor console assembly.

(Refer to Body - "Floor Console")
| | |
| --- | --- |
| 7. | Remove the air duct(A). |
8.

Disconnect the shift cable.

| | |
| --- | --- |
| (1) | Disconnect the eye-end(B) after removing the snap pin (A). |

| | |
| --- | --- |
| (2) | Release the lock and then remove the cable socket (C). |
| | |
| --- | --- |
| 9. | Remove the retainer (A) by loosening the nuts (B-2ea). |
| | |
| --- | --- |
| 10. | Remove the shift cable from the vehicle. |
1.

Install the retainer (A) and then tighten the nut (B-2ea).

Tightening torque :

11.8 - 14.7 N.m (1.2 - 1.5 kgf.m, 8.7 - 10.8 lb-ft)
2.

Install the shift cable (B) and then fix the snap pin (A).

| | |
| --- | --- |
| • | When assembling shift cable, the projection (A) must face upwards. |

| | |
| --- | --- |
| • | When assembling the snap pin, be careful about the correct direction. |

| | |
| --- | --- |
| – | The band portion (A) must point to the front of the vehicle. |

| | |
| --- | --- |
| – | The band portion (A) must point outwards. |

| | |
| --- | --- |
| • | After installing the shift cable socket, check portion (A) to see if it projects outwards from the cap. |
| | |
| --- | --- |
| 3. | Install the air duct (A). |
4.

Install the floor console assembly.

(Refer to Body - "Floor Console")
| | |
| --- | --- |
| 5. | Install the shift lever knob & boots (A). |
| | |
| --- | --- |
| 6. | Install the shift cable (A) in the cable bracket (B). |
| | |
| --- | --- |
| 7. | Align the hole (C) in the manual control lever with the "N" position hole (D) of the inhibitor switch and then insert the inhibitor switch guide pin (SST No.:09480-A3800). |
| | |
| --- | --- |
| 8. | Lightly tighten the nut (E) after connected the shift cable (B) in the manual control lever. |
| | |
| --- | --- |
| 9. | Push shift cable (B) lightly to "F" direction shown to eliminate free play of shift cable. |
10.

Tighten the nut (E) with the specified torque.

Tightening torque :

9.8 - 13.7 N.m (1.0 - 1.4 kgf.m, 7.2 - 10.1 lb-ft)
| | |
| --- | --- |
| 11. | Remove the inhibitor switch guide pin (SST No.:09480-A3800) from the hole. |
12.

Install the battery and tray.

(Refer to Engine Electrical System - "Battery")
13.

Install the ECM.

(Refer to Engine Control System - "ECM")
14.

Install the air cleaner assembly and air duct.

(Refer to Engine Mechnical System - "Air cleaner")

| | |
| --- | --- |
| • | Check that operating surely at each range of the inhibitor switch corresponding to each position of shift lever. |
Components and components location Components 1. Shift lever knob & boots assembly 2. Shift lever assembly 3...
Other information:
Engine oil and filter The engine oil and filter should be changed at the intervals specified in the maintenance schedule. If the vehicle is being driven in severe conditions, more frequent oil and filter changes are required. Drive belts Inspect all drive belts for evidence of cuts, cracks, excessive wear or oil saturation and replace if necessary...
Release Residual Pressure in Fuel Line • There may be some residual pressure even after "Release residual pressure in fuel line" work, so cover the hose connection with a shop towel to prevent residual fuel from spilling out before disconnecting any fuel connection...
Categories
Opening the bonnet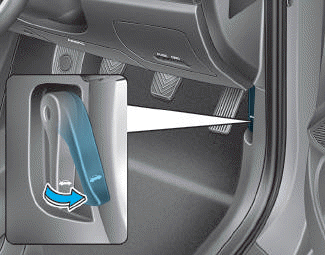 1. Park the vehicle and set the parking brake.
2. Pull the release lever to unlatch the bonnet. The bonnet should pop open slightly.