Hyundai i-30: Timing System / Timing Chain
Components and components location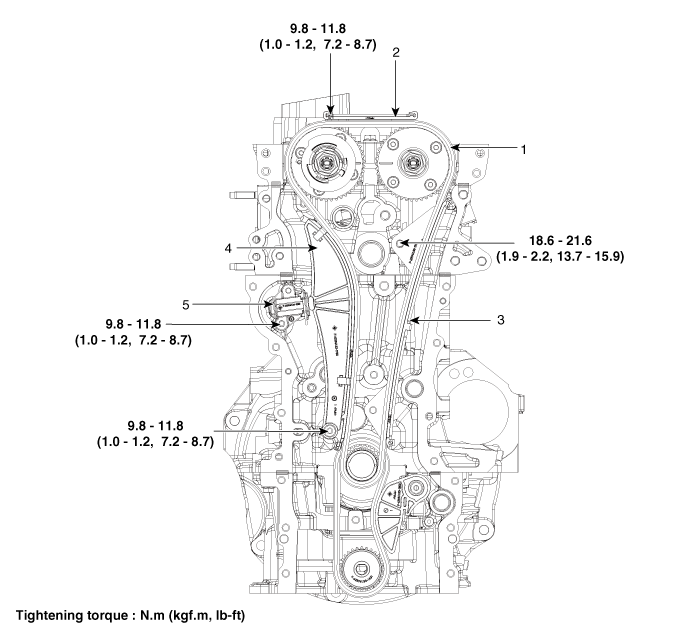 1. Timing chain
2. Timing chain cam guide
3. Timing chain guide

4. Timing chain tensioner arm
5. Timing chain tensioner

Repair procedures
1.

Remove the cylinder head cover.

(Refer to Cylinder Head Assembly - "Cylinder Head Cover")
| | |
| --- | --- |
| 2. | Turn the crankshaft damper pulley and align its groove with the timing mark of the timing chain cover to set the piston of No.1 cylinder to the top dead center on compression stroke. |
3.

Remove the timing chain cover.

(Refer to Timing System - "Timing Chain Cover")
| | |
| --- | --- |
| 4. | Before removing the timing chain, mark the timing chain with an identification based on the location of the sprocket (CVVT) because the identification mark on the chain for TDC (Top Dead Center) can be erased. |
| | |
| --- | --- |
| 5. | Install a set pin after compressing the timing chain tensioner by push the timing chain tensioner arm arrow direction. and then remove the tensioner (A). |
| | |
| --- | --- |
| 6. | Remove the timing chain tensioner arm (A). |
| | |
| --- | --- |
| 7. | Remove the timing chain guide (A). |
| | |
| --- | --- |
| 8. | Remove the timing chain cam guide (A). |
| | |
| --- | --- |
| 9. | Remove the timing chain (A). |
| | |
| --- | --- |
| 10. | Remove the crankshaft sprocket (A). |
Sprockets, Chain Tensioner, Chain Guide, Chain Tensioner Arm
| | |
| --- | --- |
| 1. | Check the camshaft sprocket and crankshaft sprocket for abnormal wear, cracks, or damage. Replace as necessary. |
| | |
| --- | --- |
| 2. | Inspect the tensioner arm and chain guide for abnormal wear, cracks, or damage. Replace as necessary. |
| | |
| --- | --- |
| 3. | Check that the tensioner piston moves smoothly. |
| | |
| --- | --- |
| 1. | Set the key of crankshaft about 3.7° with horizontal center line. As a result of this, the piston of No.1 cylinder is placed at the top dead center on compression stroke. |
| | |
| --- | --- |
| 2. | Install the crankshaft sprocket (A). |
| | |
| --- | --- |
| 3. | Align the mark of cam shaft sprocket (CVVT) on the top surface of cylinder head. As a result of this, the piston of No.1 cylinder is placed at the top dead center on compression stroke. |
4.

Install the timing chain (A).

| | |
| --- | --- |
| • | Install the timing chain with no slack and recommend the below procedure. |

| | |
| --- | --- |
| • | Crankshaft sprocket → Oil pump sprocket → Intake camshaft sprocket (CVVT) → Exhaust camshaft sprocket (CVVT). |

| | |
| --- | --- |
| • | The timing mark of each sprocket should be matched with timing mark (color link) of timing chain at during installation. |
5.

Install the timing chain cam guide (A).

Tightening torque :

9.8 - 11.8 N.m (1.0 - 1.2 kgf.m, 7.2 - 8.7 lb-ft)
6.

Install the timing chain guide (A).

Tightening torque :

18.6 - 21.6 N.m (1.9 - 2.2 kgf.m, 13.7 - 15.9 lb-ft)
7.

Install the timing chain tensioner arm (A).

Tightening torque :

9.8 - 11.8 N.m (1.0 - 1.2 kgf.m, 7.2 - 8.7 lb-ft)
8.

Install the timing chain tensioner (A) and then remove the stopper pin.

Tightening torque :

9.8 - 11.8 N.m (1.0 - 1.2 kgf.m, 7.2 - 8.7 lb-ft)
9.

After rotating the crankshaft 2 revolutions in regular direction (clockwise viewed from front), confirm the timing

| | |
| --- | --- |
| • | Always turn the crankshaft clockwise. |

| | |
| --- | --- |
| • | Turning the crankshaft counter clockwise before building up oil pressure in the hydraulic timing chain tensioner may result in the chain disengaging from the sprocket teeth. |
| | |
| --- | --- |
| 10. | Install the other parts in the reverse order of removal. |
Components and components location Components 1. Timing chain cover 2. Exhaust Oil control solenoide (OCS) 3. Exhaust Oil control solenoide (OCS) O-ring 4...
Other information:
Description and operation Description Camshaft Position Sensor (CMPS) is a hall sensor and detects the camshaft position by using a hall element. It is related with Crankshaft Position Sensor (CKPS) and detects the piston position of each cylinder which the CKPS can't detect...
Forward and rearward adjustment To move the seat forward or rearward: 1. Pull up the seat slide adjustment lever and hold it. 2. Slide the seat to the position you desire. 3. Release the lever and make sure the seat is locked in place. Move forward and rearward without using the lever...
Categories
Opening the tailgate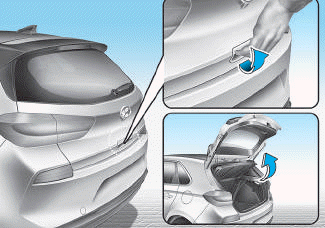 ■ 5 Door, Wagon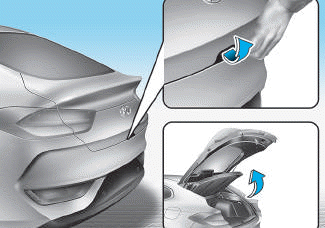 ■ Fastback