Hyundai i-30: Engine Electrical System / Specifications
Ignition System
Ignition Coil
Item

Specification

Rated Voltage (V)

13.5V

Secondary Coil [Engine 1000RPM standard]

Input voltage (V)

13.5V

Dwell Time (ms)

5.91

Spark current (mA)

More than 133

Spark duration time (ms)

More than 1.67

Igniter voltage (V)

600 - 680

Pin

4

Item

Specification

Engine Speed (RPM)

1000

2000

3000

4000

5000

6000

7000

Dwell Time (ms)

5.91

5.22

4.45

3.99

3.64

3.35

3.15

Secondary Coil Voltage (kV)

44

44

44

43

41

40

39

Charging System
Alternator
| | |
| --- | --- |
| Item | Specification |
| Rated voltage | 13.5 V, 130 A |
| Speed in use | 1,000 - 18,000rpm |
| Pin | 1 (LIN) |
| Pulley Type | OAP pulley |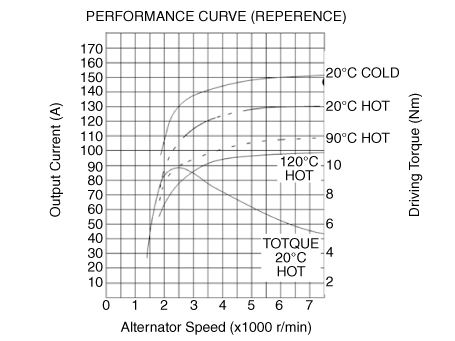 Spark plug
Item

Specification

Type

SILKR8J8GS

Gap

0.7 - 0.8 mm
(0.0276 - 0.0315 in.)

Electrode Material

IRIDIUM

Battery
▷ CMF60L-DIN
| | |
| --- | --- |
| Item | Specification |
| Model type | CMF60L-DIN |
| Capacity [20HR/5HR] (AH) | 60 / 48 |
| Cold Cranking Amperage (A) | 550 (SAE) / 440 (EN) |
| Reserve Capacity (Min) | 92 |
| Specific Gravity | 1.27 ~ 1.29 [25°C (77°F)] |
| Voltage (V) | 12 |
▷ AGM70L-DIN
| | |
| --- | --- |
| Item | Specification |
| Model type | AGM70L-DIN |
| Capacity [20HR/5HR] (AH) | 70 / 56 |
| Cold Cranking Amperage (A) | 760 (SAE) / 760 (EN) |
| Reserve Capacity (Min) | 120 |
| Specific Gravity | 1.30 ~ 1.32 [25°C (77°F)] |
| Voltage (V) | 12 |
▷ CMF45L-DIN
| | |
| --- | --- |
| Item | Specification |
| Model type | CMF45L-DIN |
| Capacity [20HR/5HR] (AH) | 45 / 36 |
| Cold Cranking Amperage (A) | 410 (SAE) / 410 (EN) |
| Reserve Capacity (Min) | 80 |
| Specific Gravity | 1.27 ~ 1.29 [25°C (77°F)] |
| Voltage (V) | 12 |
| | |
| --- | --- |
| • | Model type description |
| | |
| --- | --- |
| • | Cold Cranking Ampere (CCA) : A rating used in the battery industry to define a battery's ability to start an engine in cold temperatures. |
| | |
| --- | --- |
| – | The maximum current that a fully charged battery can deliver at -18°C (-0.4°F) for 30 seconds while maintaining a voltage of at least 7.2 volts for a 12-volt battery. |
| | |
| --- | --- |
| – | The higher the CCA rating, the greater the starting power of the battery. |
| | |
| --- | --- |
| • | RESERVE CAPACITY (RC) : A battery industry rating that defines the battery's ability to power a vehicle with an inoperative alternator or fan belt. |
| | |
| --- | --- |
| – | The rating is the number of minutes a battery at 26.7°C (80°F) can be discharged at 25 amps and maintain a voltage of 10.5 volts for a 12 volt battery. |
| | |
| --- | --- |
| – | The higher the reserve rating, the longer your vehicle can operate should your alternator or fan belt fail. |
[BCI Type]
Capacity
(5HR/20HR)

Length

Width

Height

Total Height

L (mm)

W (mm)

T (mm)

TH (mm)

28/35

188 - 192

126 - 130

198 - 202

218 - 222

32/40

194 - 198

133 - 137

199 - 203

223 - 227

36/45

203 - 207

173 - 177

200 - 204

221 - 225

44/55

213 - 217

173 - 177

198 - 202

218 - 222

48/60

228 - 232

173 - 177

200 - 204

221 - 225

54/68

258 - 262

173 - 177

198 - 202

220 - 224

56/70

258 - 262

173 - 177

198 - 202

223 - 227

64/80

274 - 278

170 - 174

198 - 202

221 - 225

70/88

349 - 353

172 - 176

186 - 200

183 - 187

72/90

300 - 304

170 - 174

200 - 204

221 - 225

76/95

294 - 298

172 - 176

198 - 202

220 - 224

80/100

326 - 330

170 - 174

203 - 207

225 - 229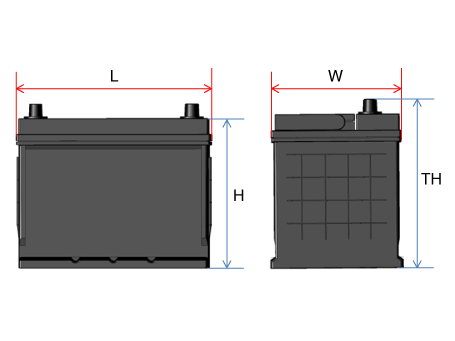 [DIN Type]
Capacity
(5HR/20HR)

Length

Width

Height

Total Height

L (mm)

W (mm)

T (mm)

TH (mm)

36/45

205 - 207

173 - 175

164 - 168

188 - 190

48/60

205 - 207

173 - 175

164 - 168

188 - 190

54/68

205 - 207

173 - 175

164 - 168

188 - 190

64/80

205 - 207

173 - 175

164 - 168

188 - 190

72/90

205 - 207

173 - 175

164 - 168

188 - 190

80/100

205 - 207

173 - 175

164 - 168

188 - 190

88/110

205 - 207

173 - 175

164 - 168

188 - 190

[AGM DIN Type]
Capacity
(5HR/20HR)

Length

Width

Height

Total Height

L (mm)

W (mm)

T (mm)

TH (mm)

40/50

205 - 207

173 - 175

164 - 168

188 - 190

48/60

227 - 229

173 - 175

164 - 168

188 - 190

56/70

276 - 278

173 - 175

164 - 168

188 - 190

64/80

312 - 314

173 - 175

164 - 168

188 - 190

72/90

351 - 353

173 - 175

164 - 168

188 - 190

84/105

392 - 394

173 - 175

164 - 168

188 - 190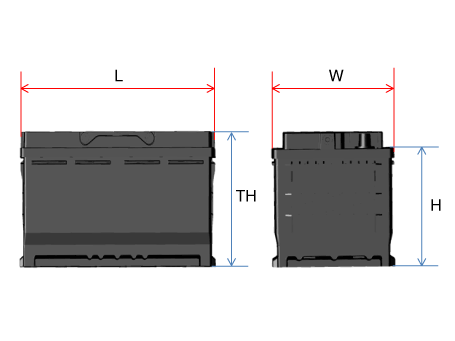 Starting System
Starter
▷ [ISG Type]
Item

Specification

Rated voltage

12V, 1.2 kW

The number of pinion teeth

13

Performance

Ampere

Max. 90A

[No-load, 11.5V]

Speed

Min. 3,500 rpm

▷ [Non-ISG Type]
Item

Specification

Rated voltage

12V, 0.9 kW

The number of pinion teeth

11

Performance
[No-load, 11.5V]

Ampere

Max. 85A

Speed

Min. 3,300 rpm

Other information:
Description TREAD Lamp – Tire Under Inflation / Leak Warning. 1. Turn on condition – When tire pressure is below allowed threshold – When rapid leak is detected by the sensor...
Repair procedures Removal 1. Remove the fuel pump. (Refer to Fuel Delivery System - "Fuel Pump") 2. Disconnect the fuel sender connector (A). 3...
Categories
Speedometer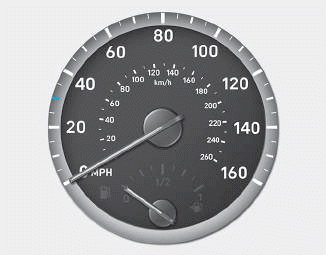 The speedometer indicates the speed of the vehicle and is calibrated in kilometers per hour (km/h) and/or miles per hour (MPH).
Tachometer