Hyundai i-30: DCT(Dual Clutch Transmission) System / Specifications
Dual clutch transmission
Item

Specification

Transmission model

D7UF1-2 (7DCT)

Engine model

Kappa 1.5 T-GDI (Gasoline)

Clutch Type

Dry dual plate

Gear ratio

1st

3.929

2nd

2.318

3rd

2.043

4th

1.07

5th

0.822

6th

0.884

7th

0.721

Reverse

5.304

Final gear ratio

1st, 2nd, 4th, 5th

4.294

3rd, 6th, 7th, R

3.174

Clutch actuator
| | |
| --- | --- |
| Item | Specification |
| Rated voltage | 12V |
| Initialize the rod length | 79.0 - 80.0 mm (3.1102 - 3.1496 in.) |
| Wear adjustment amount | 0.25 mm (0.0098 in.) @ 1 Click |
Gear actuator
| | |
| --- | --- |
| Item | Specification |
| Power supply | 12V |
| Output type | CAN signals |
Inhibitor Switch
| | |
| --- | --- |
| Item | Specification |
| Power supply | 12V |
| Output type | Combination of output signals |
Input speed sensor
Item

Specification

Type

Hall effect sensor

Output signal

High: 11.8 - 16.8 mA

Low: 5.9 - 8.4 mA

Item

N.m

kgf.m

lb-ft

Clutch engagement bearing

9.8 - 11.8

1.0 - 1.2

7.2 - 8.7

TCM mounting bolt

7.8 - 9.8

0.8 - 1.0

5.8 - 7.2

Clutch actuator & TCM assembly mounting bolt

19.6 - 26.5

2.0 - 2.7

14.5 - 19.5

Fork cover mounting bolt

3.9 - 5.9

0.4 - 0.6

2.9 - 4.3

Gear actuator mounting bolt

19.6 - 26.5

2.0 - 2.7

14.5 - 19.5

Input shaft speed sensor mounting bolt

9.8 - 11.8

1.0 - 1.2

7.2 - 8.7

Inhibitor swtich mounting bolt

9.8 - 11.8

1.0 - 1.2

7.2 - 8.7

Manual lever mounting nut

17.4 - 24.5

1.8 - 2.5

13.0 - 18.1

Oil drain plug

44.1 - 58.8

4.5 - 6.0

32.5 - 43.4

Oil filler plug

58.8 - 78.5

6.0 - 8.0

43.4 - 57.9

Shift cable bracket mounting bolt

19.6 - 26.5

2.0 - 2.7

14.5 - 19.5

Shift cable mounting nut

9.8 - 13.7

1.0 - 1.4

7.2 - 10.1

Shift cable retainer mounting nut

11.8 - 14.7

1.2 - 1.5

8.7 - 10.8

Shift lever assembly mounting bolt

8.8 - 13.7

0.9 - 1.4

6.5 - 10.1

Stater motor mounting bolt

49.0 - 63.7

5.0 - 6.5

36.2 - 47.0

Transmission support bracket mounting bolt

88.3 - 107.9

9.0 - 11.0

65.1 - 79.6

Transmission bracket mounting bolt

58.9 - 78.5

6.0 - 8.0

43.4 - 57.8

Transmission upper mounting bolt (Transmission=>Engine)

42.2 - 53.9

4.3 - 5.5

31.1 - 39.8

Transmission lower mounting bolt (Engine=>Transmission)

42.2 - 48.1

4.3 - 4.9

31.1 - 35.4

42.2 - 53.9

4.3 - 5.5

31.1 - 39.8

Item

Capacity

Recommended

Transmission oil

1.6 - 1.7 ℓ (0.42 - 0.45 U.S.gal., 1.69 - 1.80 U.S. qt., 1.41 - 1.50 lmp qt)

SAE 70W, API GL-4
Recommended transmission oil : H.K.SHELL: SPIRAX S6 GHDE 70W DCTF PLUS, SK: HK D DCTF TGO-10 PLUS

Input shaft 1/2 spline

0.15 - 0.25 g

Extreme pressure grease for vehicle

Clutch engagement fork

0.1 - 0.2 g

Extreme pressure grease for vehicle

Special Service Tools Tool (Number and Name) Illustration Use 09200-3N000 Engine support fixture (Beam) Removal and installation of the transmission...
Other information:
Heated Steering Wheel turned off (if equipped) This message is displayed if you turn off the heated steering wheel. For more details, refer to "Heated Steering Wheel" in this chapter. Low washer fluid (if equipped) This warning message is displayed if the washer fluid level in the reservoir is nearly empty...
Wheel replacement When replacing the metal wheels for any reason, make sure the new wheels are equivalent to the original factory units in diameter, rim width and offset. Tyre traction Tyre traction can be reduced if you drive on worn tyres, tyres that are improperly inflated or on slippery road surfaces...
Categories
Speedometer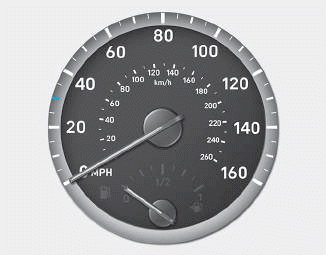 The speedometer indicates the speed of the vehicle and is calibrated in kilometers per hour (km/h) and/or miles per hour (MPH).
Tachometer